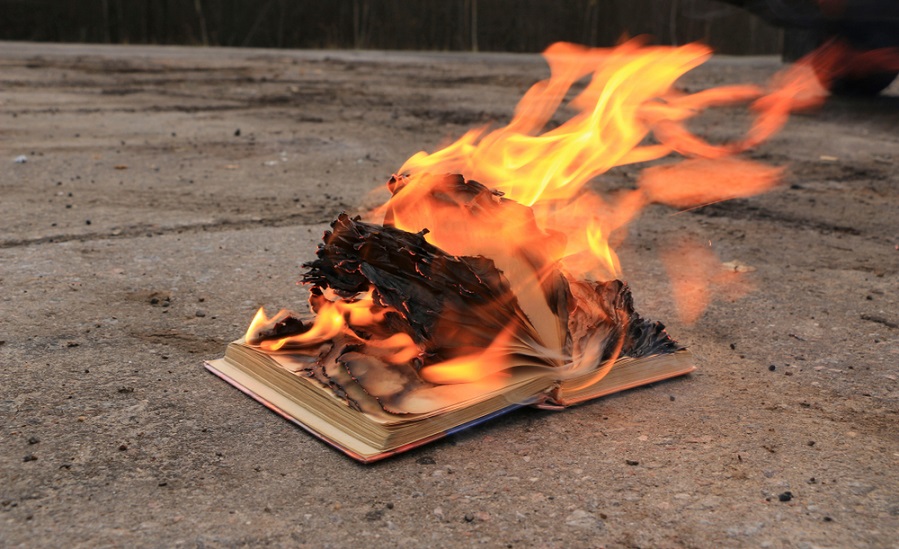 ---
An online feud between an attorney representing the Freedom For Religion Foundation (FFRF) and an outspoken Texas pastor escalated this week when the pastor posted a book-burning video to his official Twitter account.
Pastor Greg Locke filmed the video in response to FFRF attorney Andrew Seidel, who had sent him a signed copy of The Founding Myth: Why Christian Nationalism Is Un-American, a book authored by Seidel.
Locke gives a brief explanation of the feud, compares an atheist writing about American history to "Planned Parenthood writing a manual on how to take care of infants," and finally lights the book on fire using a blowtorch.
How Did We Get Here?
This conflict apparently all started when Pastor Locke took offense to a FFRF commercial which aired during one of the Democratic presidential debates. He responded online, claiming the ad was "further proof that this party HATES GOD" and that it lied about the Founding Fathers supporting the separation of church and state.
In response, Andrew Seidel offered to send him a copy of the book. Siedel following through on this promise, even including a personalized inscription for Pastor Locke. It reportedly read, in part: "Let go of your hatred and fear. There is no god, and that's ok. This is not a Christian nation, and that's a good thing. Be better. Read something other than your bible. Life is too good to waste on bad ideas."
Patheos blogger Hemant Mehta reached out to Seidel for comment after the video was released. The author responded:
"I'm disappointed this preacher chose to burn my book, The Founding Myth, instead of read it. Locke fails to understand something that FDR explained some 80 years ago: "Books can not be killed by fire." Those who burn books are incapable of dealing with the ideas in those books. Nazis, totalitarians, authoritarians, theocrats, and Christian Nationalists. Locke may have burned a copy of The Founding Myth, but really he admitted that he cannot comprehend the basic history and facts in the book. He wanted to project strength, but instead, he showed true weakness."
In a bit of an ironic twist, sales for Seidel's book reportedly spiked following the video's release. It seems Pastor Locke's bold statement didn't quite have its intended effect.
Is America a Christian Nation?
Let's take a step back. At the core of this conflagration is a disagreement over religion's role in the United States - both at the time of the founding and today. What are we to make of the argument that America is a Christian nation?
The Founding Fathers were, for the most part, of the Christian faith. But as we've discussed on this forum before, it's a bit more complicated than that. These men may have been religious, but their belief system actually had very little in common with modern Christianity particularly its more nationalistic and fundamentalist aspects. And they certainly understood the dangers of a government choosing a single religion as the "right" one to practice.
So, while the likes of Thomas Jefferson and Benjamin Franklin would perhaps be unlikely to write the forward to Seidel's book, they may have agreed with parts of it and most certainly wouldn't condone burning the text in the name of Jesus.