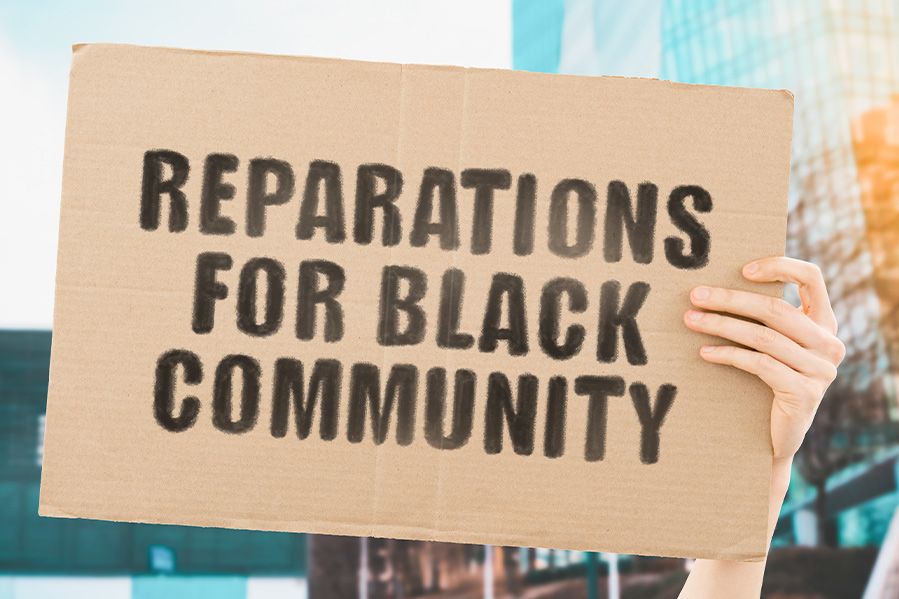 A group of more than 80 faith leaders from the Philadelphia area are meeting to discuss how to implement reparations for African-Americans in their community. 
Over the course of four days, the interfaith coalition will meet at Congregation Rodeph Shalom synagogue to debate the best approach on paying reparations, discuss why reparations are necessary, and get tips on convincing skeptics in their own congregations that reparations are needed.
Reparations Gaining Traction
Once considered a fairly niche idea, reparations have been slowly but surely gaining mainstream attention as America continues to reckon with its legacy of slavery and racism.
In some places they're already happening.
Back in 2019, the Virginia Theological Seminary announced a nearly $2 million dollar endowment fund for reparations to help compensate for their own past sins of racism. 
The school acknowledged it was built using slave labor, and apologized for not admitting black students until the 1950s.
How to Heal Past Wounds
The coalition will explore what reparations could look like.
As a press release explained, they'll be focused on "the multiple dimensions of reparations and how they can invite their congregation (for white majority congregations – toward offering repair; for Black majority congregations – toward making repair demands) deeply into this work in a multi-faith movement for reparations in this city."
When many think of reparations, they think of black individuals receiving checks in the mail. And while that is likely part of the plan, there are other ways to help black communities, they say – whether that is in the form of affordable housing developments or education opportunities for black youth.
Lucy Duncan, a faith leader in the Quaker community, explained that "writing a check is essential, but just writing a check is not enough."
Does the Bible Support Reparations?
Some Christians believe that not only are reparations a moral obligation, but a spiritual one explicitly justified in Luke 19.
As Keri Day of the Princeton Theological Seminary put it, "Zacchaeus is a tax collector who has participated in Roman imperial oppression against marginalized Jewish populations… In his encounter with Zacchaeus, I want to suggest that Jesus sets forth a reparations ethic. Zacchaeus is expected to give back that which he has stolen so that he can be reconciled with others and God."
The Philadelphia interfaith coalition pushing for reparations might agree. They're also focused on the specific ways in which churches helped hold up systems of injustice in the past. 
As Rev. Naomi Washington-Leapheart put it, "religious institutions were complicit in the spread of the sustaining of white supremacy in the United States… We see faith institutions as part of that system that needs to repent and needs to make amends for what has happened and what continues to happen to Black communities."
A Moral Imperative?
Those pushing for reparations argue that above all, it's the right thing to do – both morally and spiritually.
However, supporters are also aware that reparations are a tough sell for some congregants. That's why the final day of the conference will focus on how to talk to skeptics about the necessity of reparations, and focusing on how to tackle common arguments against reparations. 
As it happens, one of the most common arguments against reparations is also a Biblical one: that individuals are "not responsible for the sins of their father."
White people today played no part in slavery or the slave trade – so why should they help pay for generations of injustice they had no hand in?
Backers of reparations say that it's more comiplicated than that.
As Aziz Nathoo, a Muslim interfaith leader in the coalition, responds to such arguments by saying "you are the beneficiary that inherited privileged status. So whether you asked for it or not, you got it. The struggle for reparations is a human and universal call to justice. It's not charity. It is a bill that is past due. Way past due."
What do you think of reparations? Are they a spiritual and moral imperative, or should we simply move on from the sins of the past?
Should reparations be implemented. And if so, is there a way to do it fairly?