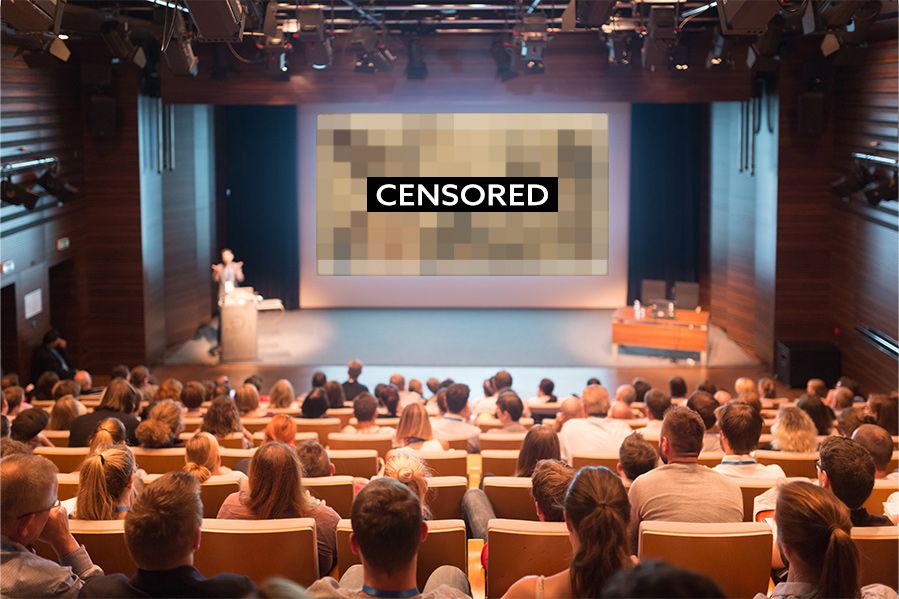 Is it okay to display images of the Prophet Muhammad in an educational setting? That's the question many are asking after an arts history professor at Hamline University was fired after she showed students a 14th century painting depicting Muhammad.
Most Muslims hold strong objections to viewing artistic depictions of Muhammad, and many believe it is sacrilegious. 
Now, the debate has moved from this small, private liberal arts university nestled in the heart of Minnesota to the national stage, with outrage from both free speech advocates and Muslim activists.
Was the firing justified?
Campus Controversy
Dr. Erika López Prater says she gave more than ample warning to students that they will be exposed to something some of them might find offensive or controversial: depictions of holy figures. In the class syllabus for a global arts history class she told students they will see depictions of the Prophet Muhammad and Buddha. On the day she showed the painting of Muhammad, she warned students minutes beforehand and gave anyone who might be offended ample opportunity to leave the classroom.
No one did.
Later, one of the students in attendance – who is also the president of the Muslim Student Association on campus – complained to school officials, arguing that showing the image at all was Islamophobic. Muslim students on campus (who were not in attendance in the classroom) backed the student up, and soon the administration informed Dr. López Prater that she was being let go and her contract would not be renewed. 
"Undeniably inconsiderate, disrespectful and Islamophobic," is how the school described the incident, and the president of the university cosigned an email which said that respect for the sensibilities of Muslim students "should have superseded academic freedom."
Following the incident, the school hosted a forum and invited Muslim students and activists to speak about the incident's impact. One speaker, Jaylani Hussein, the executive director of the Minnesota chapter of the Council on American-Islamic Relations, compared the incident to teaching a course on why Hitler was good. 
Despite the school's best efforts to contain it, the controversy on campus boiled over far beyond the halls of this tiny midwest university, and many in the art world on campus and off are weighing in and demanding Professor López Prater be reinstated.
Was it Islamophobic?
Islamic art historian Christiane Gruber penned an essay last month defending Dr. López Prater. Not only did López Prater give ample warning to students, but the 14th century piece she showed is often taught in art history classes around the world. "The painting is an authentic and irreplaceable work of art," she writes, and the Edinburgh University Library – where it is housed – considers it a "masterpiece of Persian book painting."
Within the art world, there is a concerted effort to widen and "decolonize" the canon, so the painting in question and many other Islamic paintings are being shown more frequently in art classes.
Dr. Mark Berkson, a religion professor at Hamline, says that not even all Muslims agree that the incident was Islamophobic. Not all Muslims believe that artistic depictions of Muhammad are sacrilegious, and the Quran does not specifically prohibit Muslims from viewing or creating artistic depictions of the Prophet Muhammad. 
"To make blanket statements that this is prohibited, especially the image in question, is absolutely wrong," said Ali Asani, professor of Islamic religion and culture at Harvard. "It shows illiteracy about religion."
Dr. Berkson believes the school has gone too far, and that the incident is not Islamophobic. "We were being asked to accept, without questioning, that what our colleague did — teaching an Islamic art masterpiece in a class on art history after having given multiple warnings — was somehow equivalent to mosque vandalism and violence against Muslims and hate speech… That is what I could not stand."
What do you think? The school's given no indication it intends to reverse course on their decision, and Dr. López Prater says she has other jobs lined up anyway.
Was the incident indeed Islamophobic, or should academic freedom have prevailed?