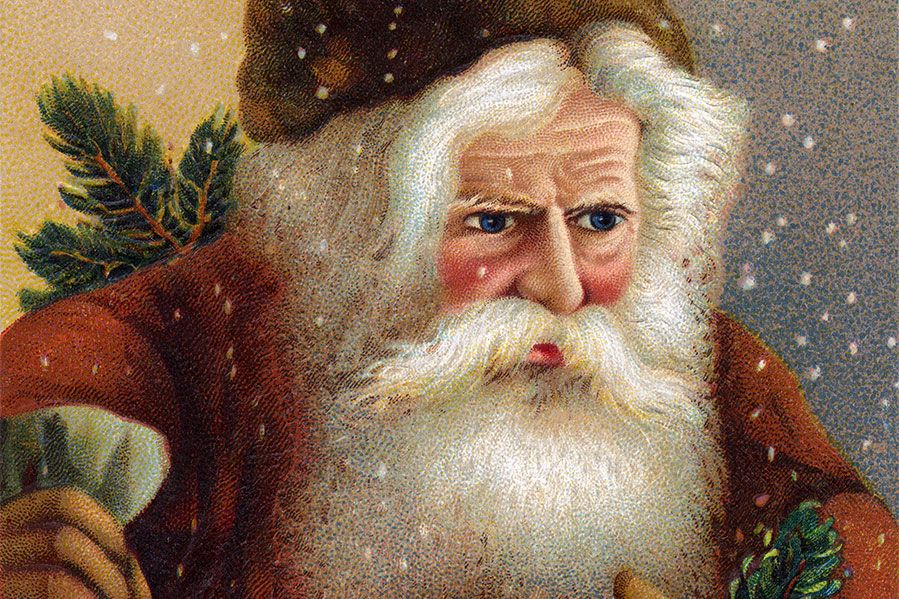 Many people are aware that the contemporary celebration of Christmas is derived from a blending of Christian belief and pagan ritual.
What you might not know is exactly how this came to be.
How do we start with ritual bloodletting and sacrifice and end up with a honey-baked ham? What does snogging under the mistletoe have to do with Jesus's birth?
We'll unlock the origins of Christmas as it's observed today by delving into old Scandinavian lore and customs. This is the history of Yule.
What is Yule?
Let's face it, winter way up north is freezing cold, dark, and could easily be a dismal time of year if not for societal intervention. This sounds like a great excuse to drink up and party with friends and family. For people of many different religions, the winter solstice is a time to do just that.
Historically, pagans and Wiccans have celebrated this time as Yule, a name deriving from the Norse word jól. 
Typically starting at the end of autumn, Yule peaks on the three days centered around the winter solstice. With the harvest over, a bounty of crops and meat are available for feasts and merrymaking (often referred to as 'wassailing' in Norse culture).
Raging bonfires are fed by burly tree trunks called Yule logs and (in ancient times) men would douse themselves in the blood of animals sacrificed to the gods Thor, Odin, and Frigga. While all this is enough to put some hair on your chest, there's more to the holiday than just that.
Yule is also a season that focuses on rebirth and renewal as the sun sinks down in the sky and prepares to rise again to usher in a new beginning. It's a festival of light, both literally and figuratively.
The light and warmth of the fires that are necessary to survive the harsh winter take on a higher meaning as metaphors for the joy and importance of strong relationships. This solidarity is essential to live on and cultivate the landscape.
Christendom and the Heathens
Here is where we connect the dots. Christianity is so ubiquitous that it's easy to consider it without historical context, but as a religious tradition, it actually shares quite a bit with ancient pagan practices. 
Existing similarities played a key role in this merging of Yule traditions with Christian beliefs, and have helped shape how many folks celebrate Christmas today.
For example, sacrifice is a major recurring theme in the Bible – from the story of Adam and Eve's sons, to the smearing of blood on doorways for Passover, to the crucifixion of Jesus likened to the cleansing power of the blood of a lamb.
It all sounds rather heathen, doesn't it? No wonder it was possible to merge the faith with Pagan traditions.
Think about it: the 19th-century Christian hymn Are You Washed in the Blood of the Lamb could easily be the title of an old Norse wassail anthem.
Christmas Takes Over
In fact, it was these parallels between Yule and early Christianity that helped spur the transformation of Yule into a Christian holiday. This metamorphosis is widely attributed to 10th-century Norwegian leader named Haakon the Good, a Christian ruler whose kingdom was majority-pagan.
Although he himself celebrated Christmas, Haakon the Good agreed to participate in many pagan customs, including ritual slaughter, in order to keep the peace in his kingdom. And rather than force his people to celebrate a certain religious holiday, Haakon instead declared that Yule and Christmas would be celebrated at the same time and that people were free to observe either holiday.
To ensure the celebration was extra merry, he also mandated that every man in the kingdom drink a minimum of 4 gallons of ale during the festivities. 
Thus was the Yuletide season merged with the European celebration of Christmas. As this new version of Yuletide became more widely adopted, some practices such as blood sacrifice were phased out, while other traditions remained.
How We Celebrate Yule Today
The evolution of Yule is really a story of toning everything down a bit. Many of the original customs remain to this day – just in different forms. However, we're willing to bet you'll still recognize them. 
1. Holiday Ham
While Pagans eventually abandoned the more extreme elements such as ritual blood drenching, the slaughter and consumption of a hog stuck was too good to give up.
This "feast of the hog" was stripped of its dedication to the goddess Frigga, but the idea remained: the simple enjoyment of a holiday ham; the precursor to the decadent spiral sliced honey hams featured at the center of many a Christmas table.
2. Gift Giving
Even the gift-giving tradition started out with a lot more intensity, as the Norse people believed they would be visited by two goats pulling a chariot through the sky.
Depending on one's behavior over the past year, the goats would either leave gifts for you, or demand offerings on behalf of Thor.
This of course would pave the way for Santa, his sleigh, and flying reindeer. The one big difference? Santa never tries to shake anyone down. The worst he's ever done is leave you coal in lieu of presents. 
3. Mistletoe
Hanging mistletoe is a custom that came from way out in left field if you weren't familiar with it growing up. If it seems like it has no connection whatsoever to the story of Jesus, that's because it doesn't. However, it is divinely inspired.
Nordic people were mesmerized by the evergreen nature of the plant, as it would flourish even as the deciduous trees it grew upon dropped their leaves in a sort of annual death. Legend has it that one of Frigga's sons was killed with an arrow carved from the wood of the mistletoe. 
Crying in mourning, Frigga's tears fell on the wood and turned to the signature white berries we see today. As her murdered son was the product of her love and fertility, she required a kiss be exchanged between people meeting underneath mistletoe - I must say a very odd way to commemorate your child. Again here with the toning things down; the story of a tragic murder becomes an excuse to snog your crush.
4. Drinking & Singing
To muster up the courage to make your move, you might need a little liquid courage, and drinking has always been a Yule staple. Folks would chug spiced alcohol called wassail (or nog if it contained eggs and/or cream) and in a display of overt drunkenness, go into the orchards and make a bunch of racket to wake up the trees so they would bear fruit again.
This custom was the precursor to the modern holiday tradition of drunk dialing your ex in the dead of night, but it also inspired something far more cheerful: caroling.
Not only did the trees get a late-night serenade, but the revelers would also go house to house and sing in the hopes of being offered treats and more alcohol. Just like carolers today, these wassailers fostered a sense of community that is the hallmark of this time of year.
So whether you have a cool Yule, a merry Christmas, a happy Hanukkah, a Noche Buena, or a cracking Kwanza, remember to take some inspiration from the old Nordic Pagans.
Raise a glass, feast, light up the solstice with friendship, and prepare for the new year ahead.