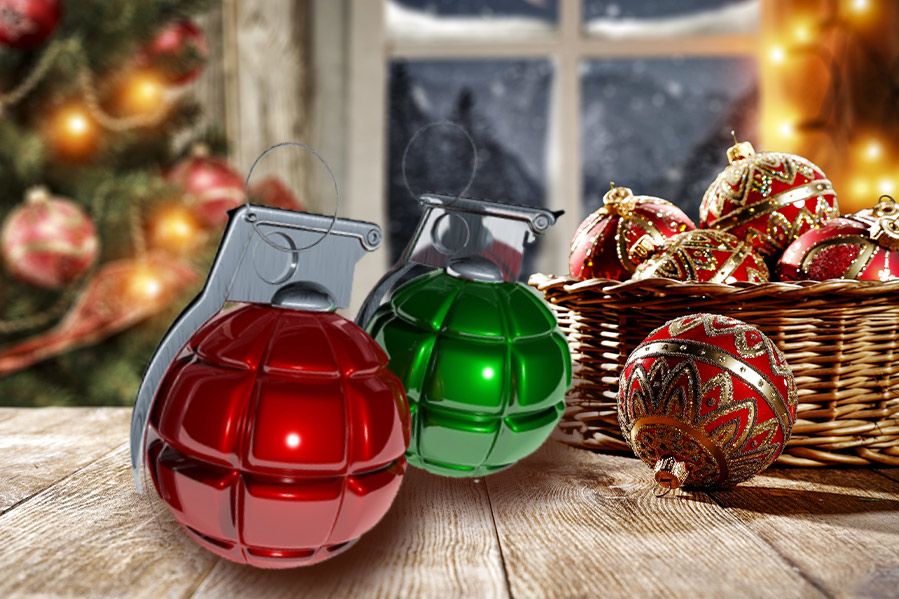 For some, the words 'War on Christmas' evokes the idea religious subjugation and the erasure of Christian faith in the public sphere. From 'Happy Holidays' overtaking 'Merry Christmas' as the seasonal greeting of choice, to Hallmark Christmas movies featuring LGBT+ couples, to the removal of nativity scenes from public property, this cohort sees the signs everywhere.
But for others, 'War on Christmas' is used ironically, signifying a perceived persecution complex on the part of millions of Christians. These skeptics ask what the big deal is over making the holidays a little more inclusive for those of other faiths (or no faith).
It's a microcosm of our larger culture war, distilled down into its most festive form.
And for those of you who thought we might get a reprieve from this seasonal forever war given the COVID situation, think again.
Dress the reindeer for battle. Put on your war stockings. Sharpen your candy cane bayonets. Not even a pandemic can stop the War on Christmas.
The War That Never Ends
Whichever side of the 'War on Christmas' debate you're on, you're probably familiar with some of the greatest hits of years past. Starbucks is routinely on the frontlines of the Christmas culture war, for their seasonal cup designs, which have been the target of criticism for removing religious symbols in favor of more generic and inclusive holiday imagery. 
The Hallmark Channel and Lifetime are also perennial favorites in the War on Christmas as well. For years they've been called on by LGBT groups and others to feature gay couples in their slate of Christmas films.
But they've (perhaps unsurprisingly) received strong pushback from conservative groups like One Million Moms, who just last year convinced Hallmark to pull a commercial featuring a same-sex kiss – although that decision was ultimately reversed.
This year, Hallmark and Lifetime broke new ground by deciding to show 5 holiday movies featuring LGBT couples, out of 74 total holiday films – roughly 7%.
There's also the issue of stores, restaurants, coffee shops and more encouraging their employees to say the more inclusive holiday greeting 'Happy Holidays', rather than 'Merry Christmas'.
Interestingly, despite 'Happy Holidays' being in use for over 100 years as a seasonal greeting, the percentage of people who reportedly enjoy hearing it has decreased dramatically. In 2005, 41% of people said it was their preferred holiday greeting of choice. By 2015, that number was only 25%.
A COVID Twist
It should be no surprise, then, that two-in-five Americans believe there's a War on Christmas.
And if you thought an international pandemic might bring about an armistice, think again.
Everyone from cable news pundits to politicians are seemingly doubling down on the War on Christmas rhetoric this season. Fox & Friends, for example, devoted 18 minutes of coverage on December 9th to two stories - one about a kid denied a Nerf gun from a mall Santa, and another about a nurse who received an anonymous complaint about her Christmas lights.
The bigger story, however, is the CDC's recommendation to stay home this holiday season and avoid traveling to stop the spread of coronavirus, which was met with strong resistance in some circles - to say the least.
And in a COVID-inspired twist, even some politicians are suggesting that the shelter-in-place recommendations are a Grinchian plot to straight up "cancel Christmas."
Still, despite the rhetoric coming from some politicians, it seems many Americans are listening to the experts and taking one for the team. The number of Americans traveling for the holidays this year is set to drop 69%.
There is some good news in all this bickering back and forth, though. Dr. Anthony Fauci, the infectious disease expert helping guide the US through the pandemic, says that Santa Claus has "innate immunity" to COVID-19. 
Well - at least we know Santa's safe.
What do you think? Is there actually a War on Christmas? Will you be staying home his holiday season to help stop the spread of COVID-19?