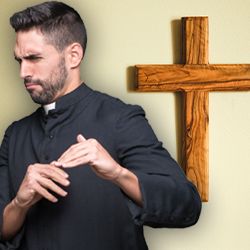 ---
What began as an exploration of five Protestant preachers who had lost their belief has now become the web's largest 'coming out' site for closet atheist pastors.
The Clergy Project has been helping pastors navigate their journey out of faith since 2011. On their site, clergy members who are doubting God or who have lost their belief altogether can talk with like-minded individuals in the same situation. The Clergy Project uses strict internet security and anonymous online forums to protect the identities of their members, many of whom still work in the church. The Clergy Project also helps their participants transition to secular work and life: Everything from resume polishing and counseling services are available.
And now they've just hit the 1,000-member milestone, pointing to a potential groundswell of secularization amongst those who have built their entire lives on faith's foundation.
"To me, it was a secular miracle," declared TCP co-founder Linda LaScola, "not because I didn't think that there were 1,000 non-believing clergy out there, but because, when my interest in non-believing clergy began, it never occurred to me that they would find each other and then join a group with others like them and grow 1,000 strong!"
The Start of the Clergy Project
LaScola's academic paper "Preachers Who Are Not Believers" initially sought to explore the lives, religious education, aspirations, problems and coping mechanisms of five Christian pastors who lost their faith. The denominations represented are Southern Baptist, United Church of Christ, Presbyterian, Methodist, and Church of Christ.
Out of that project, the Clergy Project was born. Backed by the likes of Dan Barker and Richard Dawkins, they've grown into a global movement that shows no signs of letting up. In fact, President Lon Ostrander boasts the site's members hail from every U.S. state and 49 different countries worldwide. Only a quarter of their members are "current religious professionals". The other 75% have transitioned out of religious leadership.
Ostrander details that 'coming out' isn't as easy as some may think. "If I'm a plumber and I've decided I've had enough, nobody cares," he says. "If I'm a priest or pastor or rabbi or imam and I don't believe it anymore and I want to get out, I'm in a tight spot. People quite often have to move to another town, buy a home. Sometimes they end up divorced and not seeing their kids."
The site's very existence proves - if nothing else - that life beyond religion is attainable. Even for those who've based their identities and livelihoods on it.
Is Faith Disappearing?
But is this truly religion's last stand, part of a larger trend toward secularization as faith goes the way of the dodo?
Or perhaps it's just an interesting aberration. The fact is, we are still talking about just 1,000 members worldwide. That number is still a drop in the hat to the number of clergy members currently working in the United States.
What do you think? Is this yet another sign of secularism's rise that even our nation's pastors are turning to atheism? Or is this just a case of atheists propping up a handful of nonbelievers to further the secular cause?