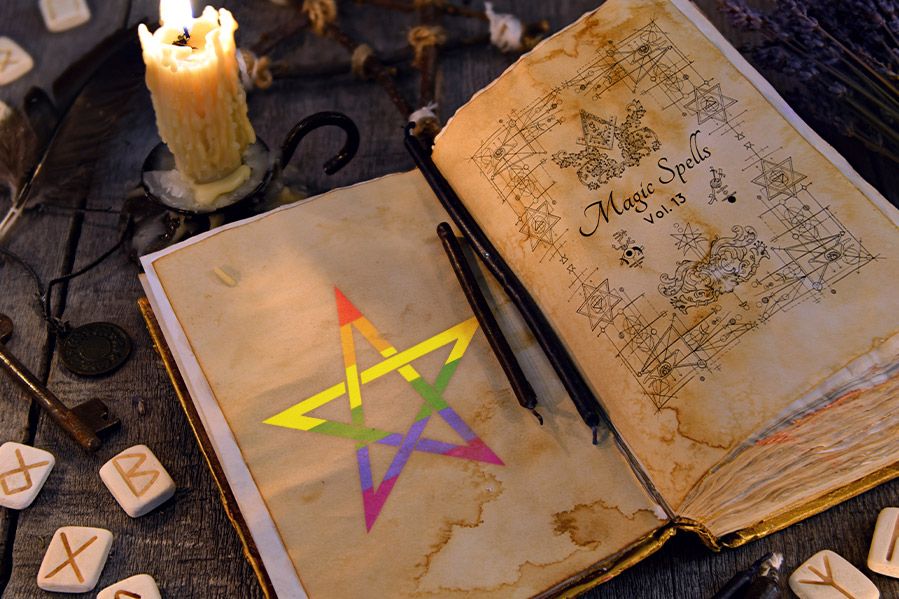 A recent study shows that Pagans are the most LGBTQ-friendly religious group in the United States, with some 93% of Pagans in support of broad pro-LGBTQ policies, compared to 69% for other faiths. 
Pro-LGBTQ sentiment is so strong within the Pagan community that they have a "uniquely Pagan outlook" on gay rights, according to the study's authors.
But why? Despite Paganism being a broad umbrella encompassing a variety of beliefs (Wicca, Druidry, Hellenism, and more), all parts of this diverse coalition support the LGBTQ community. 
Why do Pagans in particular have such a pro-LGBTQ outlook?
It's All Greek
Well, it could be because many of them are gay. A 2015 poll found that nearly half of the Pagans in England, Canada, and Oceania identify as non-heterosexual, and a Pew Research survey found that 11% of LGBTQ respondents identified their faith as some sort of Paganism.
In other words, Pagans are more likely to be gay than other faiths, and those under the LGBTQ umbrella are more likely to be Pagan than heterosexuals.
Support for gay rights is part of the "Pagan religious identity," says Kathleen Marchetti, associate professor of political science at Dickinson College. That might be due to a history of outsiderism, speculates author David Salisbury.
"Pagans have always been seen as outliers and oddballs," he says, arguing that historic exclusion and mistreatment might've given Pagans a stronger sense of empathy for others on the outskirts of society.
In some cases, Pagans worship or celebrate queer gods. Perhaps most notable is the Greek god of wine and fertility Dionysus, who is frequently viewed as queer by scholars of Greek mythology. In some mythic interpretations, Dionysus is said to have sexual encounters with other male gods like Adonis.
"We have always focused on our queer ancestors/ancients and deities" to help young and closeted Pagans come out, says pagan leader Clio Ajana. Utilizing ancient myths showing literal gods as queer, they say, might just give young gay or trans people the courage to come out.
Pagan Politics
Some have also speculated that the pagan community is so pro-gay simply because its members tend to skew left politically. A recent political study of Pagans found that they vote with Democrats more often than with Republicans – and Democrats, at least in recent years, are widely viewed as the more pro-LGBTQ of the two major political parties.
You might remember when a group of witches 13,000 strong fought MAGA with magic, gathering online to hex President Donald Trump. At midnight on every waning crescent moon, the group of witches channeled their energy towards a binding spell on President Trump, hoping to minimize the "harm" he might do, and ultimately remove him from office.
They've also thrown their metaphorical weight behind other social causes, hexing those opposing their goals. They had a Brett Kavanaugh-specific hex during his appointment to the Supreme Court, and in recent years witches have thrown their support behind the Black Lives Matter movement (by hexing police) as well as a safe withdrawal from Afghanistan (by hexing the Taliban).
Perhaps the explanation isn't all political, though. Both Pagans and the LGBTQ community have long been viewed as outsiders. Advocates on both sides say that being a member of a historically persecuted group makes one more inclined to want to uplift others in similar situations.
It would make sense, then, that Pagans would be more broadly supportive of LGBTQ rights than other, less marginalized faiths.
What do you think?