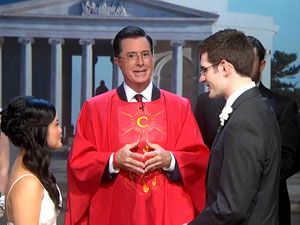 Stephen Colbert, host of the Emmy Award-winning Colbert Report on Comedy Central, last week added "minister" to his long resume. Colbert has been a Presidential candidate (twice), tried out for a spot on the U.S. Olympic bobsledding team, was knighted by the Kingdom of Jordan, and last week got ordained online and officiated a wedding on-air.
Colbert heard the story of a young couple, Mike Cassesso and MaiLien Le, who had planned to marry at the Jefferson Memorial. Unfortunately, the timing of the government shut down was terribly inconvenient for Cassesso and Le, who quickly realized that they would be unable to hold their planned ceremony so long as the monument remained shuttered.
Fortunately for them, Colbert heard their story and eagerly threw himself into the mix. Colbert, himself a devout Catholic, received his minister credentials online and used them to officiate the wedding of Cassesso and Le on his show last week joining the likes of other celebrity ministers who have performed weddings on air, like Conan O'Brien.