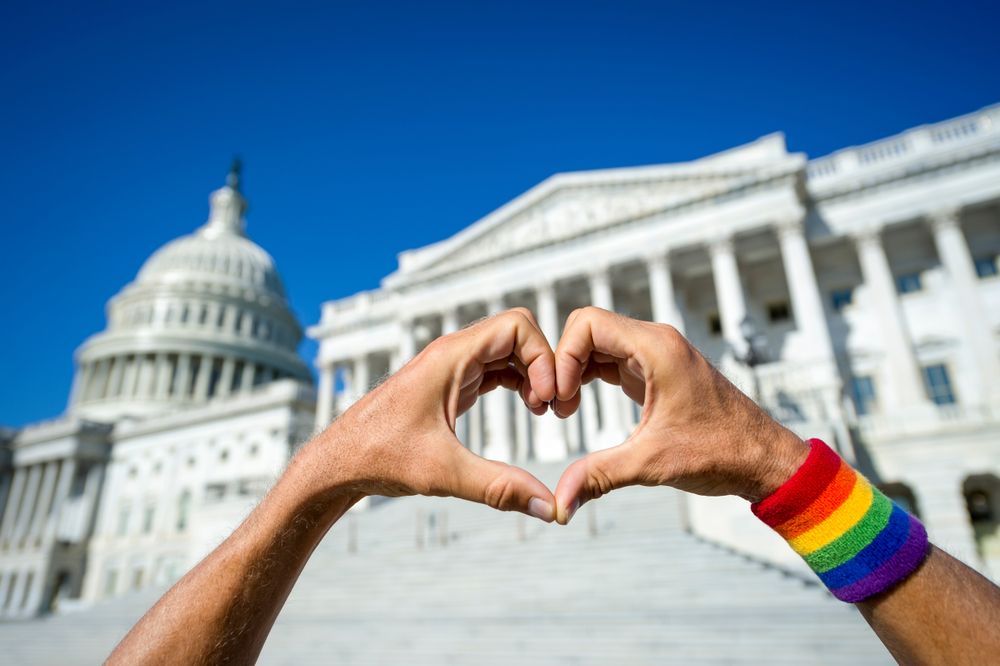 The U.S. Senate just voted 62-37 to advance a bill that would extend legal same-sex marriage protections across the United States.
The Respect for Marriage Act grew out of fears that, following the Supreme Court's reversal of Roe v. Wade, the Obergefell v. Hodges decision may also be at risk. 
LGBTQ rights activists have been warning that with abortion rights struck down, same-sex marriage protections could be next – prompting legislators to act. 
Several months after the House voted in favor of the bill, the Senate has now followed suit.
However, the Respect for Marriage Act still faces several more hurdles before it can become law. 
What is the Respect for Marriage Act?
The Respect for Marriage Act would mandate that valid same-sex marriages be recognized as legal in all states. But (and here's the catch) that only applies if the union took place in a state where same-sex marriage is legal. 
So what does that mean? 
In the event that Obergefell v. Hodges gets overturned, states would theoretically be free to pass their own laws regarding same-sex marriage in their own state. 
However, under the Respect for Marriage Act, they would not be able to discriminate or otherwise disregard same-sex unions within their state, so long as the wedding was held in a state that had legalized same-sex marriage. 
In other words, a married same-sex couple could live in Mississippi and enjoy all the same legal protections as married straight couples – but they'd have to get married in, say, New York. 
In case you were curious, these are the states that still outlaw same-sex marriage at the state level:
Arkansas
Georgia
Louisiana
Kentucky
Michigan
Missouri
Mississippi
Nebraska
North Dakota
South Dakota
Texas
Ohio
Tennessee
A Win, Or a Compromise?
That depends on who you ask. The Respect for Marriage Act is undoubtedly a step toward progress, supporters say. And they note it would be a massive improvement over the situation pre-Obergefell.
However, LGBTQ+ rights advocates say it still leaves the door open for discrimination against gay couples. For instance, not everyone has the time or resources to travel to another state to get married, they point out. 
There has also been significant dispute over how this bill will affect religious organizations, leading lawmakers to change the wording of the legislation in response. 
The newest version holds that nonprofit religious groups can't be compelled to take part in same-sex marriages if doing so goes against their beliefs. 
But that hasn't stopped some conservative groups from voicing alarms. 
"This bill puts a giant target on the back of individuals, nonprofit organizations, adoption agencies, schools, and businesses that hold fast to the truth about marriage," said Roger Severino of the Heritage Foundation.
In order to pass, the bill faces another vote in Senate, as well as the House, before it would go to the White House for signature. 
What is your reaction?