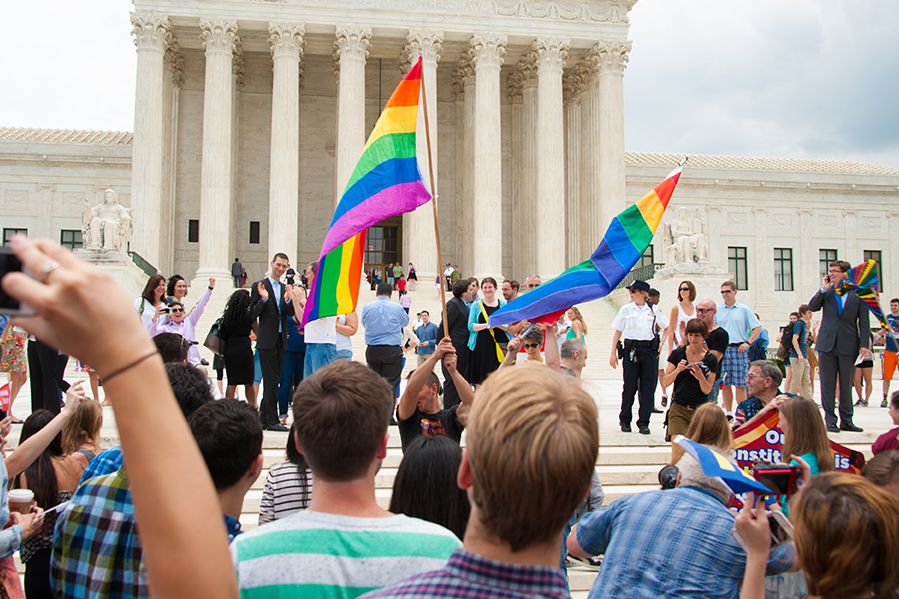 In the wake of the Supreme Court's decision to overturn Roe v. Wade, many people are asking: what comes next?
The 5-4 ruling by the nation's highest court kicked abortion regulations down to the individual states, where trigger bans and already-on-the-books anti-abortion laws will make abortion nearly or fully against the law in potentially dozens of states in the coming days.
But there is some evidence to indicate the Supreme Court may not be done making high-profile decisions that threaten established rights. 
In a concurring opinion (which many feared was coming down the pipeline following the leaked draft penned by Justice Alito last month), Justice Clarence Thomas argued that not only should Roe be overturned, but that the Court should reconsider other landmark rulings that established sexual and reproductive rights.
LGBTQ and women's rights activists are now sounding the alarm because that would mean laws protecting gay marriage, gay relationships, and access to contraception could soon be on the chopping block.  
Justified Fears
"In future cases, we should reconsider all of this Court's substantive due process precedents, including Griswold, Lawrence, and Obergefell," wrote Justice Clarence Thomas in his 213-page concurring opinion.
Those are the rulings that legalized contraception access, gay sexual relationships, and same-sex marriage, respectively.
It's worth noting that the majority opinion in this particular case indicates the ruling can and should only apply to abortion access, and not all of the above.
However, the three liberal justices on the court insist that they don't buy that argument for a second.
In a fiery dissent, Justices Breyer, Kagan, and Sotomayor wrote that "the right to terminate a pregnancy arose straight out of the right to purchase and use contraception. In turn, those rights led, more recently, to rights of same-sex intimacy and marriage. They are all part of the same constitutional fabric, protecting autonomous decisionmaking over the most personal of life decisions."
Canary in a Coalmine
LGBTQ and women's rights activists have long feared that Roe falling would only be the beginning. Earlier this year, one OGBYN called a Roe rollback a "canary in a coalmine" after some legislators danced around questions of potentially reversing Obergefell and Griswold.
The fear could be justified. In their Obergefell dissent, Justices Alito and Thomas wrote that "the court has created a problem that only it can fix."
Those concerns have only grown after this latest ruling. 
There are no current challenges to same-sex marriage before the Supreme Court, but activists say that conservatives will undoubtedly be emboldened by the Supreme Court's recent ruling and the comments from Thomas. In that scenario, it's less a matter of if… but when.
What do you think? Could we seriously be heading for a future where the contraception and same-sex marriage rulings are reversed?