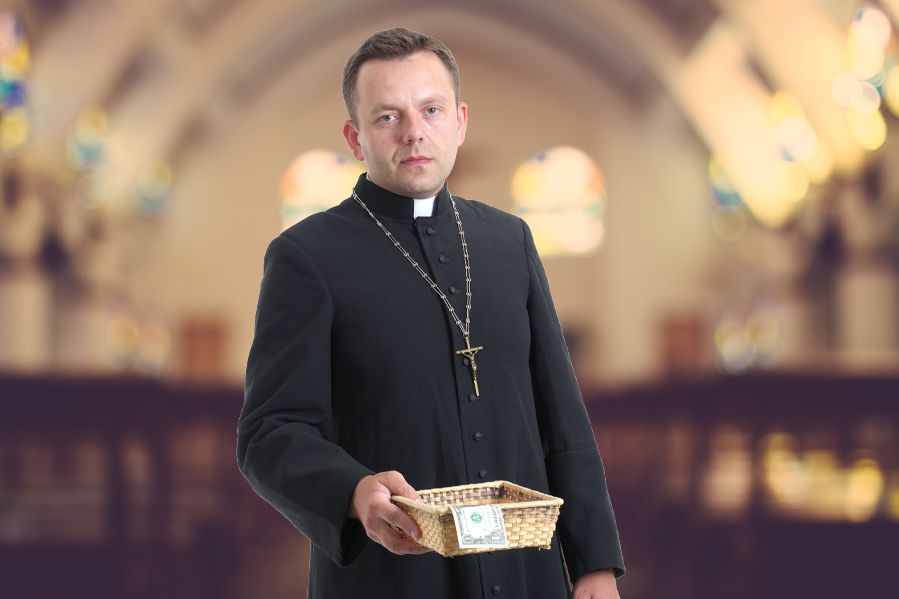 If you're a churchgoing millennial or Gen-Zer, chances are your pastor thinks you're not generous enough with your money.
A new report from Christian polling firm Barna found that an overwhelming percent of church pastors say they're concerned that young congregants aren't giving enough cash to their local church.
Are young people uncharitable? Is church leadership getting greedy? What's going on?
Once Upon a Tithe
According to the polls conducted by Barna, 51% of church leadership report feeling "very concerned" that young people aren't supporting the church enough financially. An additional 43% are "somewhat concerned". 
That means a whopping 94% of church leadership are concerned that millennials and Gen-Z aren't coughing up enough dough in the collection plate. In contrast, more than half of church leaders report no concerns about the giving habits of older generations.
What gives? If you ask church leadership, they might say it's a generational divide – a younger crop of churchgoers that simply aren't motivated to give as much as their parents did. 
Skipping the Collection Plate
In another examination of the giving trends of Americans, Barna found that millennials are more charitable with their money than Gen-X, and equally charitable as Baby Boomers.
61% of millennials report giving money to charities and/or churches, compared to 64% of Boomers. Only 51% of Gen Z reported giving charitably, but considering many of that generation aren't yet in their peak earning years… that is relatively understandable.
This statistic has some church leaders concerned. It would be one thing if millennials didn't have the means to donate... but the data shows that they're consciously choosing to skip the collection plate and send those funds elsewhere.
Why is that? And what does it mean for the future of churches? Those are the types of questions that could keep pastors up at night. 
A Different Type of Donation
That second report shows that younger generations may actually be just as generous as elder generations, but that their generosity simply manifests itself in different ways.
Here's another interesting statistic:
While young people are less inclined to give financially to charities and houses of worship, they're actually more likely to donate their time, according to the report.
Just 21% of Boomers reported volunteering at a charitable organization, for example, compared to 41% of millennials and 54% of Gen-Z. 
One could argue that millennials and Zoomers are just as if not more generous than prior generations, only with a different currency.
Brace for Religious Skepticism
One factor that the report's authors took into consideration was the enthusiasm gap for religious institutions. It's no secret that younger generations have a healthy skepticism for faith in general, but particularly organized religion. 
For years, America's fastest growing religion has been "none", and reports like those detailing hidden bags of cash falling out of the walls of pastor Joel Osteen's megachurch in Houston do little to assuage their distrust and cynicism. 
The report itself also argues that young people simply have a more global mindset than their elders.
With the ubiquity of the internet, one's community isn't necessarily tied down to their physical location, like their neighborhood or local church pews. Their sense of community is global, and so those social pressures to give financially felt by generations past simply aren't there.
What do you make of these findings? Why do you think younger people are tithing less – and what could that mean for the future?