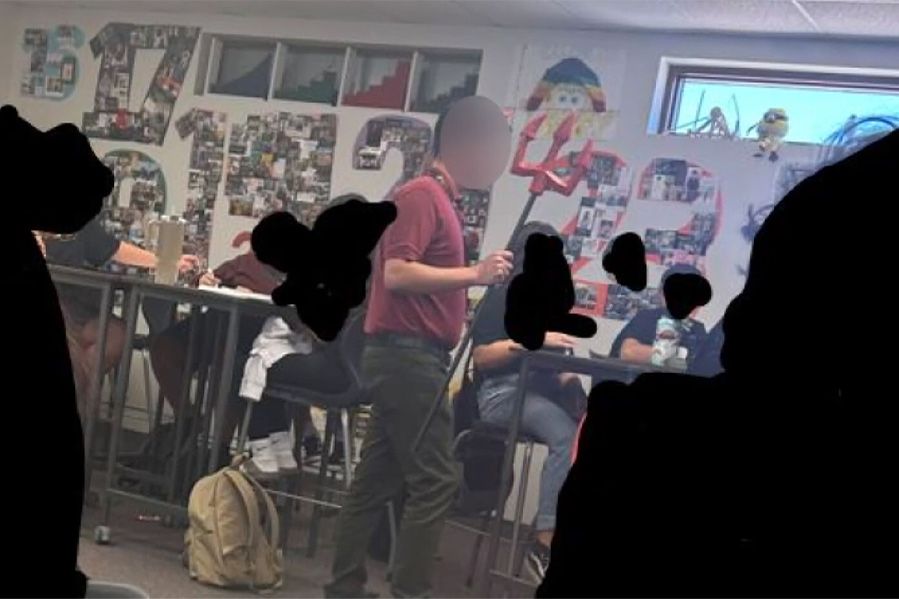 Is it possible to take "spirit week" a tad too literally? 
A teacher in Mesa, Arizona is catching heat for his Satan costume during Mesa High School's spirit week late last month.
The controversial costume – and the teacher's behavior in it – reportedly offended a number of Christian students, who say he crossed the line. The teacher is now on leave and under investigation by the school following the student complaints. 
Now, there's only one question: does Satan belong in the classroom?
Demonology 101
Donning plastic devil horns, a red shirt, and brandishing a pitchfork, the teacher allegedly said "hail Satan" to students as they entered his classroom. 
According to local sophomore Nathaniel Hamlet, the teacher's conduct received a mixed reaction in class. 
"Some people thought it was funny, some people didn't like it, some people were like 'whatever,' they just blew it off," he explained. 
Hamlet very much counts himself amongst those who didn't like it. 
As a Christian, Hamlet found the costume offensive, and he says that the instructor wouldn't stop brandishing the pitchfork at him, despite his repeated insistence that the teacher stop. "I said, 'Don't do that to me' and I pushed [the pitchfork] away, maybe three or four times and he still said it and still did it."
Hamlet's father argues that this is simply a fair application of rules that restrict religious symbols and expression in the classroom. "If you're gonna keep the Christian stuff out, then you got to keep the devil-worshiping stuff out, period," he said.
Feeling the Heat
Speaking with a local news outlet, the teacher gave his side of the story.
"Participating in spirit weeks like this is a way for me to engage with my students and bring fun to my classroom," he explained. "It's truly not any more complicated than that."
The theme of that day's spirit week was dynamic duos, he says, and the teacher in the next room over was dressed as an angel. Now on administrative leave and potentially at risk of being let go, the decision may come back to haunt the educator. 
Devilish Details
While the Hamlet family seems insistent that the teacher should face consequences, not everyone sees it that way. Plenty of local parents say that the teacher stepped over a line, but they don't want to see him fired.
Other critics sought to call out irony in Christians complaining about religious views being represented in schools, given recent examples of Christian beliefs pushing into the classroom. 
For now, however, it's unclear if school leadership will reincarnate the teacher's career, or send it straight to hell.
What do you think of the teacher's behavior, and the reaction to it?
Is this – pardon the pun – a fireable offense?