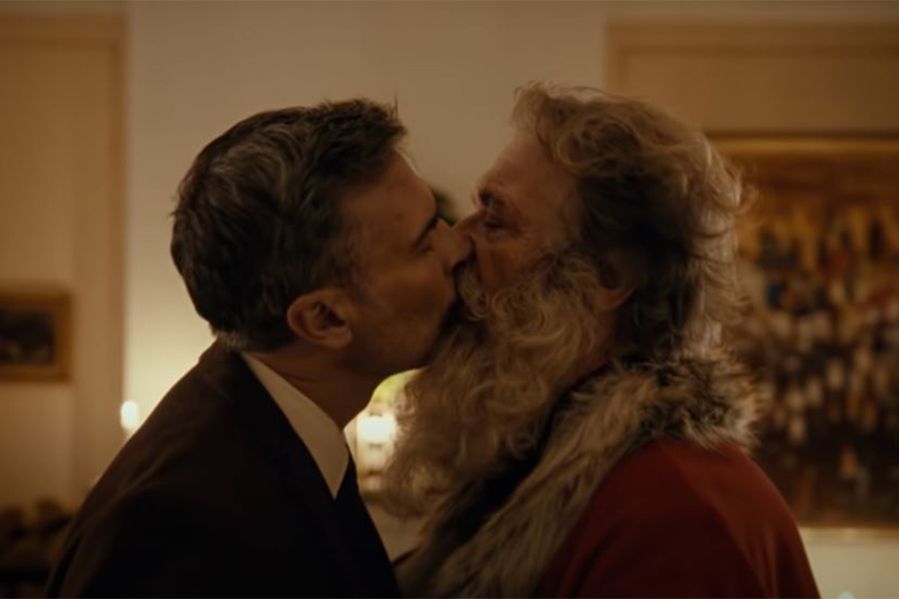 An ad created by the Norwegian postal service is sparking international acclaim and outrage for its steamy depiction of Santa Claus as a gay man.
The ad, part of the "When Harry Met Santa" ad campaign, celebrates the 50th anniversary of homosexuality being decriminalized in Norway. It depicts Santa and another man balancing a burgeoning relationship with Santa's seasonal present delivery duties.
Some called the ad, which depicts the two men kissing each other, heartwarming. Others say it is wildly offensive.
Is it okay for Santa to be gay? And did anyone tell Mrs. Claus?
"Santa Uses Tongue!?"
The ad tells a love story, showing Santa's first encounter with a man who stumbles upon Saint Nick in his home delivering presents. In subsequent years, their romantic connection grows, as do the protagonist's frustrations of only seeing Santa one evening per year.
He finally sends Santa a letter which states "Dear Santa, all I want for Christmas is you." When Santa visits that evening, he tells the man he's arranged some help for the evening, so the two can spend more time together. 
Then they share a kiss as the camera zooms out.
Critics weren't too happy about that last part.
"They've sexualized Santa," complained talkRADIO contributor Dawn Neesom. When host James Max pushed back against the claim that it was sexualized, arguing that it was a harmless kiss, Neesom fired back: "It's a proper snog. There are tongues!"
She also took issue with Santa's alleged infidelity, arguing that he was "cheating on his wife at Christmas."
She wasn't the only one to object to Santa's Christmas Eve kiss; Social media was flooded with objections to the display. "I find this ad creepy and disturbing!" exclaimed one Twitter user. "Norway making Santa a closet homosexual cheating on Mrs Claus is the worst Christmas idea....EVER!" said another.
Naughty or Nice?
Does the ad cross a line? Supporters of the message say that it's only being criticized because it's a homosexual relationship, arguing that you'd never see this sort of backlash if Santa was kissing Mrs. Claus. 
"It's not Harry kissing Santa that's distasteful, but the echoes of the historical villainisation of gay male sexuality that reverberate through the objections to this ad," wrote Katie Edwards for the Independent. "The argument that children shouldn't be witness to Santa falling in love with and kissing a man is only a step away from suggesting that gay men are a corrupting influence on kids."
Whether the kiss is sexual in nature is up for debate, but as many on social media pointed out, 'sexy Santa' is hardly a new concept, and has gone culturally unchallenged for years. From "Santa Baby" to "I Saw Mommy Kissing Santa Claus," Santa's been getting down and swapping spit for decades. So what's the problem this time?
And, as one Twitter user stated, if the objection is the sexualization of Santa, then where's the outrage over 'sexy Santa' outfits?
The question then becomes: is a gay kiss inherently sexual? Are gay relationships inappropriate for children to see?
The Norwegian postal service says they simply wanted to show that "love has no limits" in the ad. Critics say the male-on-male kiss sexualizes Santa. 
What is your reaction?
P.S. as if this whole saga wasn't enough, it somehow isn't the only gay Santa outrage this holiday season. This other one was a bit closer to home: