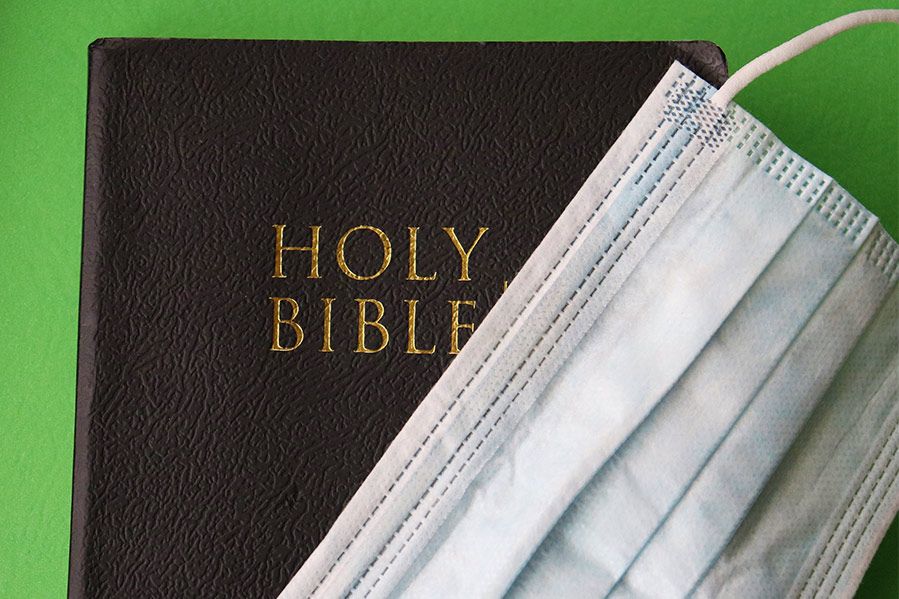 The message from public health officials is clear: wear a mask to help protect yourself and others from coronavirus.
But not everyone is on board – particularly some members of the faith community. More and more, people are citing their faith as a reason why they shouldn't have to wear a mask. We recently wrote about Ohio State Rep. Nino Vitale's argument that faces are the "likeness of God", and that it is therefore immoral to cover them. His claim was roundly criticized, but recent public hearings show that this idea does indeed resonate with many Americans. 
Because face-covering policies are instituted primarily at the local level, city council meetings across the U.S. have been ground zero for the backlash against mask-wearing. Take Palm Beach County in Florida as an example. They county made wearing masks in public mandatory, and many residents weren't having it:
One woman threatened that city council members would face retribution for their mask policy. "Every single one of you who are obeying the devil's laws are going to be arrested," she asserted. Another community member stepped to the microphone and told the assembly that the city council "wants to throw God's wonderful breathing system out the door." 
Churches across the country have been pressuring government officials to let them stay open and continue offering in-person services – sometimes with disastrous consequences. But it seems the lesson that coronavirus poses a real threat has not yet been fully learned, even by those in leadership positions.
A Papal Scolding
Pope Francis gave some of his strongest words yet for religious leaders who defy safety measures during the coronavirus pandemic, likening those who resist life-saving measures like wearing masks to "adolescents".
The remarks were made at the Vatican on Sunday, June 21st, to an audience of frontline workers from a region of Italy hard-hit by coronavirus. He praised their heroic service and sacrifice in the midst of the pandemic, and also praised church leaders for their "creativity" in servicing their flock digitally.
"They were fathers, not adolescents," the pontiff said, then later said there was an "adolescent resistance" by many priests to close church doors during the pandemic - despite the fact that churches have repeatedly been hotspots for outbreaks. 
How Masks Became Political
Even though Pope Francis' words were delivered to a small group of healthcare workers from Northern Italy, they're relevant worldwide, particularly in America where safety measures like wearing masks and social distancing have been politicized. There are hundreds of videos online of individuals entering buildings without masks, defying public health mandates and putting essential workers and other patrons at risk.
"The mask has become the ultimate symbol of [the] new cultural and political divide," said a Politico piece published last month. "For progressives, masks have become a sign that you take the pandemic seriously and are willing to make a personal sacrifice to save lives… On the right, the mask is often seen as the symbol of a purported overreaction to the coronavirus."
Would Jesus Wear a Mask?
How would Jesus respond to the pandemic? Some argue that refusing to wear a mask defies the Golden Rule that underpins many Christian teachings: do unto others as you would have them do unto you. Pastor Kate Murphy took this idea and penned an op-ed asserting that Jesus himself would wear a mask.
"The bottom line for Christians is this: Even if you believe that the fear surrounding COVID-19 is not justified, that fear is still real. And Jesus didn't insult or belittle people who were afraid. He went out of his way to come alongside them. Jesus went out of his way to show — in his flesh — that their lives mattered to him… Wearing a mask is a practical way to show that you love your neighbor, to lift the burden of someone who is afraid instead of adding to it."
Pope Francis likely agrees. In his remarks he said that "God created us for communion, for fraternity, and now more than ever the pretense of betting only on one's self has proven illusory. It's illusory to make individualism the guiding principle of society."
What do you think? Is there any religious justification for refusing to wear a mask, or are such claims just a convenient cover to defend arrogance and selfishness?