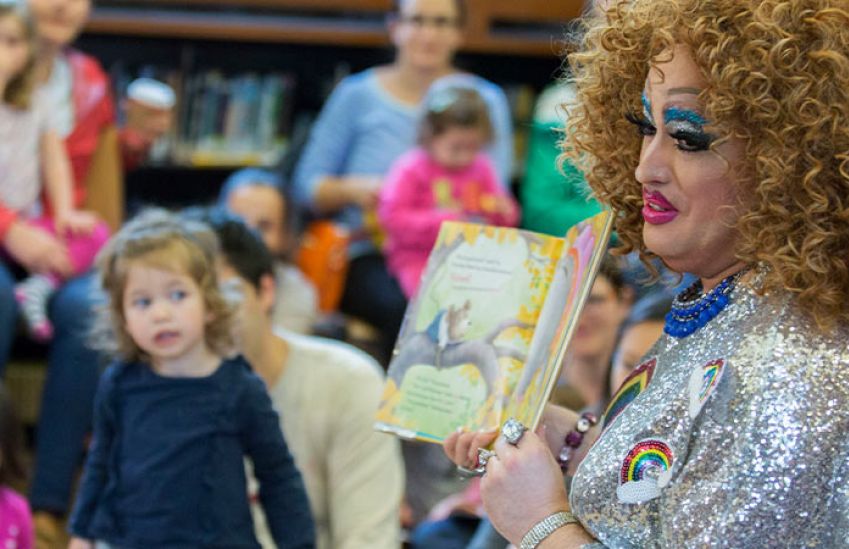 ---
The South Hill Library in Spokane, Washington became the latest moral battleground over the controversial Drag Queen Story Hour (DQSH).
Hundreds of jeering protesters and counter-protesters faced off outside the library as parents and their excited children gathered inside to listen to Andrea Tate, a drag king better known as Tirrany, read from such books as "The Princess and the Pony," "Not all Princesses Wear Pink" and "Love Is Love Is Love," part and parcel of a national program designed to expose kids to positive queer role models and gender fluidity.
"I'm done with letting drag be confined to adult-only spaces," explained Tate of the Spokane event, where libraries turned away dozens of kids due to the large public turnout. "Obviously we're not teaching kids what it means to be gay. That's not our goal here. Our goal with this story hour is to teach kids that regardless of what someone else looks like, or who they love, we have no place telling them they're not allowed to do that."
Drag Dissent
Conservative Christian Tom Turner, who joined about 200 people protesting the Spokane event, waving signs reading "Gender fluidity is a lie" and "Drag is Black Face," was not buying Tate's message of inclusion for one second.
"I'm on this side of the street because God isn't over there," he said, pointing to the 400-or-so counter-protesters who showed up to support the drag queens. "Ultimately, they're being deceived. The fact that this is happening all over the U.S. reflects where our society and culture is headed. Sin is never satisfied."
Anti-LGBTQ rights organization MassResistance mobilized a similar protest at a Seattle story hour, describing it as inappropriate and hypersexualized. And a religious group in Houston even filed a legal challenge against DQSH, saying the event violated their religious freedom.
Meanwhile, at an unrelated "Teen Pride" celebration at a Washington public library, two concerned mothers were ridiculed online for their efforts to expose a graphic dance by a drag queen, as well as the distribution of questionable adult sex and gender materials.
Still, the pastor of Westminster United Congregational Church of Christ applauded the Spokane event, glad that her own granddaughter could attend. "Even though there's only one of me up here," began Rev. Andrea CastroLang, "there are other Christian churches that are friends and allies, and it really sucks to have to represent Christianity sometimes because we've done a lot of disservice. So I'm here to try and be a friendly face."
The Debate Drags On
The libraries hosting the events are generally very supportive of the events. Judy Zuckerman, Director of Youth and Family Services at Brooklyn Public Library, said that "Drag Queen Story Hour is a fun and important program that celebrates diversity in the way that children may dress and act. It encourages children to look beyond gender stereotypes and embrace unfettered exploration of self."
But those in opposition see Drag Queen Story Hour as the unnecessary promotion of homosexuality to children. One protester at the Des Moines, Washington Drag Queen Story Hour laid his argument out. "Why impose this lifestyle on a child? Children will grow up and learn their own opinions all by themselves. There's no reason for this." Another protester at last year's event in Mobile, Alabama was even blunter. "They're going to try to say that they're just trying to teach kids how to read Everybody knows that's not what this is about. They're trying to teach children that there's nothing wrong to have two fathers instead of a mother and father. I mean that's what this is all about, and I'm against that."
So as Drag Queen Story Hour continues, so too will the protests. But DQSH co-founder Jonathan Hamilt is unfazed by the opposition, and insists the protests are born out of ignorance. "When you leave big liberal areas, people tend to be more conservative. Their fear can come out as anger."