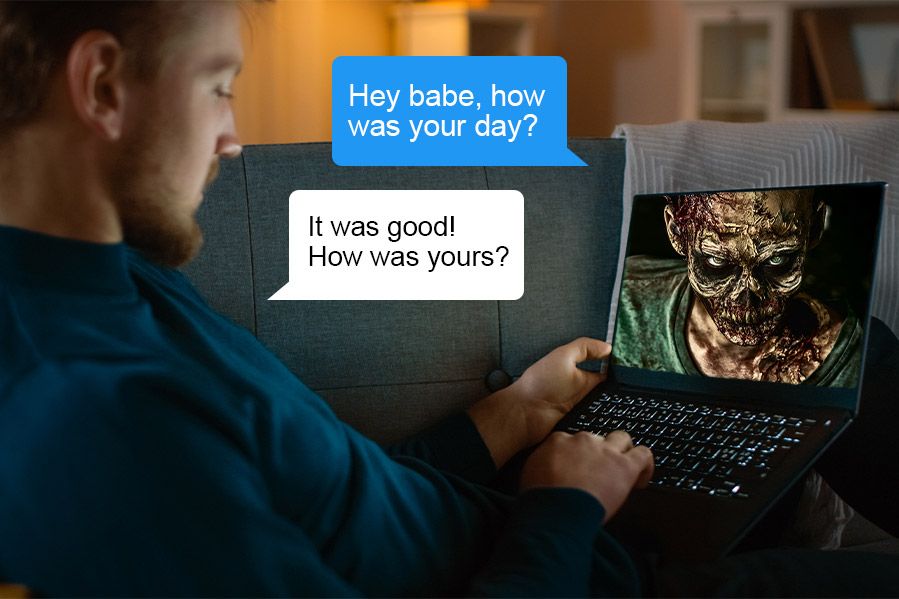 Science fiction is full of cautionary tales of individuals who raised the dead, only to regret it. There's Frankenstein, for one. Stephen King's Pet Sematary. Heck, even the Star Wars prequels. Apparently the executives at Microsoft missed out on all those movies and books, though, because they've patented new tech to reanimate you as a chatbot after your death.
Microsoft is, apparently, keen to answer the question that has plagued humanity's greatest philosophers since time immemorial: Is there life after death?
The answer is apparently yes, so long as their servers are up and running.
You, Zombie
In December, the United States Patent and Trademark office granted a patent to Microsoft to create a "conversational chat bot" of a deceased individual compiled from their digital footprint, including social media posts, images, and voice recordings. The goal, it seems, is to create a digital version of you that communicates exactly as you would, that will even look and sound like you, even have your mannerisms - even if you're dead.
Yes, communicating with the dead - a task once left to a society's most spiritually in-tune individuals - is now going to be just a click away. Chock that up to another job automated away in the 21st century.
It's all eerily reminiscent of an episode of the television series Black Mirror, "Be Right Back," where a woman's husband is killed in a car accident. She uploads her deceased husband's social media posts to an AI, which in turn allows her to communicate with a digital version of him from beyond the grave. Eventually the husband's voice is uploaded to a synthetic android that looks just like him. We don't want to spoil the end of the episode for you… but things go a little haywire from there. 
There are scores of legal and moral questions here, obviously. Least of all, can they do this without your consent? 
Given the lack of regulations surrounding this sort of tech, the lack of case law on the subject, and the lengthy signing-away of rights you do every time you sign up for a service, the answer is possibly 'yes'.
Talking to the Dead
Who knows what will become of this patent. Just because the technology has been patented doesn't mean it will necessarily go anywhere. But the groundwork is there for our post mortem selves to come back from the dead. A few recent examples:
In 2012, the late rapper Tupac Shakur performed at Coachella as a hologram, to a very confused audience.
Peter Cushing appeared as a main character in 2016's Star Wars: Rogue One, 22 years after his death, as a CGI composite.
Paul Walker, who died during the production of Furious 7, was recreated digitally for some shots in the final film.
What was once in the realm of science fiction is now increasingly common in Hollywood productions and music festivals the world over. And it makes sense that normalizing seeing our favorite celebrities in films or commercials decades after their death would lead to a public desire to see or talk to one's dearly departed loved ones.
Even still, Microsoft might be getting ahead of themselves here. In 2016, they created a Twitter account for Tay, an AI bot designed as an experiment in "conversational understanding".
The more 'she' interacted with Twitter users, the more she learned, developed a personality, and could respond back. She was designed to have a curious, playful personality - but Twitter users turned her into a misogynistic racist within 24 hours.
With recent results like that, this tech is likely years away - if it's ever coming at all. But the legal and moral questions are here now.
What do you think? Would you want to be resurrected as a chat AI, or even a 3D model, so that your loved ones can continue to talk to you after you're dead? Would this help or harm the process of grieving and gaining closure? 
Is it just too creepy for its own good?