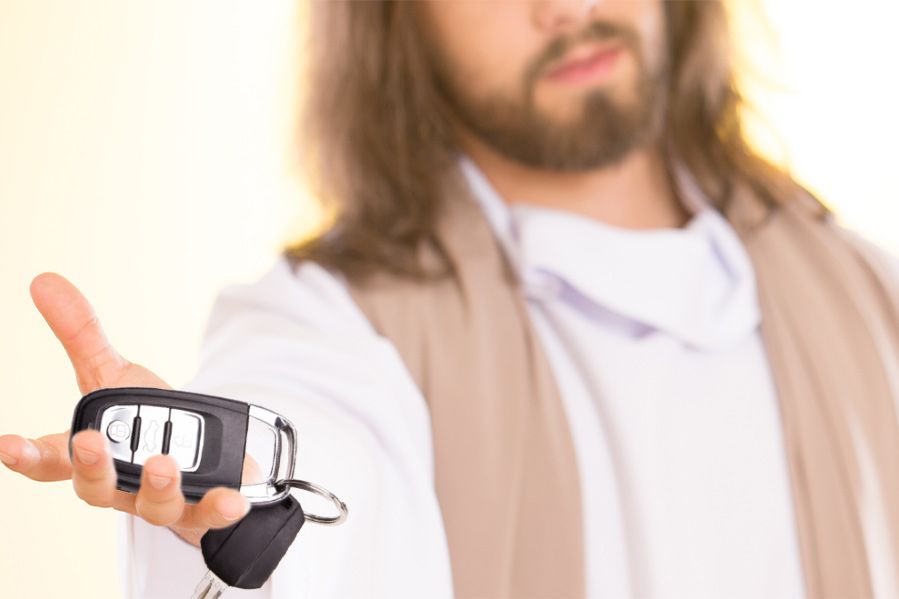 One of the most talked about Super Bowl ads this year was from Jeep, a two-minute appeal for a cultural coming together that used classic Americana imagery like running trains, flags on porches, and Bruce Springsteen in its pitch for healing our wounded nation.
One of the most memorable lines from the ad is about meeting in "the middle" – referencing a chapel in Kansas that sits geographically in the exact middle of the lower 48 states. And while many immediately noticed that a Christian church is not exactly the most neutral of meeting grounds, it's interesting to see a multinational corporation use religion so prominently in its biggest ad of the year. 
If you didn't catch it, we've linked the video here on this page. 
It begs the question: Does the Bible sell?
God Approves This Message
We'll have to wait and see just how much Jeep sales spike (or dip) in the future thanks to this latest ad, but the use of religious imagery to sell a product isn't exactly a new phenomenon, although it is rare. Perhaps the most famous tying together of religion and advertising in recent memory is Ram Truck's "So God Made a Farmer" commercial that debuted during the Super Bowl in 2013. 
The ad uses a popular 1978 speech from broadcaster Paul Harvey and utilizes the creation of man from Genesis to celebrate farmers and sell pickups, intrinsically tying the Ram brand to Christianity. However, the ad was generally well-received, with Forbes saying that "Chrysler managed to insert just enough of its vehicles and brands in each spot so as to make their inclusion seem part of the fabric of the paean, [and] not at all intrusive."
Sometimes, however, religious ads aren't received quite so warmly. Just a few years ago, another auto company used religion in an appeal to togetherness during the Super Bowl.
Toyota ran they're "We're All One Team" ad during the 2018 Super Bowl, which showed a group of friends - a Catholic Priest, Muslim Imam, Jewish Rabbi, and Buddhist Monk - all pile into a Toyota to cheer on their team at a football game. The ad was another appeal to togetherness, but apparently Toyota forgot a key cohort.... the world's 1 billion+ Hindus did not appreciate being left out of the ad.
Hindu activist Rajan Zed said that it was "shocking for the hard-working, harmonious and peaceful Hindu community, who had made a lot of contributions to the society and the world, to receive such signals of exclusion."
Perhaps the worst advertising sin one can make when incorporating faith into their ad is coming across as blasphemous. Red Bull yanked a 2012 commercial that depicted Jesus walking on water… only to reveal at the end of the ad that he wasn't performing a miracle at all, just stepping on stones.
The ill-conceived ad received swift condemnation from Christians and Muslims alike, with Cardinal Wilfrid Napier, head of the Southern African Roman Catholic Bishops Conference, saying that they "suggest that [Red Bull's] marketing team and their advertising and public relations companies make a serious effort to attend sensitivity training. People are more than consumers and faith-based symbols are more than marketing opportunities."
Risky Business
Given the backlash to some ads but not others, it seems the jury is still out on whether or not using religion to advertise something nonreligious is a good idea. But perhaps it is a simple matter of tact. John Hegarty, founder of the Bartle Bogle Hegarty ad agency in London, told the New York Times that using faith is a high-risk, high-reward strategy. "If done right, it can inspire religious or spiritually minded consumers to act," they quote him as saying. "But if done wrong, it can alienate an audience."
But what if the audience is changing?
America's fastest-growing religious demographic is the 'nones', those who identify with no religion in particular. Americans are jettisoning traditional religion at a rapid pace, particularly Millennials and Gen-Z. Over one-third of younger Millennials say they have no faith at all, more than double the rate of older generations. 
Which brings us back to the Super Bowl ad from Jeep. By tying faith to their brand, is Jeep risking alienating potential non-Christian buyers?
Whether you're Christian or not, what did you think of the Jeep ad? Was it effective? Is using religion in advertising wise, or is the risk of fumbling the message just too high?