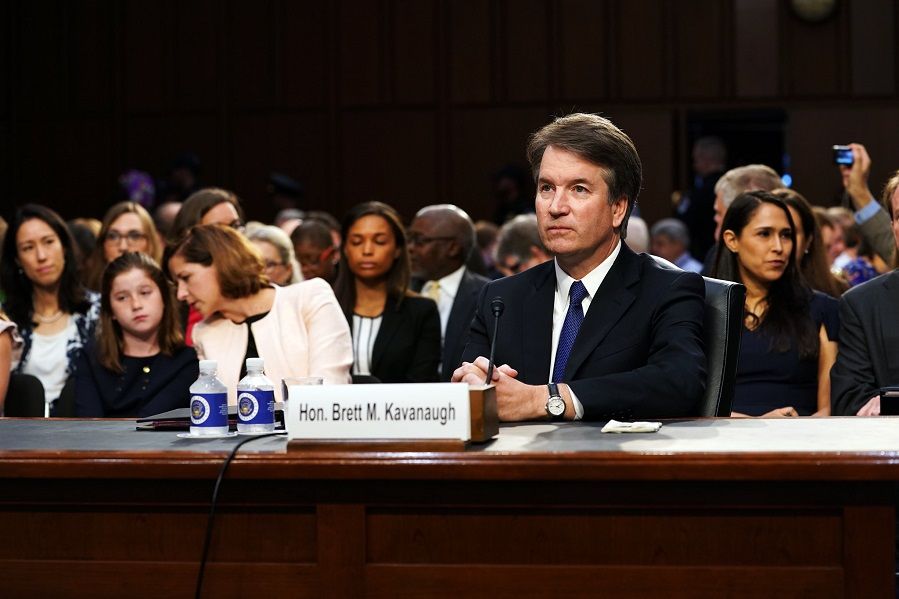 Supreme Court nominee Brett Kavanaugh has been facing tough questions as he testifies before Congress this week. Although the hearings have covered a wide range of topics, his views on religious liberty and reproductive rights have been under the microscope especially.
On Thursday, Kavanaugh was asked to comment on Priests for Life et al. v. United States Department of Health and Human Services, a case involving a religious group that refused to pay for birth control to be used by employees. He had previously written that religious groups should not be forced to provide medications that run against their faith beliefs. During his testimony, Kavanaugh reaffirmed this view, explaining:
"Under the Religious Freedom Restoration Act, the question was first was this a substantial burden on their religious exercise, and it seemed to me quite clearly it was. It was a technical matter of filling out a form in that case, but they said filling out a form would make them complicit in the provision of the abortion-inducing drugs they were, as a religious manner, objected to."
Critics Respond
Reacting to the testimony, reproductive rights groups took issue with the term "abortion-inducing drugs", insisting that it's a misnomer intended to spark alarm in religious circles. They argue that the contraceptive drugs in question simply prevent pregnancies - they don't terminate them. Pro-choice group NARAL issued a sharp response on Twitter:
What About Roe v. Wade?
Should Kavanaugh be confirmed, it would certainly make for a more conservative-leaning Supreme Court. And after his comments on birth control, pro-choice activists are becoming increasingly worried that this new court might side with religious groups and move to roll back reproductive rights. Their biggest concern: the potential overturning of Roe v. Wade.
But don't celebrate too soon, pro-life advocates. Kavanaugh has made a point of calling the landmark abortion ruling an "important precedent" that has been "reaffirmed many times" - leaving experts to speculate that an overturn of Roe v. Wade is unlikely.
For now, anyway.
[Update 9/17]: In a shocking turn of events that may quash his Supreme Court bid, Judge Kavanaugh has been publicly accused of committing sexual assault as a teenager. His accuser is Dr. Christine Blasey Ford, a California professor who came forward in an exclusive interview with the Washington Post over the weekend. Kavanaugh has flatly denied the allegations, setting the stage for a high-profile Senate hearing to investigate the matter.