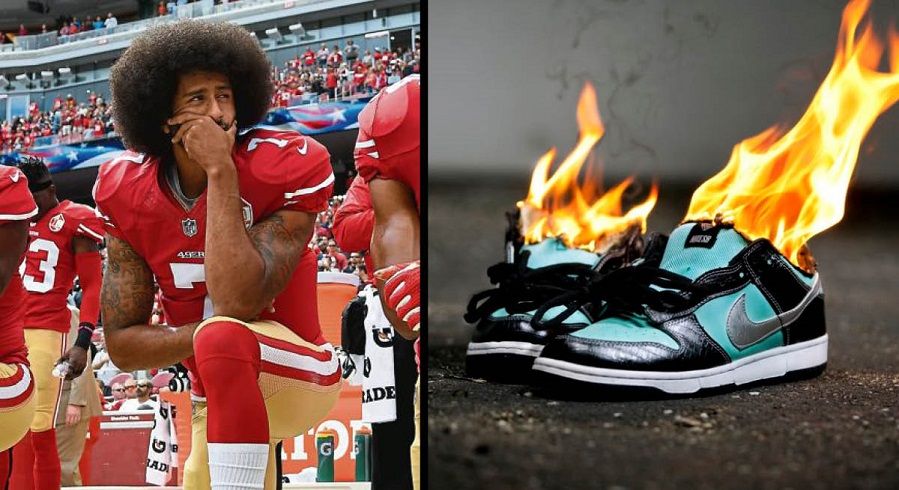 Just when it seemed like the nationwide debate over former NFL player Colin Kaepernick was dying down, Nike poured some high-intensity fuel on the fire by featuring the controversial figure in a new ad campaign. Americans, still unable to agree whether Kaepernick is a socially-conscious patriot or an anthem-kneeling traitor, once again entered the fray to argue their side. Those who support Kaepernick voiced admiration across social media, with many vowing to buy more Nike products.
But critics took the opposite approach: they started burning whatever Nike gear they could find in their closets. Videos were soon pouring onto Twitter and Facebook featuring Nike owners enthusiastically burning their shoes, cutting logos off their socks, and engaging in other acts of protest against the company:
First the @NFL forces me to choose between my favorite sport and my country. I chose country. Then @Nike forces me to choose between my favorite shoes and my country. Since when did the American Flag and the National Anthem become offensive? pic.twitter.com/4CVQdTHUH4

Sean Clancy (@sclancy79) September 3, 2018
**What Would Jesus Do?
**
Although the Kaepernick haters appeared to get much satisfaction out of these acts of revenge, many charitable groups viewed the videos differently. Soon after the burnings when viral, churches began pleading with people to donate their gear instead of destroying it.
J.D. Sumner, a member of the First Presbyterian Church in South Georgia, issued a heartfelt message asking for donations: "If you feel so moved in some kind of way that you want to get rid of your stuff rather than burn it, which is not going to benefit anybody, I got with some of our church people here and I was like, 'why not do something positive?'"
At the Claremore Restoration Church in Oklahoma, Jessica Joslin had a similar idea. She posted on the church Facebook group to rally people to the cause:
"When I saw that people were throwing things away, burning, destroying all the Nike products over the political issue, I just posted and asked people to give it to us because we can give them to people who really are in need. We are trying to turn a bad, negative atmosphere into something positive and giving and [asking] kind of, 'What would Jesus do?' If you are going to burn anything for any reason, just donate it instead. It's not just Nike, we will take anything because people are just in need."
Just Donate It
But it's not only churches that are seeking to combat the Nike burnings. A police department in North Carolina has been hyping the #DonateBeforeDestruction hashtag, urging people to give their unwanted items to those in need. "There is a national trend of destroying perfectly good Nike shoes. If your plan is to destroy them contact theHillsborough Police Department and we will get them to someone who could use them," the department wrote on Facebook. "This not a political post, just a sensible one."
The movement even reached Puerto Rico, where orphanage manager Jeremy Schuech offered to take donations too:
If you plan on boycotting Nike and destroying the clothes you've already purchased, please let me know. I have an orphanage full of children in Puerto Rico who would love to have them.

Jeremy Scheuch (@jeremyscheuch) September 4, 2018 No matter how you feel about the Kaepernick anthem controversy, it's hard to refute the fact that donating perfectly good clothing and shoes to people in need is a better use of resources than burning them in the yard. If those opposed to kneeling during the national anthem continue to shun Nike en masse, at the very least we can hope to get a boost in charitable donations out of this debacle.
Is It Un-American to Protest?
Thanks to renewed attention from Nike and the start of a new NFL season in which notable players continue to protest, this controversy won't be going away anytime soon. Critics maintain that anyone protesting during the national anthem is being inherently un-American by showing disrespect to the flag. They seem especially indignant that players making millions of dollars playing the country's favorite sport would have the gall to call attention to America's faults during the pregame ceremony.
But supporters of the protests insist this is a silly and simplistic view. If protesting was actually un-American, they argue, then we'd still be a British colony. In their view, if we truly wish to solve ongoing problems with racial injustice, then sweeping the issue under the rug won't help. Better to bring out in the open and keep it there in hopes of spurring people to action. If that means kneeling during the anthem, so be it.
Where do you stand?