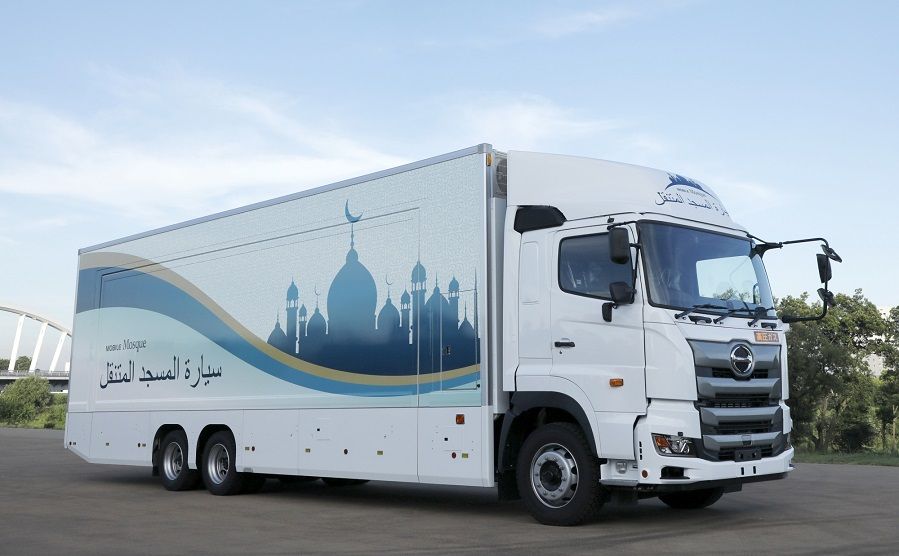 If necessity is the mother of invention, then we might have Japan's limited selection of mosques to thank for bringing "mobile praying" to the masses.
Headed by CEO Yasuharu Inoue, the Yasu Project has created the world's first mosque on wheels, responding to what he believed to be an alarming shortage of praying facilities for Japan's 200,000 Muslims, not to mention all those expected to pour into the country for the 2020 Summer Olympics.
The mobile mosque in question has been built into the back of a modified 25-ton truck, which flips open into a 515-square-foot air conditioned room that can accommodate 50 worshipers at a time. It includes outdoor taps and a washing area for pre-worship cleansing, and there are plans to add a compass that will point to Mecca.
Taking it Worldwide
Although Mr. Inoue conceived the mobile mosques to travel to different Olympic venues during the tournament, he's already envisioning targeting international sporting events both nationally and overseas, with the hopes that mobile praying could eventually go global and fill a gap in religious infrastructure.
"As an open and hospitable country, we want to share the idea of `omotenashi' (Japanese hospitality) with Muslim people. Going forward, I would be so happy if people from Indonesia, Malaysia, Africa, the Middle East and, for example, refugees who are coming from Syria are able to use the mosque as a tool to promote world peace."
The Future of Prayer?
It's not a stretch to imagine such mobile mosques lined up alongside the food trucks, swag shops and port-a-potties that dote outdoor music festivals and other special events in cities around the world. The question is whether or not this is really the type of environment in which Muslims want to be getting closer to Allah.
On the one hand, Muslims who are required to pray five times a day will definitely welcome the news that their religious duties can now be fulfilled, both in comfort and with some degree of public dignity. However, trying to pray as crowds of non-Muslims mill about outside might prove distracting, or even sully the the experience entirely.
Although it's the fastest-growing religion on the planet, Islam has also faced its fair share of opposition as it spreads around the globe. Scores of mosques in Western nations have been egged, vandalized and even desecrated by unthinkable actions, like leaving pork in their mailboxes - not to mention the innumerable acts of violence against Muslim followers themselves. So despite Yasuharu Inoue's noble intentions, there is some worry that mobile mosques could become similar lightning rods for hate and intolerance.
What do you think? Will the prayers of the future happen on the go? How do you think mobile mosques will fair?