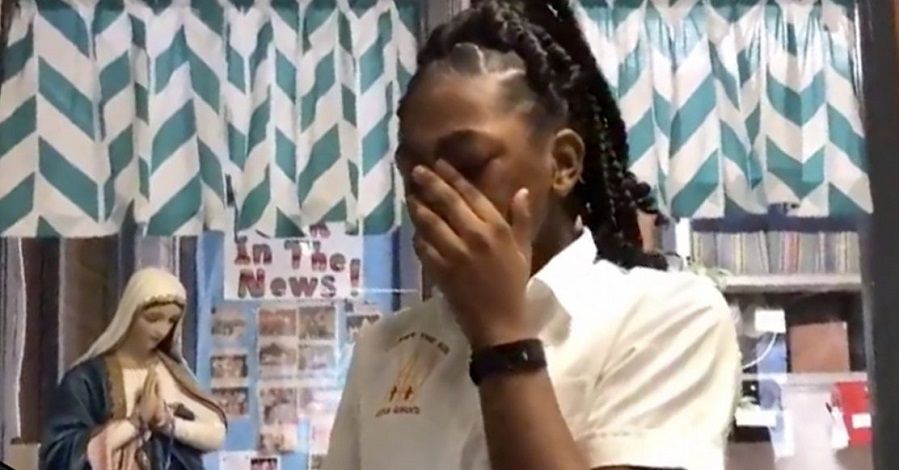 ---
Its image already battered thanks to the recent clergy abuse scandal in Pennsylvania, the Catholic Church has sparked a fresh round of online outrage over its treatment of African American hairstyles in its schools.
Video of Louisiana sixth-grader Faith Fennidy crying her eyes out as she's forced to leave her classroom, pack her schoolbag, and vacate Christ the King Middle School for good has left social media raging against what critics are calling a clear case of "Christian White Supremacy."
The family's lawyer, Inem O'Boyle, told the New York Times that despite having worn the same hairstyle for the last few years, the 11-year-old was first warned in early August that her braids violated school policy, forcing her family to spend a "considerable amount of money" trying to get her hairstyle up to Catholic 'code'.
Despite these efforts, Faith's hair was still deemed unacceptable, and she was asked to leave the school for good Monday. "They told her not to come back," O'Boyle explained.
"Over the summer the school has sneakily added in a policy, that no extensions, clip-ins or weaves are allowed," wrote Faith's brother in a Facebook post and video that went viral. "Extensions make the hair easier to maintain. It allows my sister to have access to the swimming pool without having to get her hair re-done every night. How do you make a policy without even having a discussion? It's because you don't care and it's just one more barrier to entry for black people."
Are Christian Dress Codes Racist?
Despite the school's explanation, some high-profile online activists view things in a different light. In their eyes, this was just one more tool used by white Catholics to keep black people down. Perhaps the most striking comments came from political and social activist Shaun King, who tweeted out a video of the incident to his 1 million followers - along with some sharp criticism:



It just happened again.


Christ The King Middle School in Gretna, Louisiana expelled this beautiful young Black girl saying that her hair style was "unnatural."

She was humiliated and removed from the school over it.

Let's be clear - this is Christianity as White Supremacy. pic.twitter.com/22IIKD9UCk

Shaun King (@shaunking) August 21, 2018
But is this incident really evidence of white supremacy in the church? Others aren't so sure. "Religious private schools are like that," someone tweeted in response. "My surfer friends back then in the 90's, with their long hair all the time...they had to cut it off, or if it wasn't the hair it was our shoes or wearing the uniform properly...the girls same thing, they have rules!"
Catholic School Officials Respond
The school maintains that its dress policies are applied equally to all students and have nothing to do with race. So, who's in the wrong here? The school'scurrent parent-student handbook states: "Only the student's natural hair is permitted. Extensions, wigs, hair pieces of any kind are not allowed." But the 2016-2017 version had no such rule.
Archdiocese of New Orleans Superintendent RaeNell Billiot Houston insists all parents would have been made aware of the new policy. "As relates to the student in question, the school offered the student's family an opportunity to comply with the uniform and dress policy and the family chose to withdraw the student; the student was not suspended or expelled. We remain committed to being a welcoming school community that celebrates our unity and diversity."
Pattern of Discrimination?
Notably, this latest incident came just days after another black child was targeted by uptight school administrators. According to media reports, 6-year-old C.J. Stanley was sent home from A Book's Christian Academy in Florida on the first day of school for the high crime of wearing dreadlocks. Critics say this constitutes a pattern of religious schools singling out black children for discipline.
Turning People Off to Religion
Whether or not the rules have any racist intent, it's worth discussing the merits of such strict hair policies. For one, there seems no better way to drive future churchgoers away from the faith than coming up with petty ways to discipline them as children. Coming from an institution that's beginning to suffer from waning interest especially among youth it seems a puzzling move.
Secondly, in an era when the church is squirming in the crosshairs of the #MeToo movement and ongoing revelations about clergy abuse, perhaps softening the rules and limiting bad headlines is the optimal strategy. Then again, perhaps this stubbornness is just proof that traditional religion really does embrace a "my way or the highway" mentality - no matter the consequences.