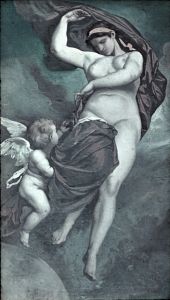 Maybe you are one of them--women, and even some men, who have secreted away from the church pew to summon the goddess in the sacred grove. The trend is growing, it seems. More people are searching for spiritual fulfillment by exploring the "feminine" side of spirituality which is central to so many pagan and New Age traditions, including Wicca, and generally absent from the supposedly more patriarchal male-god religions. But is this "divine feminine", which forms one half of a duotheistic theological system, really such a fair-minded and forward-thinking alternative to the male dominance of mainstream religion? As we will see, it might actually reinforce the very patriarchy it seeks to dismantle, and we want to know what our ULC ministers, especially our pagan ones, think about the issue.
To show how the "divine feminine" movement backfires in its attempt to overturn patriarchy, we must first establish what the concept means. Generally speaking, the "divine feminine" embodies a triad of female archetypes: the Maid, the Mother, and the Crone. Each archetype correlates with a different stage in a woman's life. The Maid represents the pure and innocent virgin, the mother, the nurturing life-giver and care-taker, and the crone, the wise old teacher. She is every important aspect of womanhood, or so it would seem, and many people get ordained as priests and priestesses specifically to pay her homage. She functions as the polar opposite to the male god in a binary which consists of an aggressive, rational, dominant "male energy" and a passive, emotional, submissive "female energy". We worship her because she complements the powerful, disciplinarian masculinity with the weak, nurturing femininity that males supposedly lack.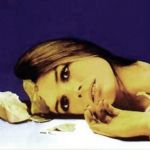 But, in the stereotypical binary of the weak goddess and strong god, we already see the failure of the divine feminine to dismantle patriarchy. An example of this binary in Chinese philosophy would be the yin and yang, in which a negative, dark, feminine principle complements a positive, bright, masculine one. The divine feminine movement attempts to reclaim female authority from obscurity by extolling the meek, nurturing, yielding nature of the goddess and ignoring her strong, confident, and assertive nature, but this is oxymoronic, because it suggests that women's power lies in their powerlessness. How can women gain power and influence equal to that of men if they are essentially less powerful and influential than men? It just doesn't make sense. So, with its schizophrenically passive-aggressive, powerful yet powerless goddess, the divine feminine simply reinforces patriarchy.
Now, critics of this view will argue that the binary isn't really that black and white. "Each man has a feminine side, and each woman, a masculine side", they will assure you, glowing with pride in their observation. They will point out, for example, that in the yin and yang model, each side has a little bit of the other within it. This is true, but it is also true that the yin is still overwhelmingly dominant and "masculine", and the yang, overwhelmingly passive and "feminine", so it doesn't achieve much to say "there's a little bit of the other in each". Besides, it's a circular argument. Arguing that each man is a little feminine, and each woman, a little masculine, is a homunculus fallacy, because it still relies on the use of the discrete terms "masculine" and "feminine" to explain gender. Once again, we see how the divine feminine fails to completely liberate male and female from oppressive sex roles.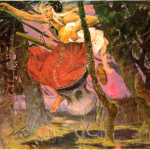 In addition to the yin and yang model, the fact that the goddess exists almost entirely in relation to males and childbearing presents a problem for the "divine feminine". The most important role of the goddess is probably the fecund, life-giving, heterosexual mother. She is constantly associated with the earth, fertility, and child-bearing, since only women can give birth. Yes, male fertility is also celebrated in the form of gods like Priapus and phallic cults, but this fertility forms only one aspect of the male god, who is also warrior, judge, poet, leader, and many other things. The goddess, though, is overwhelmingly associated with nurturing, life-giving fertility, and her sexual relation with the god. She is the pure Maid who is sexually desirable to males, as in the Teutonic fertility goddess ostre (related to "Easter" and "oestrus"), the Mother who bears her husband's children, as in Gaia, and the Crone who is useful for nothing more than giving advice, and who sometimes represents death, sinister magic, and even cannibalism, as in the child-eating Slavic witch Baba Yaga. When the woman explores life beyond the hearth and the nursery, it seems, her unbridled energy necessarily becomes an evil, a transgression against her husband, children, and community. But this isn't exactly fair. What about girls, sterile women, post-menopausal women, hysterectomized women, lesbians, and women who simply choose not to have children, or even to marry? We would still call these people female, and nearly all of them are not evil child-eaters, so obviously the "divine feminine", with its inordinate emphasis on female fertility, fails to represent the many different aspects of female virtue beyond that of childbirth and nursing. It is hard, then, to see a feminist ideal in this Triple Goddess.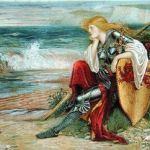 The divine feminine is a well-meaning attempt to correct the historical repression of females in mainstream, Western religion and spirituality, and in some ways it may have made inroads, but it still falls short of the goal: it presents an oxymoron in the powerlessly powerful goddess, it creates a contradiction by using the terms "masculine" and "feminine" to argue that there is no pure masculine and feminine, and it describes a goddess whose identity exists almost wholly in relation to men and reproduction. She begins to look like nothing more than a Stepford wife. Of course there is nothing wrong with women being compassionate and nurturing, but there is something wrong with women being more compassionate and nurturing than men, especially if all of us are supposed to be as enlightened as possible. To reclaim female authority in religion and spirituality, then, perhaps we should be exploring the many other aspects of the divine feminine: the warrior, the judge, the poet, the leader, and the good witch. Simultaneously, we should be exploring the more yielding and nurturing side of the god. By doing so, we learn from each other and become truly whole human beings. For, as the Universal Life Church Monastery teaches, we are all children of the same universe.
You can learn more about earth-centered pagan religions and New Age beliefs by visiting our Guide to Divinity; also, feel free to discuss the topic with other ordained ministers and priests on our Facebook discussion forum or our social network for ministers.