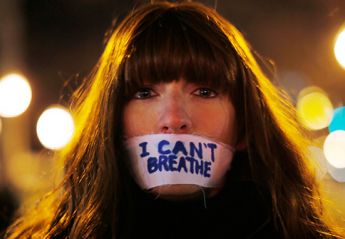 Should the police be allowed to arrest you, give you a ticket, or just choke you to death for committing a misdemeanor? A grand jury in Staten Island thinks so. They were examining the case of Eric Garner, a black man that had previously illegally sold loose cigarettes the day before, was confronted by police and put his hands up before being pounced upon by other officers and was placed in a chokehold and wrestled to the pavement.
A viral video shows him exclaiming, "I CAN'T BREATHE!" His unconscious body lay in the street for about seven minutes without medical aid or any regard by the police for his well-being.
How Bad Must Police-State Brutality Get?
It was confirmed by an examiner that Garner's death was a homicide. He died from the chokehold and "the compression of his chest and prone positioning during physical restraint by police." Furthermore, the incident was caught on video. Missing are the uncertainty, hearsay, and conflicting witness accounts that were present in the case of Mike Brown. We know exactly what happened. Watch the video.
Would you indict the officer? Yes or no?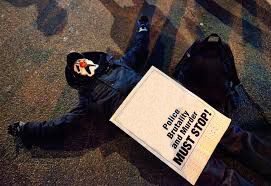 Are white police afraid of black men? If you see a black man at night, are you afraid?
Police are rarely charged with murder when they kill people while on duty. In a seven year period, departments reported 2,600 justifiable homicides and 41 unjustified killings. Criminal Justice Prosecutors depend on the police and the police depend upon the prosecutors. They are all part of the same good 'ole boy system. Most whites think the results of these grand juries were fair, and that these killings were not motivated by race. Minorities tend to think the results are not fair and these cases are race related.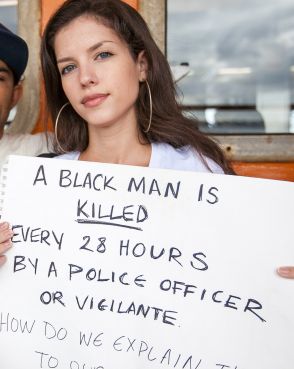 What is your race and what do you think? Are black people wrong and whites right? Yes / No
Very few people understand that lawyers, prosecutors, the police guild have gotten together to develop a law doctrine of qualified immunity, which is often claimed by Republicans that judges are making laws from the bench. Immunity laws have been made by judges. The Supreme Court, the Circuit Courts, and State Supreme Courts have weighed in to decided they are immune to accountability before the courts.
Often, if one attempts to sue a cop for wayward conduct such as accidentally running in to your car, shooting you accidentally or on purpose, the qualified immunity kicks in to protect the officer/defendant. If a civilian is able to hire a top attorney to represent him, the city, county, or state pays for the defense of the wrongdoing cop. If you watch your television, you will always see the police union weighting the story to the benefit of their brotherhood. The brotherhood has free civilian attorneys paid for by you. They set the rules and contracts as to when they will work, what they should be paid, and how much access should be granted to the public regarding information on rogue cops.
Lastly, and most importantly, if the brotherhood doesn't get its way, it will strike and leave a community without protection while they wrangle over dollars. You will notice in no state where state workers' salaries have been cut, the governors do not touch the budget of the police (such as Governor Walker of Wisconsin). Very few cities require police officers to live in the limits of the city where they work. We think officers should be members of the communities they work for.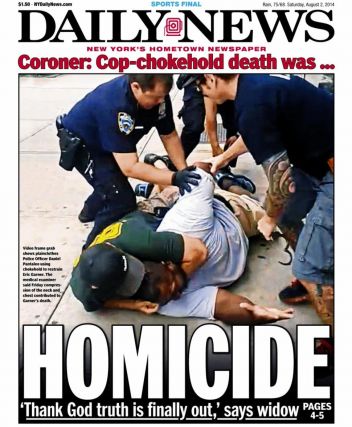 What do you think?
Officers are also financially untouchable. Even in the rare cases where they are found guilty of misconduct, it is typically the city (read "taxpayers") that is fined. This means that if you are assaulted by an officer and she is found guilty, you are going to pay a tiny percentage of the resulting fine. Should officers or taxpayers be held responsible for officer misconduct?
The cases of Brown and Garner may have many differences, but what they share in common is a lack of indictment of a police officer that killed an unarmed civilian. Police protections are choking civilian rights, and we can't breathe!