What is the appropriate response to court decisions which seem to play down violence against black people? Should we re-examine the tenets of nonviolence established by civil rights figures like Martin Luther King, Jr., to determine whether they are really effective? This question is especially relevant given the recent court ruling over the shooting of Michael Brown in Ferguson, Missouri. If we think about it, we don't necessarily have to be spineless and yielding to effect change peacefully.
White Cops and Black Lives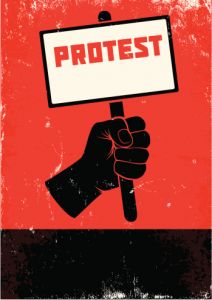 The incident took place on August 9th, 2014, when police officer Darren Wilson blocked Brown with his police car in connection with a nearby robbery. According to his own testimony, Wilson attempted to open his car door, Brown slammed it shut, and when Wilson re-opened it, Brown hit him in the face. Wilson fired several shots, Brown ran away, and when Wilson pursued him, Brown put his hand under his shirt, at which point Wilson fired the fatal shot. Some protesters have contested the argument that Wilson's account of the incident justified the use of deadly force, and witnesses have provided accounts which suggest Brown was turning back around to surrender to Wilson, not to attack him.
Peaceful protests and violent riots quickly followed a St. Louis County grand jury's decision not to indict Wilson for shooting Brown, and quickly spread to cities across the United States and even other parts of the world. The town of Ferguson was a scene of unrest, with shops being looted and cars being set ablaze amid military-like police reinforcements. Even placed as far afield as Portland, Oregon saw skirmishes between police and demonstrators. Very quickly, a social media campaign using the hashtag #blacklivesmatter went viral, and protesters against Black Friday retail sales even demonstrated in solidarity with Ferguson protesters.
Re-thinking Nonviolent Protesting
Pundits and commentators took the Ferguson ruling as an opportunity to revive discussions on nonviolence. Among those challenging the standard view advocating nonviolence was journalist Ta-Nehisi Coates, who said in an Atlantic article that "property damage and looting have been the most effective tools of social progress for white people in America", pointing out how such progress was achieved through slavery and theft of Native American land. Even if looting is wrong, he argues, because whites have used violence against blacks to improve their socioeconomic status in the past thereby building up the "democracy" we know today black people have the right to be "skeptical" about lectures on nonviolence.
Others have stalwartly endorsed the practice of fighting for change through nonviolent resistance. "If you're going to protest, protest in a peaceful, orderly, nonviolent fashion in the way of peace, in the way of love, and nonviolence", urged Atlanta Congressman and early civil rights leader John Lewis in an Atlanta news website, telling his audience that "[y]ou want to bring about the beloved community. That's the way we must do it". There was a similar call for vigilant nonviolence in Birmingham, Alabama, where the Rev. Herman Henderson cried, "[w]e demand justice, we demand it tomorrow. We demand justice, and we demand it now. We're not going to burn our own buildings down, we're not going to burn down our communities." The message from was one of impassioned but peaceful resistance: another protester by the name of Harry "Traveling Shoes" Turner admonished the crowd, "Do not touch property. Do not touch people. But let your voice be heard".
The rage and frustration felt by people around the country and the world over the Ferguson ruling is understandable. Brown's death at the hands of Wilson represents a larger trend of unpunished violent crimes against black people by privileged white people in positions of power. The important question is which way we can best obtain justice. We do not have to behave either like timid little mice, or like stampeding elephants we can obtain justice peacefully through determination, hard work, social media campaigns, and strategic community organizing efforts.
Sources:
Alabama Media Group
The Atlantic
BBC World News
CBS
The Washington Post