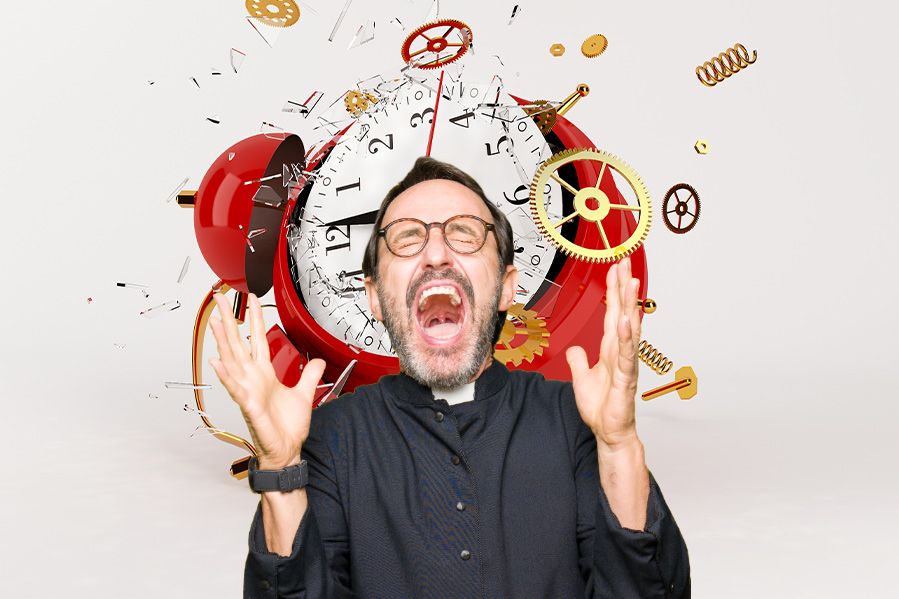 Shaking your fist at the time shift this past weekend? Does springing forward and falling back give you a headache and throw off your sleep schedule? You're not alone in opposing that pesky time change.
In fact, from its inception, daylight savings had a strange opponent: evangelical Christians.
Turn Back Time
The idea of daylight savings time can be traced back to a satirical essay from Benjamin Franklin in 1784, cheekily proposed as a cost-saving measure on candle use for the citizens of Paris. But Franklin proposed the idea as a joke, and never suggested turning the clocks to align with daylight hours, despite popular belief that he "invented" daylight savings time. His "proposal" was to "let cannons be fired in every street, to wake the sluggards effectually."
No, it's an insect-obsessed Kiwi that we truly have to thank – or blame. The real roots of daylight savings time can be traced to New Zealand entomologist George Hudson, who in 1895 suggested advancing clocks by two hours so that, it is rumored, he would have more daylight to examine his insects.
Daylight savings was first observed in Germany in 1916 during World War I to conserve fuel, and much of the world followed in their footsteps. Much of Europe adopted DST the following year, and the United States adopted daylight savings in 1918 with the Standard Time Act.
The timing wasn't great. The date it was implemented - March 31, 1918 - was Easter Sunday. Pandemonium ensued at many churches across the country as parishioners arrived in droves, some early, some late, many of them unsure what the time actually was. And the situation was not made clearer by the fact that some churches, in an effort not to confuse their congregation, waited until noon to change their clocks, instead of springing forward overnight.
It was such an issue that the National Daylight Savings Association encouraged churches to "ring their bells more lustily than usual" so that the masses knew exactly when to go to church.
Reportedly, many enjoyed the extra hour of sunlight in the evening, despite the initial confusion.
But from the start, some evangelicals were against changing the clocks, arguing that doing so was nothing less than a violation of "God's time."
Are We Violating "God's Time"?
"Repeal the law and have the clocks proclaim God's time and tell the truth!" bellowed Mississippi representative Ezekiel Candler in a lively debate on whether to keep daylight savings after the war ended. He ultimately won out; Congress repealed the law and then overrode President Woodrow Wilson's veto, ending daylight savings... until it was re-adopted in 1966.
The "God's time" argument was a common refrain amongst those who opposed DST at the time, and it was not a new argument. The same pitch was made in opposition to the standardization of time zones in the United States all the way back in 1883. The creation of time zones in the United States was proposed by the railway industry, but some evangelicals weren't buying it. As Carlene Stephens, curator at the National Museum of American History, says, evangelicals believed that "time came from God and railroads were not to mess with it."
Although federally abolished, many states and municipalities kept DST in various forms, leading to, again, confusion as to what the time actually was. God's time vs. rail time became a major issue. As one Indiana preacher recalled, "half my congregation favors daylight time, and the other half, standard time. When should I open my church?"
In 1966 the Uniform Time Act largely put an end to these headaches, standardizing time zones and making DST the law of the land. Most of the country observes daylight savings, and the arguments that we are upsetting God every time we spring forward or fall back are largely nonexistent today.
And while they might be the most vocal, evangelicals don't stand alone on this issue. Followers of Judaism and Islam have also objected to the policy, arguing that it heavily disrupts their prayer schedules that are subject to the sun and daylight hours. 
Still, whether you're for the time change or against the time change, perhaps there's one thing we can all agree on: That Ben Franklin's idea to shoot cannons in the street to wake up the masses is a much, much worse idea.
[Update 3/16/22]: Yesterday, the United States Senate passed a bill that would enact permanent daylight savings time across the country. That bill now heads to the House for a vote. If approved, it would land on President Biden's desk for signature.