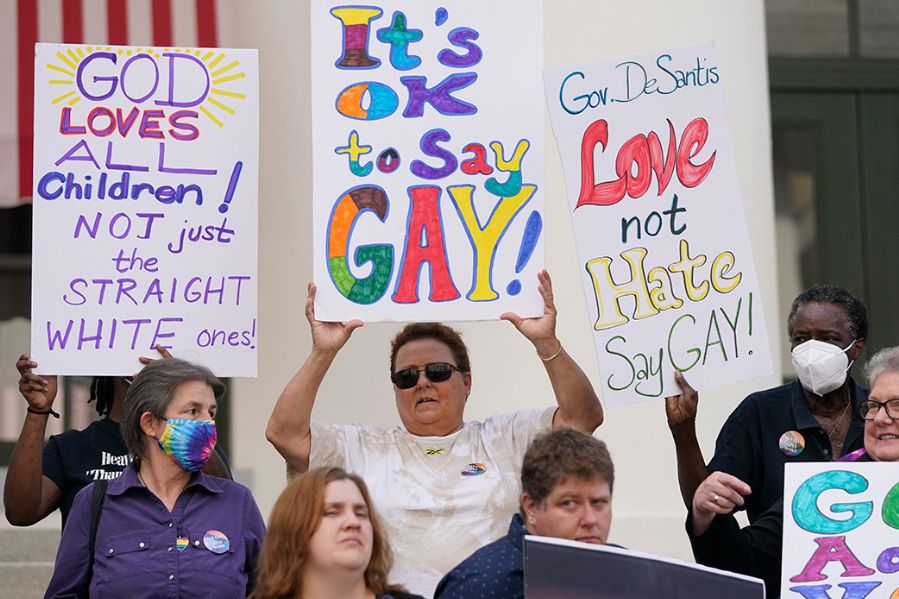 A controversial law was approved by the Florida Senate and now heads to Governor Ron DeSantis' desk, where it is all but certain to be signed into law. 
House Bill 1557 – dubbed the 'Dont Say Gay' bill by opponents – would severely limit what teachers can say about homosexuality and gender identity in schools.
LGBTQ activists are warning that it will literally kill children, while supporters of the bill say it simply puts control of what children are exposed to back into the hands of parents.
As the bill heads to the governor's desk for his signature, the legal challenges are already piling up, including, potentially, from the Biden Administration.
Don't Say Gay?
Much of the controversy around the new bill revolves around speech protections. Under the new law, kindergarten to 3rd-grade teachers are essentially forbidden from mentioning sexual orientation in the classroom. Parents can actually sue school districts or individual teachers if they suspect their child was taught about homosexuality.
LGBTQ advocates say that, at best, this bill will marginalize gay students and make it more difficult for educators to talk about real-world issues like the Pulse nightclub shooting.
At worst, it will put the very lives of LGBTQ kids at risk.
"The Florida state legislature is playing a dangerous political game with the health and safety of LGBTQ+ kids," says Cathryn M. Oakley, senior counsel at Human Rights Campaign.  "The existence of LGBTQ+ people across Florida is not up for debate. We are proud parents, students, and teachers, and LGBTQ+ people deserve to exist boldly, just like everyone else."
National LGBTQ advocacy group The Trevor Project reported that 42% of LGBTQ youth seriously considered suicide in 2021. Now, they say, this bill strips them of one of the few sympathetic ears many of these kids have: that of their teachers.
However, according to State Rep. Joe Harding, supporters of the legislation just want to keep parents "in the know and involved on what's going on" when it comes to what children learn about at school.
Those in favor of the change say the media is mischaracterizing what the bill does. "I didn't call the bill the no gay whatever bill. This has all been fabricated by the media," said State Senator Dennis Baxley. "This does one simple thing, it decides who's in charge."
Other supporters insist the children of gay parents would still be allowed to talk about their parents, for example, but that educators simply can't plan lessons specifically around LGBTQ issues.
Students Fight Back
There's one group of people who are really, really not big fans of this new bill: Florida students.
Across the state, students are staging walkouts in protest of the bill, chanting "we say gay" and holding signs that say "protect trans kids."
And, students warn, if Governor DeSantis signs the bill into law, the walkouts will only escalate.
One organizer, junior Will Larkins of Winter Park High School, said they "wanted to get the attention of our representatives, our senators, because the point is to show them that we are the ones in power. The people are the ones in power, and what they're doing doesn't represent us, especially marginalized groups."
What is your reaction? Should students be allowed to learn about homosexuality and gender identity at school, or should parents get the final say on everything their child hears in the classroom?
[UPDATE 3/28]: Florida Governor Ron DeSantis has officially signed the bill into law.