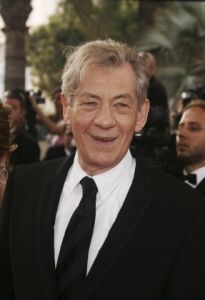 Two of the stage and film's most venerable actors Sirs Ian McKellen and Patrick Stewart will be adding a new dimension to their relationship very soon. McKellen, who plays Magneto in the X-Men films and the wizard Gandalf in the Lord of the Rings films, will be marrying Stewart, who plays Professor X in the X-Men films and Captain Jean Luc Picard in Star Trek: The Next Generation. More precisely, McKellen will be serving as wedding officiant at Stewart's upcoming wedding ceremony. Now the media are abuzz with rumors: will McKellen use an online ordination to perform the task?
McKellen, 73, announced his plans to officiate the wedding for Stewart and his bride on the British talk show The Jonathan Ross Show. ""I'm going to marry Patrick," said McKellen, jokingly adding, "No, no. How else do you put that? I'm going to officiate at his wedding." According to The International Business Times, Stewart will be tying the knot with 35 year-old jazz singer Sue Ozell, who is known as a regular among some of Lower Manhattan's most admired jazz and classic pop musicians. The ceremony will be a first for McKellen and Stewart, who will be appearing together next year in the next X-Men installment, X-Men: Days of Future Past, which hits theaters July 18th, 2014.
However, it will not be the first time McKellen, who is gay, has performed a wedding ceremony. When asked by Ross whether he had done the task before, he briefly recounted his history as a wedding officiant, describing one moving experience in particular involving himself and a same-sex couple. "I've done it once before with two guys having a civil partnership," he said, alluding to the fact that Britain does not yet recognize same-sex marriage. "I was crying my eyes out." Adopting a subtly tongue-in-cheek tone, he playfully joked, "[b]ut what do you wear when you officiate at a wedding? Well, last time I went with a sort of gown, a white, um, something I bought in India. It was rather fetching. You mustn't upstage the bride, obviously."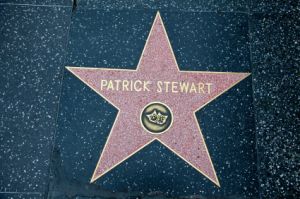 Whatever frock the stately actor chooses to don for Stewart and Ozell's wedding, the details surrounding how McKellen will become ordained remain uncertain. When asked this question by Ross, he replied, "I don't know, but in Massachusetts, in the middle of America somewhere, you get anybody along, a friend, and I read out the words, and Sunny and Patrick will then be married. I declare you man and wife." This is certainly a possibility in Massachusetts, which offers a "one-day marriage designation" for $25 and a character reference, but some sources, including The International Business Times, have speculated that the actor might Marry Stewart and Ozell using an online ordination through the Universal Life Church.
At any rate, whether McKellen decides to take advantage of Massachusetts one-day marriage designation or chooses to get ordained in the Universal Life Church, we are sure he will do a marvelous job at Ozell and Stewart's wedding, and that he will make it a truly classy and elegant affair. We wish all the best to McKellen in his future as a wedding officiant and to Ozell and Stewart in their future life together.