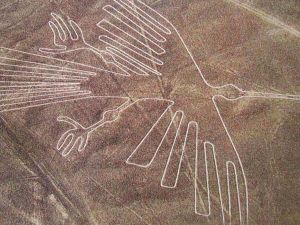 Between Lima and the southern Peruvian city of Arequipa, there are massive drawings of plants and animals baked into the desert sand. They were carved by the Nazca people hundreds of years ago. They have been studied by archeologists, ethnologists, and anthropologists but an explanation as to why they were created has not been found.
These drawings are so large that their shapes cannot be identified from the ground. Not until the dawn of air travel in the 20th Century was any modern human able to discern what is there. This begs the question of who is meant to see these.
Do you have an answer?
In the past, we have written about the strange connection ancient civilizations have had with the stars. From buildings aligned with mathematical precision to astral events, to written descriptions of contact with beings on flying vehicles that were considered divine, including in holy books of Christianity and Hinduism.
Perhaps the Nazca were in contact with the angels in fiery chariots and were able to look down, or they did not actually do the work. What we see today could very well be an intelligence that attempted to communicate by pictures and reference points as opposed to data signals of today.
Crop Circles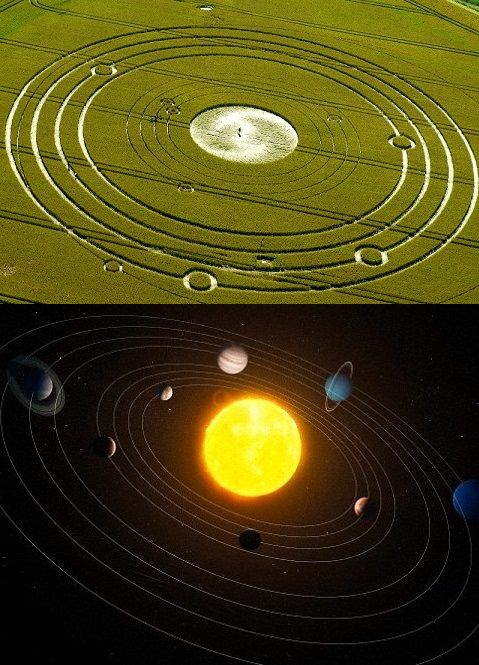 The first documented crop circle was described in 1678 and early explanations by scientists included patterns forming as a result of storm weather or the work of the devil. Skeptics will point out that at least some of these are formed by hoaxers but we certainly can't explain them all, particularly those that appear to be incredibly intricate designs that are large in scale and correspond with astral events and/or formations.
Perhaps, just as the Nazca created formations of things with which they were familiar, these so-called angels are returning in kind. The formation shown here looks an awful lot like our solar system, with the planets traveling along the concentric circles and even Pluto with its lopsided orbit. Is it possible that when our planets are in the positions shown that something is expected to happen?
Interestingly enough, the date shown in the crop circle is actually the 2012 end of the Mayan Calendar, though in about 500 years, the planets will return to these position. 2512 A.D. might be the year to watch out for any contact. Could this be a sort of alien RSVP for an upcoming visit?
What do you think?
Respond In Kind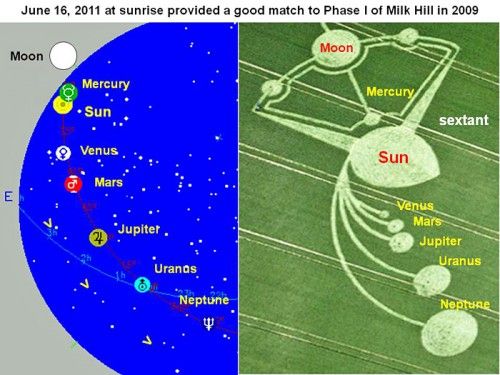 The Search for Extra-Terrestrial Intelligence, "SETI" Institute uses scientific methods in their search for other life in the cosmos. Many of the techniques they use involve radio waves, either sending them or listening for them. So far they've had no luck in finding any signals.
The likelihood that alien technology resembles that of humans is small. Hunting for a radio signal implies that we are assuming a decent chance that aliens would have coincidentally built similar technology to ours. Perhaps we aren't finding a signal because they are not sending one by that means.
If at least some crop circles are the work of extra-terrestrials, then the Nazca had the right idea in making messages for them on the ground. We shouldn't necessarily carve them into the rock or bend them into crops, but a large pattern of powerful laser lights shot into space send a loud message of intelligence, especially if we build it in such a way that as the planet rotates, we sweep the entire visible galaxy.
We've always searched for proof that we are not alone. We can be more proactive in that search and invite a response by several methods, including creating non-natural patterns on the surface of Earth. Perhaps then we can commune with a higher power, as maybe the civilizations of old did.
Some would say that we are undertaking a search for God, but we think that this is a noble journey given that as we live today, our gods are the reason that we can't join and reason with each other. It was Carl Sagan who said, "A religion, old or new, that stressed the magnificence of the Universe as revealed by modern science might be able to draw forth reserves of reverence and awe hardly tapped by the conventional faiths."
We believe we are all children of the same universe and we need your help in our search for God.
Your thoughts?