Very soon, the Supreme Court of the United States will make decisions about several landmark cases concerning same-sex marriage. Should the justices decide that denying same-sex couples the right to marry is unconstitutional, it would create a fast track for marriage equality to become a reality in every state in the union. But maybe it's time to stop thinking about marriage equality as just an internal, domestic policy issue in the United States and to start thinking of it as a long-term legacy policy for the U.S. on the world stage.
Marriage Equality Overseas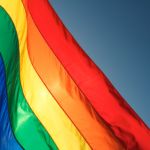 Marriage equality is quickly becoming the status quo in the Western world. Recently, we saw Ireland legalize same-sex marriage by popular referendum. It wasn't an especially close race, either. Supporters garnered 62 percent of the vote. In our highly polarized political era, that counts as a landslide. Even in much more conservative Northern Ireland, the tide seems to be turning in the same way it has in the United States. While same-sex marriage is still illegal in Northern Ireland, the nation's highest court recently ruled that religious freedom doesn't exempt businesses from anti-discrimination laws.
It's not just happening in Ireland, either. The parliament of Greenland recently unanimously voted to legalize same-sex marriage. Similarly, the sovereign tribe of the Oneida People in Wisconsin also voted for marriage equality and changed the language of their marriage laws to reflect that. The Australian Labor Party has also created legislation to legalize same-sex marriage in their country.
Next Steps Toward Equality
As demonstrated by this wave of marriage equality events throughout the world, the question of the U.S.'s take on the subject can't help but be part of this chorus of rising voices. In today's world, the United States will have to decide whether it has more in common with the laws of ally nations like the U.K., or oppressive nations like Vladimir Putin's Russia. In a democratic nation like ours, the will of the people has already shifted to the support of marriage equality. The question now is whether those who sit in our highest court recognize that shift.
Is legalizing same-sex marriage something the United States needs to do in order to fit into this moment in history? Would marriage equality violate the religious freedoms of American people? Let us know what you think the Supreme Court justices should decide and why.