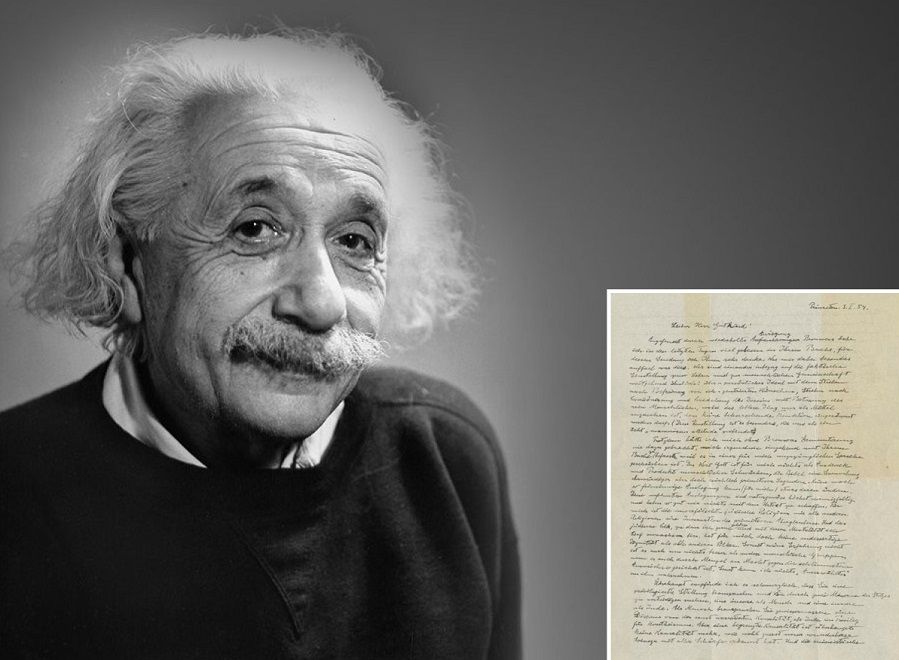 ---
Faced with their own mortality, most humans nestle up to the notion of a higher being. But Albert Einstein was no normal man. Just a year before his death, the famous physicist penned a letter rejecting the very notion of God and religion. According to reports, this "God letter" as it's come to be known will soon be auctioned off to the highest bidder. The final price is expected to top $1 million.
Roasting Religion
The 1954 letter, which was written to religious philosopher Erik Gutkind, is considered "one of the definitive statements in the Religion vs. Science debate," according to Peter Klarnet, an auction house expert in books and manuscripts. The letter offers fascinating insight into Einstein's skepticism toward faith. Among the most notable quotes, Einstein wrote:
"The word God is for me nothing more than the expression and product of human weaknesses, the Bible a collection of honorable, but still primitive legends which are nevertheless pretty childish."
Inside the Mind of Einstein
When this letter first became known to the public in 2008, it shattered the image of Einstein as a person of faith which is how biographers and historians often portrayed him.
For example, Einstein biographer Denis Brian told readers of a young child that was devoutly Jewish, and even wrote "songs in praise of God" which he "belted out" on the way to school. For many years, anecdotes such as these were used as proof that Einstein while an incredible scientific mind was also focused on his faith. But further reading indicates that once Einstein began studying higher mathematics and philosophy, he "abandoned his uncritical religious fervor, feeling he had been deceived into believing lies."
The "God letter" is yet more proof that Einstein was in fact deeply skeptical of religion.
What Did Einstein Really Believe?
Despite these convictions, Einstein never embraced atheism. Instead, he began to believe in what he'd later term "cosmic religion," which is explained as "a rapturous amazement at the harmony of natural law, which reveals an intelligence of such superiority that, compared with it, all the systematic thinking and acting of human beings is an utterly insignificant reflection."
His own scientific breakthroughs in relativity and the nature of space and time, incidentally, led him to conclude that the mysterious architecture of the physical universe was far more profound than anything chronicled in the Talmud. And although Einstein often spoke about "God," the metaphor applied more to the Universe itself than any grand puppeteer. "I cannot conceive of a God who rewards and punishes its creatures, or has a will of the kind we experience in ourselves," he wrote in 1931.
Even when speaking specifically about his own religion, Einstein didn't strike a particularly charitable tone: "For me the Jewish religion, like all other religions, is an incarnation of the most childish superstitions, and the Jewish people to whom I gladly belong and with whose mentality I have a deep affinity have no different quality for me than all other people," he said.
Science vs. Religion
Whatever the letter proves or disproves as to his own personal beliefs, it is evident that Einstein felt religion plays an important role in guiding people between right and wrong. In this interpretation, science is a powerful tool - but it's not capable of answering all of life's great philosophical questions. For this task, another type of thinking is necessary. As he once put it: "science can only ascertain what is, not what should be."