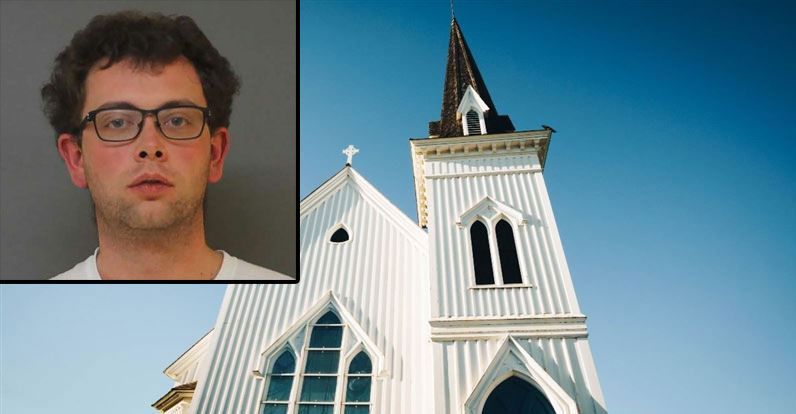 ---
What do you do if you've just heard the murder confession of a tormented cold-blooded killer who has managed to evade local and federal authorities for years? For pastor Michael Trazinski, the choice was simple: you calmly take him down to the police station.
Pastor Trazinski and a few parishioners were sitting peacefully in their Connecticut church one recent day when a flustered William Leverett barged through the doors with some surprising news. He readily admitted he was responsible for a previously-unsolved 2014 murder. Upon hearing the confession, the pastor promptly escorted Leverett to authorities.
"Justice needed to be done," Trazinski told ABC News, explaining how he and two others took the "childlike" 27-year-old down to the local police department where he eventually confessed to murdering a mother of two while she was out jogging.
An Act of Evil
Leverett, a registered sex offender, told authorities how he drove down to a running trail on the night of Nov. 20, 2014, looking for "human contact" following a treatment meeting. Already terrified that any woman he met would uncover that he was on probation for sexually assaulting a child back in 2009, he told police he was "embarrassed and scared and figured that if I just killed somebody, it would make all that go away and I wouldn't have to explain myself." He spotted Melissa Millan jogging and "went into a frenzy," stabbing her to death.
The case went cold and was eventually turned over to the FBI a year ago. But the crime continued to haunt him, and Leverett wrote many confession letters to family and friends that were ultimately never sent.
Confession Time
So, what is it that caused Leverett to finally come clean in the house of the Lord? Perhaps the young man assumed he could rid his guilty conscience without legal recourse. Roman Catholic law forbids priests from disclosing information obtained from religious confession - breaking this "sacred seal" can result in excommunication.
Admitted spy Robert Hanssen famously confessed his early espionage to his priest, who kept the secret despite the enormous national security damage. Just this year, however, 31-year-old convicted murderer Jose Morales was freed from prison after Father Joseph Towle testified that another man, Jesus Fornes, had confessed the crime to him many years prior. Prosecutors argued that Father Towle's conversation with Fornes was privileged, the same way doctor-patient and attorney-client conversations are.
Unfortunately for Leverett, this particular pastor wasn't so understanding. Whatever his calculations, the killer has now been brought to justice for his crime. Whether he can ever be forgiven is another matter entirely.