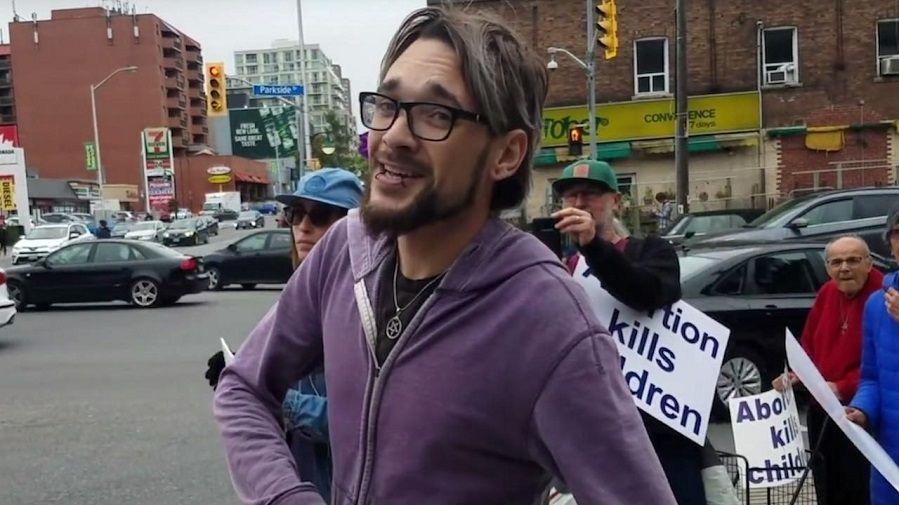 ---
A shocking incident at a religious group's anti-abortion protest in Toronto has gone viral. It all started with a number of protesters standing on a street corner waving pro-life signs. An onlooker, apparently angered by their cause, then decided to get involved - that's when things quickly spiraled out of control.
The man, who has since been identified as Toronto resident Jordan Hunt, confronted the protesters and began vandalizing their signs with a permanent marker. As the situation began to heat up, a female member of the group stepped toward Hunt and started filming. The video shows the two arguing back and forth before Hunt suddenly sets his feet, pauses for a moment, and then delivers a roundhouse kick:



Just Incase You Missed It - Here is Jordan Hunt who was caught on camera performing a roundhouse kick on a woman for being pro-life.

He's just been fired from his job at Noble Studio 101. pic.twitter.com/LUhaQuMGAr


Press For Truth (@PressForTruth) October 3, 2018
Backlash Immediate
The video quickly took off on social media and has since been viewed millions of times, eliciting strong reactions - especially in religious circles. After it was initially reported that Hunt walked away from the scene without speaking to police, many critics called for him to face justice. For his part, Hunt claims it was an accident and that he was simply trying to kick the phone out of the protester's hand. Instead, his kick missed and struck her in the shoulder.
But his employer didn't see it that way. In the aftermath of the video's release, the hair salon where Hunt worked announced that he'd been terminated. Nor is he off the hook from authorities - Toronto police said today that they're investigating the incident.
Debate Intensifies
The debate over abortion - ever a hot-button issue - has seemed to reach a fever pitch in recent months. One factor could be the high-profile confirmation hearings for the vacant Supreme Court seat, an extremely important position that could impact abortion laws for decades to come. But other incidents have likely played a role as well. Back in June, we wrote about the controversy surrounding a Christian pharmacist who refused to fill an Arizona woman's prescription for miscarriage medication on religious grounds. There's also been an uptick in Christian-run anti-abortion centers across the U.S. that critics say masquerade as health clinics and manipulate women into thinking they have no choice but to give birth.
In any case, whether you're pro-life or pro-choice, surely we can all agree that violence is not going to solve anything. If this debate is ever going to be settled, it will require respectful dialogue and cool heads. No kicking allowed.