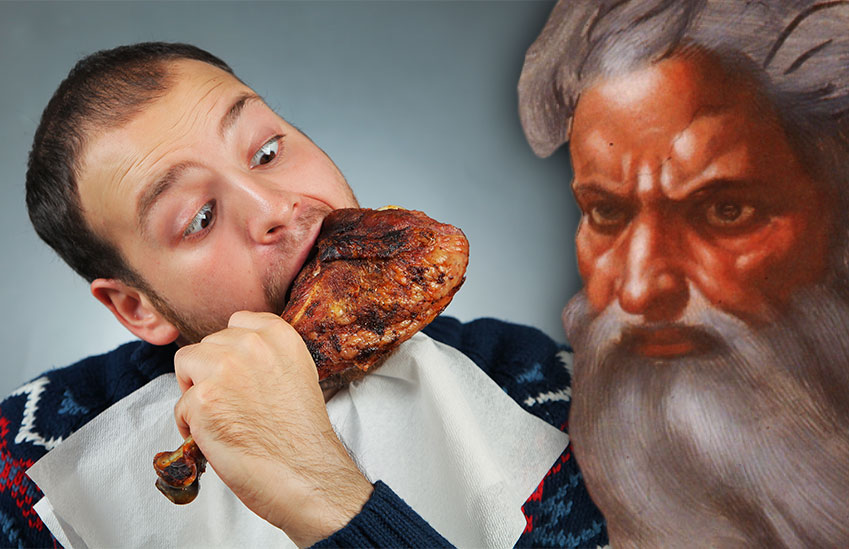 ---
With Thanksgiving coming up, many of us are probably already daydreaming of that first bite into the Thanksgiving turkey, stuffing, and mashed potatoes. In fact, button-popping, indigestion-inducing gluttony has all but been normalized in the American ethos when we think about the late-November holiday. And pop culture has undoubtedly played into that. Think, of course, about Joey in Friends shamelessly wearing 'Thanksgiving pants' - actually maternity pants - so that he can more easily consume Thanksgiving turkey unrestricted by his pesky waistband.
Indeed, we've become so accustomed to eating obscene amounts of food and drink to show our thanks that we may have lost track of whether God would approve of our seasonal overeating.
It's a hypothetical question, of course, and one that isn't so easy to answer. Does God approve of Thanksgiving?
Thanksgiving Origins
Perhaps we should start by shedding light on a few misconceptions that continue to abound concerning the quintessential American holiday.
Some might believe Thanksgiving started as a Christian affair amongst the early Pilgrims and Puritans. Turns out that is only half the story - the origins of the holiday are about as Christian as hunting colored Easter Bunny eggs to celebrate the resurrection of Jesus.
Thanksgiving was actually derived from an ancient English yearly pagan harvest celebration, completely separate from the more solemn religious "days of thanksgivings" act practiced by the Church of England without any particular date. While the two eventually merged, the fact remains that our more modern celebration (the family gatherings, the large meals) are definitely more 'harvest home' than Puritan; and the cornucopia a pagan symbol more steeped in Roman and Greek mythology than any Christian religious text.
Still, the 'first Thanksgiving' was indeed a real event, a shared autumnal feast between early Plymouth colonists and the Wampanoag Indians. However, it was a celebration of a good harvest after a tough and dangerous winter. And while glory to God was undoubtedly given, that was hardly the main event.
Glutton for Punishment
The Bible, in fact, frowns upon any sort of thanksgiving that simply focuses on one big meal a year. "Rejoice always, pray without ceasing, give thanks in all circumstances; for this is the will of God in Christ Jesus for you" writes Paul in (1 Thessalonians 5:16 18). 
Then there's the whole gluttony issue.
It's bad enough we seem to focus so much of our thanks on one Pilgrim-inspired holiday, but then the fact we do it by serving turkey, mashed potatoes and gravy, stuffing, scores of casseroles, and liberally-buttered dinner rolls, topped off with cranberry sauce, pumpkin pie and every brand of craft beer and wine imaginable, to the point of literal comatose, scores us no points with Proverbs 23:21:
"For the drunkard and the glutton will come to poverty, And slumber will clothe them with rags."
The meaning is clear. Over-indulgence, and the lethargy that comes with that, leads to ruin. And lest we forget that gluttony is one of the seven deadly sins. Gluttony not only leads to the sort of gross over-indulgence depicted in Proverbs 23:21, but also denies the needy food and creates needless waste.
You can see where all this is going. God frowns upon the notion of excess. And for too many of us, Thanksgiving has become more a celebration of food and a reason to stuff our face than an actual giving of thanks.
All Things in Moderation?
Of course, there are plenty of Christian defenses of Thanksgiving, and not everyone thinks that one day of over-indulgence a year is a sin. A piece by Religion News Service says that all of the positivity associated with Thanksgiving - love of family, togetherness, building joyous memories - is worthy of a mulligan on the gluttony front. It's the rest of the year we should be worried about, says Brevard College professor Mary Louise Bringle. "Sitting around the table at a feast is not a gluttonous act, sitting in front of the television gobbling potato chips is."
The larger sin at hand, she says, is the failure to recognize God's role in providing you sustenance. To fail to recognize His hand in your meal. "Eating too much," she says, "is [only] a small part of gluttony."
She argues that its the other 364 days of the year we need to be watching out for. One big meal, celebrated joyously amongst family, isn't a sin. It's when we take our excessive desires into our daily lives that it becomes a problem.
Food for Thought
As the Apostle Paul said, the human body is God's temple. Isn't clogging your temple's arteries and expanding your temple's gut an affront against God? On the other hand
Given that many of us so rarely get to sit down with our families and enjoy a large meal in loved ones' company, can't we get one holiday where we're allowed to over-indulge a bit? Can we just count our blessings on Thanksgiving, and save counting our calories for another day?
What do you think? Does God really approve of Thanksgiving dinner and all the overindulgent excess that goes with that? Or is reinforcing our family bonds and breaking bread with those we love enough that we can get a pass - for one day, at least?