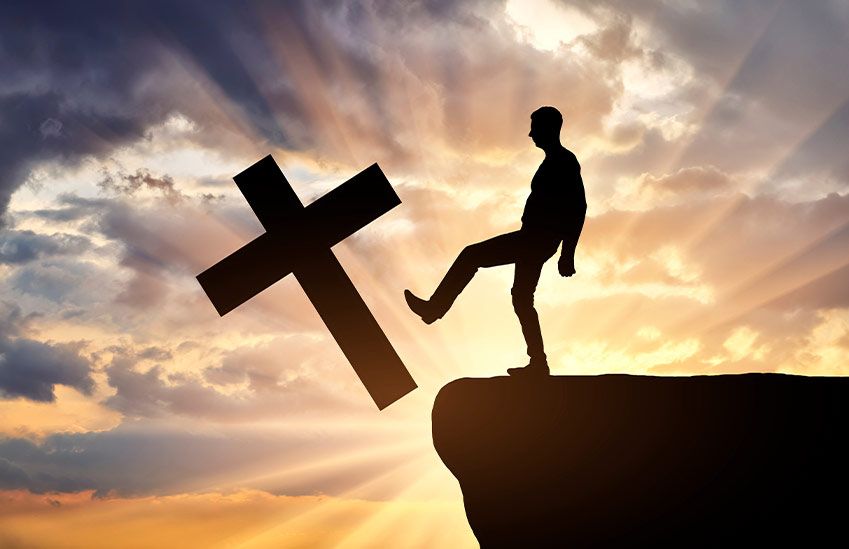 An updated Gallup poll released this week has found American voters are becoming ever more comfortable with electing women, gays, socialists - and yes, even atheists.
To the standard question asked every few years ("If your party nominated a generally well-qualified person for president who happened to be _____, would you vote for that person?") this year's Gallup poll found just about 60% would now consider putting an atheist in the White House, a whole 2 points higher than in 2015, and still well above those who'd support a socialist at 45%.
And while it's clear being an atheist presents less and less of a stigma with every passing poll, it still very much depends who you ask. Among Democrats, a hypothetical atheist candidate would enjoy 69% support, far below the scant 41% approval by would-be Republican voters.
Atheism Ascent
The current batch of 2020 Democratic presidential candidates may take small comfort in the fact that their base, growing increasingly comfortable with the thought of electing a Catholic, Jewish or Muslim candidate, would also gladly support the very young and old alike - something that should put current frontrunners Pete Buttigieg (who is openly gay and under 40) and Bernie Sanders (a 78-year-old Jewish socialist) at ease.
Make no mistake. There's still no openly atheist candidate running for president in 2020. There will, however, be dozens of openly non-religious politicians competing at the state level.
In much the same way that Bernie Sanders has warmed many more Americans to the idea of electing a socialist, it's quite possible that more and more voters will learn there's nothing wrong with entrusting atheists with the task of lawmaking in this country, particularly to counterbalance the rise of conservative Christian political influence, and the idea that God plays favorites when it comes to filling the Oval Office.
But is America truly ready for a God-free White House?
Is Atheism Still an Election Liability?
For all the theoretical leaps and bounds atheists and other diverse candidates have been making in the polls, it must be noted that the openly gay 38-year-old South Bend, Indiana Mayor Pete Buttigieg remains an unabashed practicing Episcopalian who regularly prays on the campaign trail, and who leveraged his faith during one Democratic presidential debate to blast Republicans who opposed minimum wage hikes as "so-called" Christians.
And Sanders, reluctant to discuss his Jewish upbringing well into his 2016 campaign, has made his Jewish identity central to his 2020 campaign, if only to reinforce the notion that religious politicians maintain some kind of added moral gravitas.
Even one of the lone atheists currently in Congress, California Rep. Jared Huffman, thinks a candidate's atheism would still be a liability in a national election. As he told the Guardian, "there still is, at the national political level, this notion that you have to put some kind of faith out there. I'm not saying that anybody's faking it in the presidential field but there still is this notion that's one of the threshold things you have to do." His outlook on any candidates in 2020 or beyond coming out as an atheist? "I think they would suffer withering criticism."
So while the polls might say one thing, it's clear even the most liberal and Democratic voters still see a place for faith - if not God - in the White House. But with time, that still may change. After all, that same Gallup poll, taken in 2007, had only 45% of Americans willing to vote for an atheist for president.
What do you think? With the rise of the 'nones', will we reach a point where 75% of Americans could vote for an atheist? What about 95%?
Will Americans ever fully embrace atheism in politics?