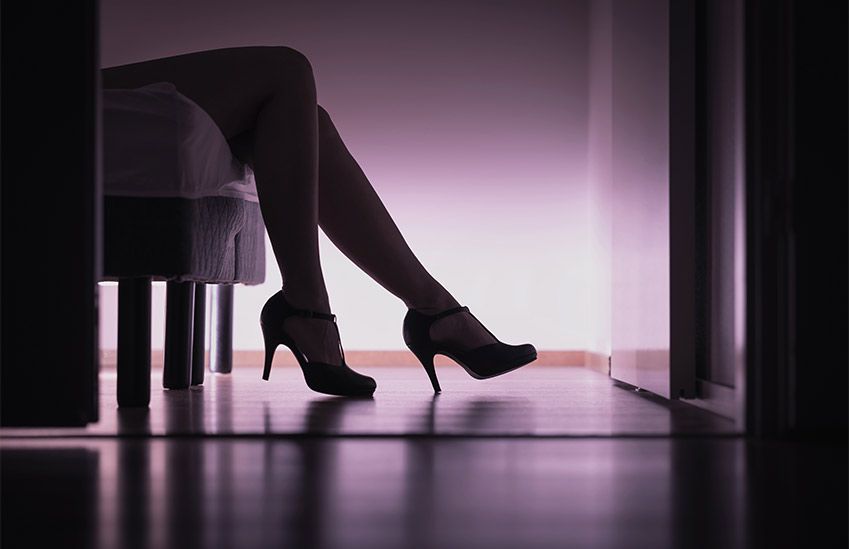 Here's a line you might not expect to read everyday: conservative Christian Republicans are all-in on their support for hookers.
But not just any hookers: the group in question is apparently divinely inspired. A recent report revealed that the Trump administration redirected over $500,000 in funds – once earmarked for an apolitical Catholic charity – to a different charity called "Hookers for Jesus."
The evangelical Christian group is run by a born-again human trafficking survivor. One of its major lobbying efforts is against decriminalizing prostitution – a proposal that's gaining steam in some progressive circles. 
But Hookers for Jesus also hosts a safehouse for women who've escaped the sex trafficking world, and the group requires their guests to abide by strict biblical rules and participate in religious activities. In other words, U.S. taxpayer money is being used to force Christianity on those looking to escape human trafficking. Unsurprisingly, some critics are not happy about it. 
Hookers for Jesus – And Jesus Only
Internal program manuals obtained by Reuters revealed that it was mandatory for shelter guests to attend or volunteer at local church services, and that the staff training manual decried everything from homosexuality ("immoral") to recreational drug use ("witchcraft").
Even "secular magazines with articles, pictures, etc. that portray worldly views/advice on living, sex, clothing, makeup tips," were banned. Violators were assigned manual labor and chores around the shelter.
"The fact the federal government is funding this is problematic," explained attorney Dallas Hammer. "The decision-makers here could be walking the federal government right into a clear violation of the First Amendment."
Yet the Department of Justice clearly doesn't see it that way. The DOJ was well aware of the group's agenda and policies when it decided to grant Hookers for Jesus additional money instead of giving it to better-established, apolitical charities. 
But this story also highlights a growing political issue that's sparking heated debate in both secular and religious ciricles: the decriminalization of prostitution.
Bringing Prostitution Out of the Shadows
It's often referred to as "the world's oldest profession." Whether accurate or not, time has proven that prostitution is not something that be legislated out of existence. Where outlawed, it just goes into the shadows. "If it's going to exist either way, why not bring it out into the open?" the argument goes. Research also shows this could provide a much safer environment for sex workers. 
Recent polling has revealed surprising support for decriminalizing prostitution and solicitation. And even some presidential candidates are talking about it on the campaign trail. Presidential hopeful Tulsi Gabbard has pushed most strongly for decriminalization, arguing: "If a consenting adult wants to engage in sex work, that is their right, and it should not be a crime. All people should have autonomy over their bodies and their labor."
Fellow Democratic presidential candidate Elizabeth Warren has also insisted she was 'open' to decriminalizing sex work, and Vermont Senator Bernie Sanders concedes "it's a complicated issue," but one that merits further discussion. Of the 2020 candidates, only Gabbard received high marks from the group Decriminalize Sex Work.
Republicans, however, appear unlikely to back decriminalization any time soon. Although some are in favor of the 'Nordic model', which decriminalizes the selling of sex but keeps purchasing illegal, many are in favor of maintaining the status quo. 
Which Side is God On?
With decriminalization actually gaining ground as a political issue, we may be hearing about it a lot more in the years to come. Its clear where "Hookers for Jesus" stand on the issue, but what about the man himself? If Jesus were around today, where would he figure in on this debate?
Would the son of God, known to meet with all manner of sinners – including prostitutes – be comfortable with the idea of decriminalizing prostitution?
Or would he be in favor of keeping it illegal on the basis of morality? The Bible explicitly prohibits adultery, after all. And just because Jesus loves the sinner doesn't mean He loves the sin... or thinks it should be legal.
What do you think? Should prostitution be decriminalized? Where, exactly, does God fit into the debate?