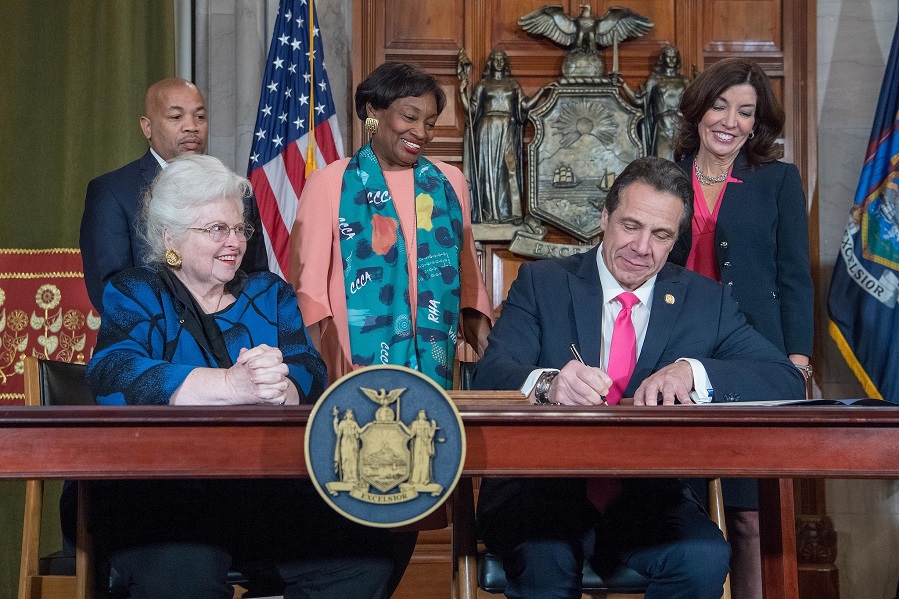 ---
It's the Holy Grail of women's rights for pro-choice groups. But according to the pro-life crowd, it's more accurately compared to the "Death Star."
After years of debate on the subject, New York Gov. Andrew Cuomo signed the controversial Reproductive Health Act into law on the 46th anniversary of Roe v. Wade.
The bill codifies federal abortion rights guaranteed by the historic 1973 Supreme Court decision. It also removes abortion from the state's criminal code, and eases restrictions on who can perform the procedure and when it can take place.
Much of the controversy surrounding the legislation stems from a stipulation regarding late-term abortion. The new law allows abortion up until birth in cases of "an absence of fetal viability, or at any time when necessary to protect a patient's life or health" -- measures hailed as a legal failsafe for New York women worried the federal government might seek to curtail these protections.
Tempers Flare
Despite wide support from leglislators and constinuents alike, the bill's passage caused an outcry in pro-life and religious circles. Many faith leaders took to social media and other platforms to express disappointment and anger over what they've dubbed "legalized infanticide."
Some have even called for Cuomo, who identifies as Catholic, to be excommunicated from the Church. Chief among these voices was Franklin Graham, son of famous evangelist Billy Graham. He called on Archbishop of New York Timothy Dolan to "take a moral stand" and disavow Cuomo:
Others have taken equally strong stances. In an open letter to Governor Cuomo, Rev. Edward B. Scharfenberger wrote:
"Once truth is separated from fiction and people come to realize the impact of the bill, they will be shocked to their core the so-called Reproductive Health Act will expand abortion under the pretenses of choice and progress...(and) threatens to rupture the communion between the Catholic faith and those who support the RHA even while professing to follow the Church, something that troubles me greatly as a pastor."
Standing Their Ground
But New York legislators are not backing down. They've hit back against critics, arguing that religious interests should not be involved in important decisions involving women's health care. They also insist the legislation was a vital protection against uncertainty at the national level.
"We have a president who's made it very, very clear that he wants to overturn Roe v. Wade," Senate Majority Leader Andrea Stewart-Cousins said at a news conference. "Today, here in New York, we are saying no. We're saying that here in New York, women's health matters. We're saying here in New York, women's lives matter. We're saying here in New York, women's decisions matter."
Sparring Over Morality
Both sides clearly feel they hold the moral ground, which is part of what makes this debate so impassioned and difficult to resolve. Pro-life activists argue that protecting unborn children is society's moral duty and that abortion amounts to the taking of a life -- an act that should be treated with deadly seriousness and not undertaken lightly.
Pro-choice groups insist that laws should not be made based on religious beliefs and that women's right to control their own bodies is paramount. That women have frequently been denied the opportunity to make their own healthcare decisions is a moral injustice that must be corrected, they argue.
Where do you stand? And what role does faith have to play in this conversation?