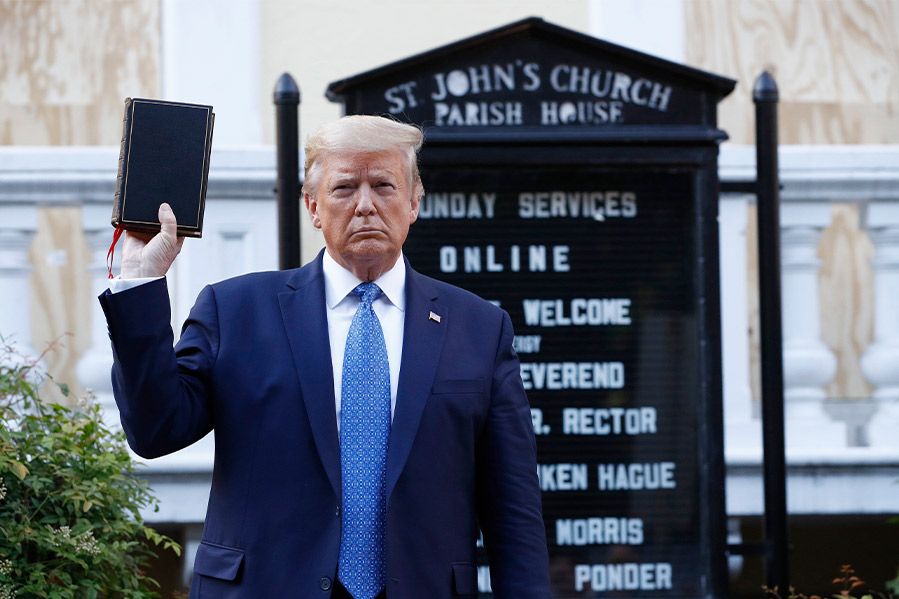 Religious leaders in Washington D.C. and around the country expressed outrage over President Trump's evening visit to St. John's Episcopal Church on Monday, decrying it as a "photo-op" and lambasting the violent police tactics used to disperse peaceful protesters gathered outside the house of worship.
Nationwide protests against the death of George Floyd, an unarmed black man in police custody, have been ongoing since May 26th in over 200 cities. Governors in 23 states have called in the National Guard, and 12 major cities have implemented curfews.
Those protests have reached the gates of the White House, and on Monday police used tear gas, flash-bangs, and rubber bullets to disperse the crowds – which included some local clergy. That cleared the way for President Trump to visit St. John's Episcopal Church, where he held up a Bible and posed for cameras. 
Sincere Gesture or Cynical Photo-Op?
Some people were supportive of the visit – noting its symbolic significance after the church was targeted by vandals the night before. However, others leveled fierce criticism, taking issue with the overly aggressive tactics used to clear a peaceful protest and the White House's apparent willingness to use police force for a PR opportunity. 
Reverend Gini Gerbasi, rector at a different St. John's, was one of the religious leaders driven off by advancing troops. She was at the protests to hand out food and water, gave a firsthand account of the action on Facebook.
"Suddenly, around 6:30, there was more tear gas, more concussion grenades, and I think I saw someone hit by a rubber bullet - he was grasping his stomach and there was a mark on his shirt," she said. "PEOPLE WERE HURT SO THAT HE COULD POSE IN FRONT OF THE CHURCH WITH A BIBLE! HE WOULD HAVE HAD TO STEP OVER THE MEDICAL SUPPLIES WE LEFT BEHIND BECAUSE WE WERE BEING TEAR GASSED!!!!"
Gerbasi didn't hold back when speaking with a local CBS affiliate, saying "I was coughing with tear gas in my clergy collar, and my gray hair, and my old-lady reading glasses, so that that man could stand there and hold a Bible in his hand and look Christian."
President Trump spoke briefly in front of St. Johns, bible in-hand. The official White House Twitter account later uploaded a video of his walk to and from the church.
Faith Leaders React
Judging by the reaction of religious leaders, whatever message the White House thought it was sending didn't resonate as intended. For many, the decision to pose with the Bible was not just tone-deaf, but downright insulting. The Jesuit priest James Martin wrote on Twitter:
"Let me be clear. This is revolting. The Bible is not a prop. A church is not a photo op. Religion is not a political tool. God is not your plaything."
Archbishop Wilton Gregory of the Washington D.C. Archdiocese expressed a similar view in a strong statement released yesterday:
"I find it baffling and reprehensible that any Catholic facility would allow itself to be so egregiously misused and manipulated in a fashion that violates our religious principles, which call us to defend the rights of all people even those with whom we might disagree. Saint Pope John Paul II was an ardent defender of the rights and dignity of human beings. His legacy bears vivid witness to that truth. He certainly would not condone the use of tear gas and other deterrents to silence, scatter or intimidate them for a photo opportunity in front of a place of worship and peace."
Rt. Rev. Michael Curry, presiding bishop of the Episcopal Church, said the president's visit "did nothing to help or heal us," and was done for "partisan political purposes."
The president of Interfaith Alliance, Rabbi Jack Moline, the use of force to disperse protesters so President Trump could walk to a church for a photo-op was "one of the most flagrant misuses of religion I have ever seen."
The White House defended the move, saying that they gave protesters three warnings to disperse. And faith advisors in the president's circle showed support, as well. Rev. Johnnie Moore, who is on Trump's Evangelical Advisory Board, made it clear that he approved of the decision, writing on Twitter:
"I will never forget seeing @realDonaldTrump slowly & in-total-command walk from the @WhiteHouse across Lafayette Square to St. John's Church defying those who aim to derail our national healing by spreading fear, hate & anarchy. After just saying, 'I will keep you safe.'"