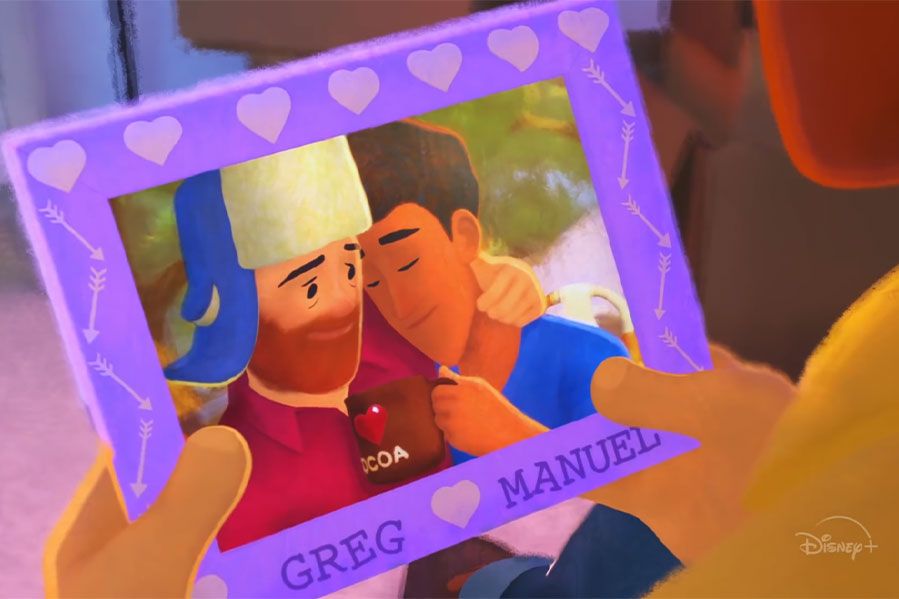 Should LGBT characters be featured more prominently in children's entertainment? Disney seems to think so, a view reflected in their newest short film, Out. It's a groundbreaking work, for it marks the first time that an LGBT character has been the lead in any Disney film.
This all follows a commitment from Disney chief Bob Chapek earlier this year to "represent our audience" better, to showcase the lives of LGBT people in future Disney films, including in Marvel and Star Wars.
Out is about a young man, Greg, who's on the cusp of moving in with his boyfriend Manuel. Greg isn't out to his parents, however, and they show up unannounced to help him move. Greg, with a little help from his dog, tries to hide evidence of his queerness from his parents, including a framed photo of him and Manuel and a 'sexy firemen' calendar.
The story has a heartwarming ending, where both Greg and his parents come to appreciate each other more. Of course, that didn't stop some faith groups from rushing to condemn the film as "gay propaganda" targeting their children. 
'Out'raged
The faith-based parenting group One Million Moms said in a press release that "Christian parents who have a Disney+ subscription should seriously consider canceling it since Disney cannot be trusted. Disney is clearly supporting unbiblical values and promoting sin to children. We need to stand together to preserve the innocence of our children."
LifeSiteNews, a pro-life news website, accused Disney and Pixar of promoting a sinister "gay agenda".
And Ken Ham, founder of Ark Encounter and Answers in Genesis took to Twitter to decry the crumbling moral fabric of America… and hawk his own, "God-approved" streaming service.
Too Much, or Not Enough?
Disney has reaffirmed its commitment to LGBT representation in recent years. In last year's Onward, they featured their first openly gay character in an animated film. And their commitment to representation is even extending to properties like Star Wars and Marvel. 2019's Star Wars: The Rise of Skywalker shows a lesbian kiss, and an upcoming Marvel movie will feature an openly-transgender character.
However, Disney's pivot towards inclusivity has also been heavily criticized by progressives. Vanity Fair decried the two-second gay kiss between minor characters in the latest Star Wars film as not nearly enough, calling it self-congratulatory pandering so that Disney could check an 'LGBT Representation' box.
Similar blowback came for Marvel when it was announced that character Valkyrie from Thor: Ragnarok, is gay – despite a scene showing her in a relationship with another woman being cut from the film. In fact, critics point out, you probably wouldn't know Valkyrie's real sexual orientation unless you happen to read Marvel Studios press releases in your spare time. 
In the eyes of many LGBT rights advocates, there is far too much back-patting going on in Hollywood and far too little real representation happening. 
A Pixar Pickle
It seems as though no matter which direction entertainment companies go, they're going to leave some people unhappy. On the one hand, we have religious groups up in arms about their children being exposed to the so-called "gay agenda." On the other, advocates maintain that representation is still severely lacking and that more needs to be done to put LGBT identities in the spotlight. 
Despite the slow rate of change, evidence indicates that the LGBT community is winning this argument. What does that mean for faith-focused families who insist on sheltering their children from such "radical" ideas? Will there be an exodus of Christian subscribers from Disney+ in the coming years, or is this just hot air from folks who aren't happy with current cultural trends?