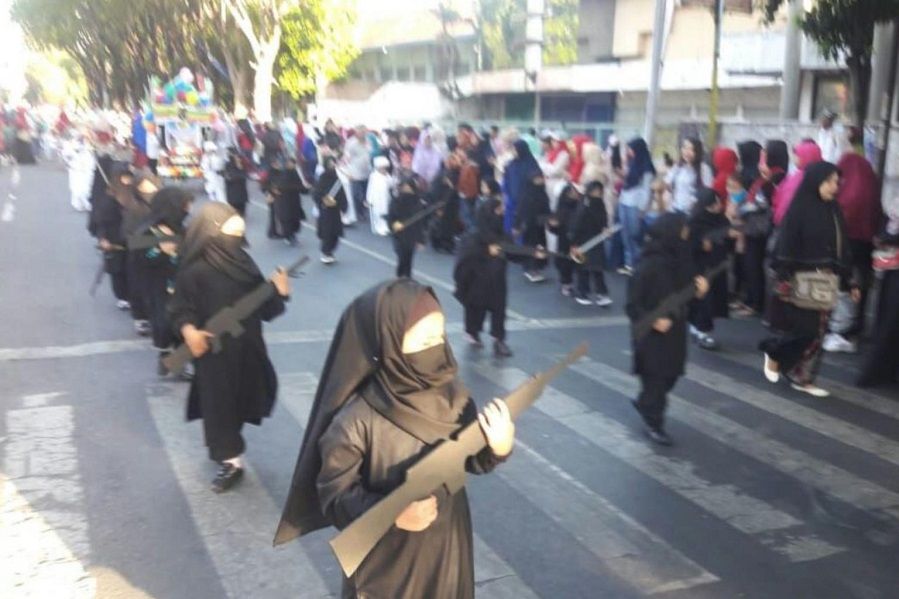 ---
A kindergarten in Indonesia is taking flak around the world after disturbing images of young children dressed up as ISIS fighters went viral. The head of TK Kartika kindergarten was forced to apologize after its youngest female students were given black niqabs and made to carry machine gun cardboard cutouts as part of an independence day parade in the city of Probolinggo.
School officials claim their intentions were pure. "We raised the theme of the struggle of the Prophet to increase faith and devotion to Allah," explained the school principal, who insisted the last thing his kindergarten was trying to do with such controversial attire was to "instill violence" in its students.
When pressed, the excuse became about money. "We used it to save funds," the principal told BBC Indonesia. "[We] never thought about the impact. The important thing is to take part in the parade, that the children were happy, using the existing property."
Word Travels Fast
Whatever the intent, images and videos of the gun-toting children spread across social media just a day after the world's largest Muslim-majority nation celebrated its independence day on August 17.
Amidst the national uproar, Probolinggo military commander Lieutenant Colonel Kav Depri Rio Saransi was forced to defend the parade. He maintained it was meant only to educate the students about the "struggle of Islam." In his mind, "there is not the slightest bit of radicalism. I emphasize that purely there is no such thing as an element of intentionally showing the existence of radical activities."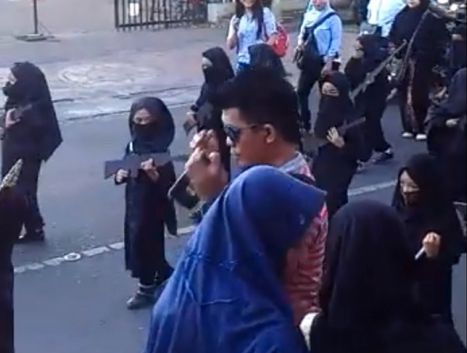 Celebrating Radical Islam?
House speaker of the Indonesian parliament, Bambang Soesatyo, was not buying the rationale. He called the parade an "inappropriate spectacle. Ordering children to wear black veiled costumes and carry replica weapons gives a poor perception. Treatment like that could damage children's ideas."
There is good reason for Indonesians to be angry about these images being broadcast to the world. Although the country has largely steered clear of the rash of Islamic extremism that has torn through many Middle-Eastern and North African nations, ISIS did manage to infiltrate local Islamist groups within Indonesia in recent years. They've recruited men, women, and children to participate in suicide attacks across the country - often to devastating effect.
In May of this year alone, at least 49 Indonesians died in terrorist bombings tied to radical Islamist groups supporting ISIS. During one particularly alarming incident, six members of the same family simultaneously set off suicide bombs at three churches in Surabaya, East Java. Twelve congregants died in the bombings.
What Were They Thinking?
In light of these horrific events, the parade gaffe seems that much worse. One can imagine why the public reacted so harshly this was more than just costumes gone awry, it was blatantly offensive and irresponsible.
That the kindergarten made a bad decision and tried to save a little money with recycled costumes is one thing. But that they thought to equip kids with cardboard cut-out guns is quite another. If you're not in the business of inciting extremism or paying homage to violent religious thugs, then perhaps best to leave the props at home.