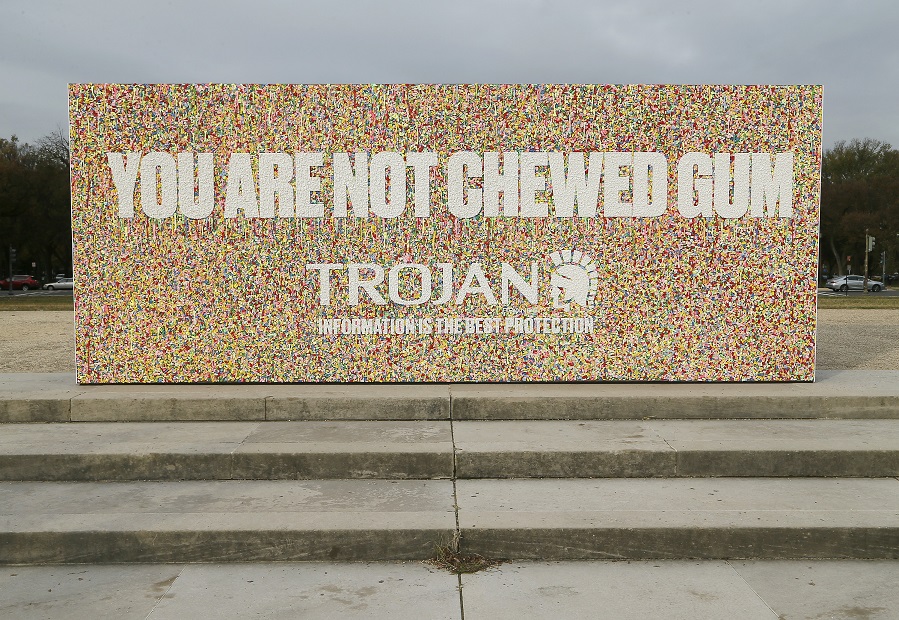 ---
A condom company is fed up with school abstinence-only programs that help spread shame and misinformation amongst US students and they're taking action.
In a nod to empowering a younger generation of more sex-positive people (and potential customers, it should be noted) the makers of Trojan condoms erected a physical wall of gum on the National Mall in Washington, D.C. with a simple slogan stamped across it in bold capital letters:
"You are not chewed gum. Information is the best protection."
The protest art is intended to defy the religiously-fueled obsession with purity that has informed a new wave of so-called Sexual Risk Avoidance (SRA) abstinence-only programs in public schools. These lesson plans often fail to share scientifically-backed information, instead vying for dubious metaphors and hyperbole. Among their many colorful claims is the "chewed gum" theory the idea that sexually active individuals - more often than not, women - will somehow hold diminished value for future spouses, making them equivalent to a piece of chewed gum, a used toothbrush or a petal-less rose.
Opponents have pointed out that such messaging can take a significant toll on vulnerable young people's mental health by diminishing their sense of self-worth.
"Students need quality sex education that teaches them real information and skills they need to prevent unintended pregnancy, HIV, and STIs," declares a website critical of abstinence-only educational tactics. "They need to learn about contraception, condoms, healthy relationships, and more. And they don't need stigma and shame to be any part of their school day."
Is Abstinence-Only Outdated?
Notably, the website lays out a series of harmful metaphors that abstinence-only lesson plans employ, ranking each by their ability to induce shame, gender inequality and homophobia, as well as to transmit medically-inaccurate information.
In one example, known as "the Crockpot & the Microwave" lesson, teachers apparently explain that girls are like crockpots, because they 'heat up' more slowly, while boys are like microwaves, who 'get hot' quicker. The takeaway? Girls are responsible for making sure boys don't heat up too quickly."
Using such ridiculous metaphors would almost be laughable if these programs weren't so widely-used across America. What's even crazier, though, is that abstinence-only tenets prohibit teaching youngsters about the benefits of condoms and contraception.
The fear, of course, is that if teens understood that they could have sex safely without contracting a horrible disease, immediately becoming "impure" in the eyes of Jesus (or Allah, or whoever) or morphing into a human-sized piece of chewed up gum in the eyes of their peers, then they might end up doing so more often.
In the Business of Abstinence
Believe it or not, there's an entire industry built around trying to keep young people from having sex. SRA Education programs rake in a whopping $110 million in federal funding each year.
Conservative Christian groups have been instrumental in pushing for such education, for they see it as directly aligned with the teachings of their faith. And they continue to argue despite facing a mountain of evidence to the contrary that making sex a forbidden fruit helps prevent pregnancy and STD transmission.
In reality, study after study has shown what any Psychology 101 student probably could have told you: when you make something off limits, especially for young people with rampant hormones and still-developing brains, it soon becomes irresistible.
And because abstinence-only programs equip teens with precisely zero knowledge or tools to practice safe sex, the inevitable outcome is higher pregnancy rates and higher rates of STDs.
The Future of Sex Ed
What's going to happen going forward? Could these hardline abstinence-only programs eventually suffer the same fate as now-debunked conversion therapy? Or will faith groups continue to receive millions in federal funding to continue destroying the self-esteem of otherwise normal sexually curious students, while keeping them in the dark about basic safe-sex precautions?