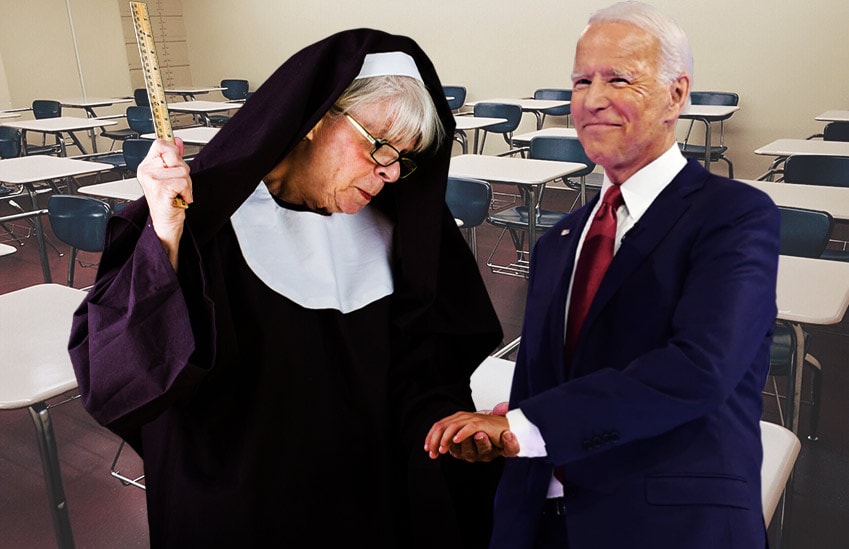 ---
A South Carolina pastor has used the Body of Christ to make a stand against Democratic presidential candidate Joe Biden's own stance on abortion.
Father Robert E. Morey denied the former vice president holy communion during Sunday morning mass at his Saint Anthony Catholic Church, apparently finding no contradiction in refusing to allow the Catholic politician to partake in Jesus' ultimate act of forgiveness.
Religious Refusal
"Sadly, this past Sunday, I had to refuse Holy Communion to former Vice President Joe Biden," explained Morey to SC Now. "Holy Communion signifies we are one with God, each other and the Church. Our actions should reflect that. Any public figure who advocates for abortion places himself or herself outside of Church teaching."
That rebuke came after Biden publicly objected to South Carolina's proposal to ban abortions after six weeks of pregnancy, even in cases of rape or incest - a bill that was approved by the state's South Senate Medical Affairs subcommittee in a 4-3 vote split along party lines, but expected to face obstacles on the full Senate floor.
"Let's be clear, this ban is dangerous and directly violates a woman's constitutional right to choose," Biden tweeted. "We must stop it. As president, I will codify Roe into federal law and ensure this choice remains between a woman and her doctor."
"If Only Saints"
In the end, Biden paid for taking a stand on this issue with a very public embarrassment. However, not all Catholics are lining up to condemn the presidential candidate. In fact, some big names in Catholic leadership chose to side with him. Cardinal Timothy Dolan, Archbishop of New York, said that while he "admires" other Catholics taking a stand, one's stance on a single political issue shouldn't disqualify them from receiving communion.
"If only saints could receive Holy Communion, we wouldn't have anybody at Mass, including myself," Dolan explained.
Meanwhile, a group of liberal-leaning Catholics started an online petition condemning Father Morey's decision. "Holy Communion is not a tool for punishing political opponents. We have seen this despicable behavior before, used by right-wing clergy to attack John Kerry and Tim Kaine," it reads.
Biden's Complex Pro-Choice History
To be clear, Joe Biden's public stance on abortion has evolved significantly over the years.
As a freshman senator in 1974, he insisted the Supreme Court's Roe v. Wade decision "went too far," insisting he believes a "woman has the sole right to say what should happen to her body." In 2006, he called abortion a "tragedy", clarifying in a book he wrote the following year that his own personal opposition to abortion aside, "I don't think I have the right to impose my view on something I accept as a matter of faith on the rest of society." To many, the fact that Biden has begun to speak out against states fighting to overturn Roe v. Wade may be simply a savvy political calculation as he fights to be the Democratic nominee in 2020. The fact he recently dropped his long time support for the Hyde Amendment that blocks federal funding for abortions is only further proof.
Nor are Biden's Catholic Church troubles anything new. Back when he was running as Obama's VP in 2008, his own Pennsylvania hometown bishop insisted Biden would be banned from taking Communion in his diocese. In fact, two Catholic bishops made a similar declaration regarding Democratic presidential nominee John Kerry in 2004.
Soul Discretion
The denial may be justified by Canon 915, a provision of church law stating that those "obstinately persevering in manifest grave sin are not to be admitted to Holy Communion." Still, many Catholic leaders have been reluctant to single out pro-choice politicians in this way, given their tendency to also run afoul of Church teachings on capital punishment, immigration, and climate change.
So is Father Morey right to take a stand here?
The priest may insist he is responsible for the souls entrusted to his care, that he must enact that faith even in the most difficult situations. But was this the best way to do it?
Would Jesus have expected any of his followers to be turned away so coldly, without mercy; denied a sacrament that serves as the focal point of every Catholic Mass, "so that sins may be forgiven," to quote His own words?
Should our religious leaders take personal politics into account when saving souls?