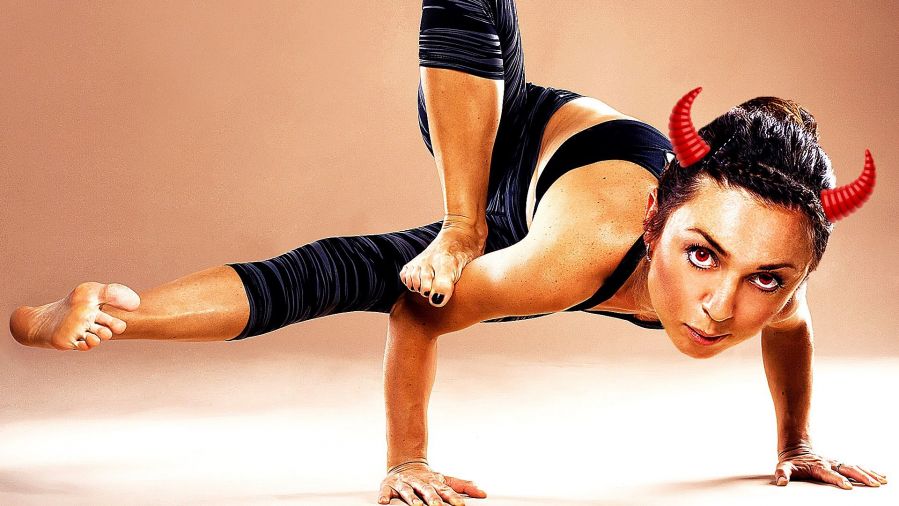 ---
Upward dog, or a downward spiral straight to Hell? That's the question posed by a popular Christian blogger in a recent viral post.
_"What is the point_of trying to re-purpose pagan worship for the sake of getting a nice workout?" decried blogger Matt Walsh on a recent blog post published by The Daily Wire. "What's wrong with just using an elliptical machine? You may perform the moves without consciously seekingthe demonic trance they were designed to help you attain, but it would seem you are playing, quite literally, with fire."
Walsh has managed to knock the calm out of millions of yoga-practicing Christians after insisting the ancient Hindu practice is no better than making life decisions based on your horoscope or conjuring spirits with a Ouija board.
"It's kind of amazing to see all of the Christians who think nothing of going to a yoga class. There are many excellent ways to get in shape that do not involve participating in Hindu worship," he wrote.
Dangerous for the Soul?
Walsh clarified that while breathing, stretching and being one with the universe is not in itself "an automatic pathway to Hell," he also claims his fellow Christian-turned-Yoga apologists aren't necessarily earning brownie points with their own true God either. This leaves them on a slippery moral slope. "We're looking to see how much we can get away with before it becomes explicitly dangerous to our souls," Walsh explains
The internet response was swift and predictably snarky. First, comedian Kumail Nanjiani jokingly warned about the dangers of yoga.
https://twitter.com/kumailn/status/959118527566299136
Then the Church of Satan chimed in:
"One minute, you're in downward dog, and the next minute, you're ambushed by Ouija boards and accidentally become one with the universe. Can't be too careful these days," added another Twitter user.
Christians Respond
Not everyone is on board with Walsh's interpretation. Some of his fellow Christians engaged in a universal facepalm, lamenting yet another black eye on their faith due to Walsh's uninformed comments.
"I'm pretty sure God knows I'm all about yoga to get the kink out of my lower back and try to tone my fat body. My God is sharp enough to know there is not even a tad of idol worship but some straight up sweating and muscle burn," responded one woman.
"Honestly, it's opinions like this that give Christians a bad name," another user said.
So where does Walsh' criticism stem from? Yoga originated in ancient India, and does indeed incorporate some aspects of Hindu spiritual practice. But does it really represent a heretical assault on Christian values?
Why Yoga Is So Popular
Most people practice yoga for the tangible physical benefits increased flexibility, better balance, a toned physique. Others enjoy the spiritual aspects, too; among them are meditation, self-reflection, and the practice of "centering" oneself.
Doesn't sound very demonic, does it?
Not so fast, says Walsh. "If we follow the trajectory of yoga, we begin with pagan spiritualism, trace it through the anti-Christian counter-culture revolution, then sprinkle on a bunch of new age gibberish, and here we land with the modern day yoga class."
He scoffs at the notion of doing yoga for exercise, insisting there are much better ways to break a sweat and without betraying the Christian faith at that. In closing, Walsh asks readers to consider a frightening hypothetical in which yoga is actually an Islamic practice:
"There may be some physical benefits to bowing to Mecca five times a day. I'm sure you could get a nice lower back workout. But, of all the ways to exercise your back, why would you choose to prostrate yourself to Allah? Indeed, I wonder how the Christian yoga apologists would respond to a workout routine based around Muslim prayer?"
If Christians like Matt Walsh really are scared their religion will be supplanted by this demon-spreading exercise fad known as yoga, perhaps they'd do well to recognize what makes it popular in the first place. People like to challenge themselves both physically and mentally -- and yoga provides an opportunity to simultaneously exercise the body and the mind.
Haven't the world's major religions been borrowing popular traditions and customs from one another for centuries? Maybe instead of the typical sit-stand-sit-stand routine common in Christian churches, pastors might consider incorporating more movement into the service.
What about a group hymnal performed while the whole congregation does lunges? Or a Bible recitation done while balancing on one foot?
Could be worth a shot.