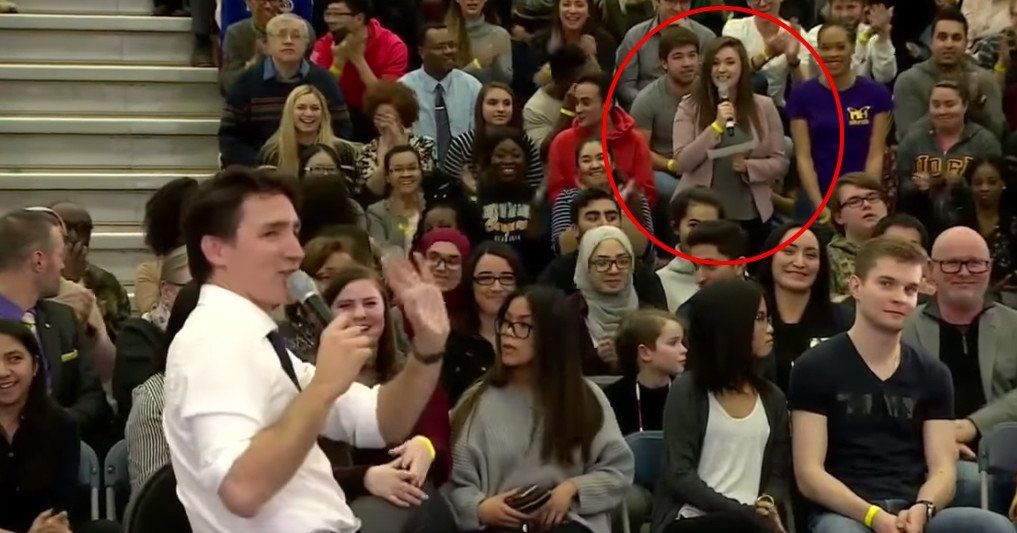 ---
Justin Trudeau believes it's time to move on from the term "mankind". During a town hall event last week, the Canadian Prime Minister interrupted a young woman in the audience, telling her not to use the term "mankind" and instead say "peoplekind."
The woman was advocating for expanded rights for church groups in Canada when the exchange took place:
"We came here today to ask you to also look into the policies that religious charitable organizations have in our legislation so that it can also be changed because maternal love is the love that's going to change the future of mankind "
Trudeau then interrupts: "We like to say peoplekind, not necessarily mankind because it's more inclusive."
You can watch the full video here:
Reactions
The incident has sparked a renewed debate over the merits of the term "mankind."
Those who disapprove of the term say it's just one of many examples of our language favoring the male gender at the expense of the female. As such, they argue we should throw out dated, male-centric terms and instead use gender-inclusive options. "Mankind" is a perfect example of something that could easily be replaced without causing any confusion, they point out.
However, it wasn't immediately clear why Trudeau advocated for "peoplekind" over "humankind", which some insist makes more sense (assuming the goal is gender-neutral language).
**Internet Disapproves
**
Although the crowd at the town hall cheered Trudeau's comment, the reception beyond those walls has not been nearly as positive. News of the incident spread swiftly over Twitter, eliciting a wave of responses many of them mocking the prime minister and accusing him of taking political correctness a step too far.
Others sarcastically pointed out that following this type of logic can quickly lead to absurdity:
https://twitter.com/HerbMajesty/status/960677516720656385
What Do Women Think?
All jokes aside, the incident seems to have really struck a nerve with people -- especially those weary of political correctness. But it also taps into the larger issue of how language is used in our society, and what impact our words have on others. What if women really are sick of our vernacular being male-centric?
To get to the heart of the gendered-language debate, we must ask two questions:
Do women feel slighted or excluded when they hear terms such as "mankind"?

Would shifting away from gender-specific words have a tangible positive effect?
If the answer to both of those questions is yes, then maybe we should give Trudeau's "peoplekind" petition some serious consideration.
On the other hand, if adopting gender-inclusive language turns out to be a meaningless gesture that only succeeds in promoting further division within society, then perhaps it would be best avoided.
Thoughts?