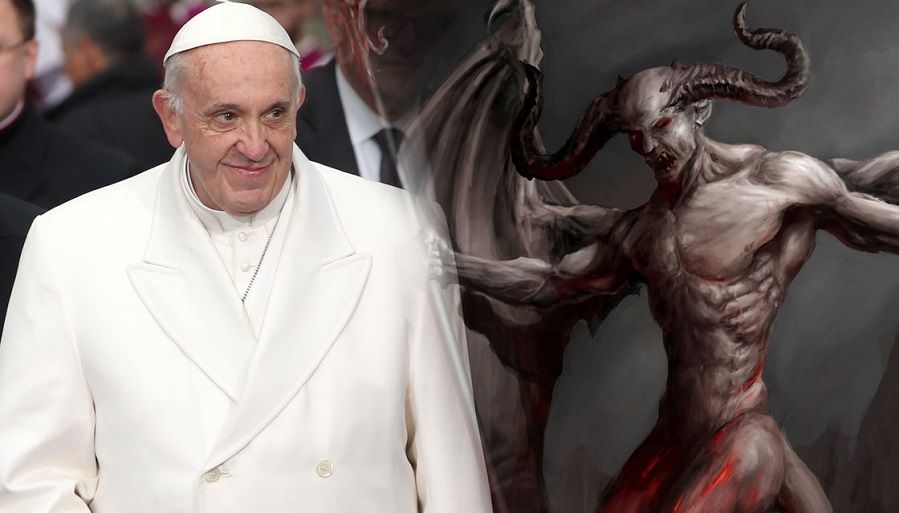 ---
As the fallout from the clergy abuse scandal continues to plague the Catholic Church, Pope Francis is now blaming the church's problems on a familiar adversary: Satan himself. According to Francis, these revelations have been so damaging that only the Vatican's most feared and eternal enemy could be responsible.
Speaking to a crowd during mass at St. Peter's Square, Francis asked his fellow Catholics to offer daily prayers to Michael the archangel to "counter the attacks from the devil who wants to divide the Church." He continued, explaining that the church needs to be "saved from the attacks of the malign one, the great accuser."
However, Francis didn't blame all the Vatican's problems on Satan. He went on to point out that the church "must at the same time be made ever more aware of its guilt, its mistakes, and abuses committed in the present and the past."
The Devil Looms Large
Since grabbing the Catholic reigns in 2013, Pope Francis has made it quite clear he believes Satan is not only real, but active in modern life. "We should not think of the devil as a myth, a representation, a symbol, a figure of speech or an idea. This mistake would lead us to let down our guard, to grow careless and end up more vulnerable," he wrote back in April.
As the Catholic Church has been hit with wave after wave of sexual abuse scandals spanning four continents, there has been plenty of blame to go around. But critics argue that Francis is refusing to fully acknowledge the Church's failings when he implies that the devil is responsible.
Did the Pope Know?
There is some speculation that the pope's "great accuser" remarks were directed at Archbishop Carlo Maria Viganò, the Vatican's former ambassador to Washington. One of the pope's harshest conservative critics, Viganò recently accused the pope of having personal knowledge of sexual misconduct by a former U.S. cardinal and refusing to act on it.

In his latest statement, Viganò insisted Francis "compared me to the great accuser, Satan, who sows scandal and division in the Church, though without ever uttering my name." A top Vatican official then responded by issuing his own scathing open letter, accusing the archbishop of mounting a "political frame job devoid of real foundation."
Satan: Pedophile or Patsy?
With the Catholic Church engaged in a public civil war, perhaps it's no surprise that Pope Francis has chosen to pin the blame on his faith's ultimate spiritual insurgent. As a PR strategy, though, it seems ill-conceived. While claiming Satan is a central figure in this fiasco might play well with Catholic followers, to many others it comes off as a dismissive tactic meant to take heat off the Vatican.
It's also miserably counterproductive. At least pedophile priests can be tracked down and prosecuted. Even if Satan could somehow be proven responsible, what are we going to do? Indict him?