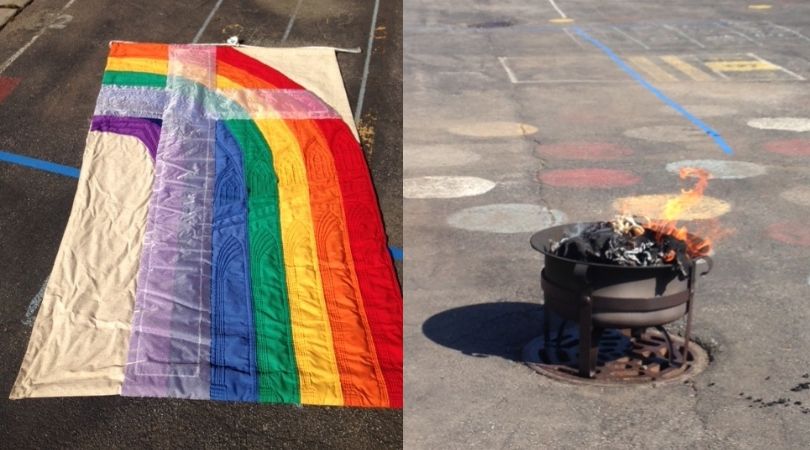 ---
A Catholic priest has been removed from his Chicago parish after performing an exorcism on a rainbow flag, cutting it into pieces, and burning it with the help of like-minded parishioners.
Cardinal Blase Cupich announced the removal of Rev. Paul Kalchik from the Resurrection Parish in Chicago after the priest defied an order from the archdiocese not to destroy the flag. This particular rainbow flag, which also featured a Christian cross, was a powerful symbol of LGBTQ pride that had been hanging in the church for over three decades.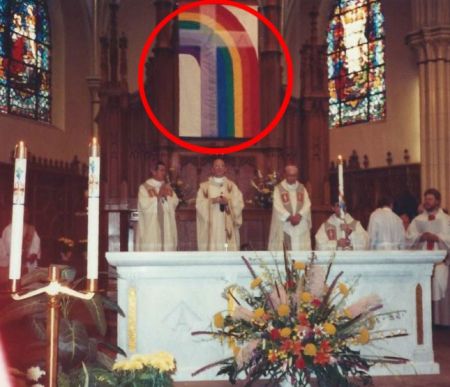 Following God's Orders
Apparently, the symbolism did not sit right with Rev. Kalchik, who ordered the rainbow flag destroyed on the grounds it was anti-Christian. When pressed on the issue, Kalchick insisted he was only following biblical orders. Showing the cross intertwined with a rainbow "is what we consider a sacrilege," he said. Kalchick explained the reasoning behind the flag burning:
"We put an end to a depiction of our Lord's cross that was profane... in a quiet way we took matters into our own hands and said a prayer of exorcism over this thing. It was cut into seven pieces, so it was burned over stages in the same fire pit that we used for the Easter vigil mass."
To justify these actions, he referenced Bible passages such as Leviticus 20:13, which states: "If a man also lie with mankind, as he lieth with a woman, both of them have committed an abomination: They shall surely be put to death."
Does the Church Hate Gays?
Despite the provocative nature of the event, Kalchick maintains that he's not anti-gay, saying "I'm about as much of a gay basher as Mother Teresa." He claims the real problem with the banner was not that it stood for gay pride, but that the cross was depicted along with a rainbow.
As it turns out, this flag-burning was a toned-down version of the event that was originally planned. Apparently, the congregation abandoned earlier plans to burn the banner on the front steps of the church. "We did so in a private way, a quiet way, so as not to bring the ire of the gay community down upon this parish," Kalchik said. "It's our full right to destroy it, and we did so privately, because the archdiocese was breathing on our back."
Nonetheless, the incident was documented on social media and Kalchik was ultimately fired from his position. A spokeswoman for the archdiocese said that the removal had been "in the works" and not "directly due" to the rainbow flag burning.
Outspoken Pastors
Some churches keep a tight leash on their clergy, issuing strict conduct guidelines and punishing misbehavior. But others allow more freedom as we've seen in recent stories involving cussing pastors and football-hating Baptist preachers.
Is it a good idea to give clergy members leeway to interpret their faith however they see fit? Doing so can obviously be a PR disaster in the form of embarrassing viral videos or hateful flag-burnings. Then again, it also discourages groupthink in the church and creates potential avenues for new viewpoints to emerge from behind walls of conformity. Whether this phenomenon is a force for good or for evil is up for debate.
Your thoughts?