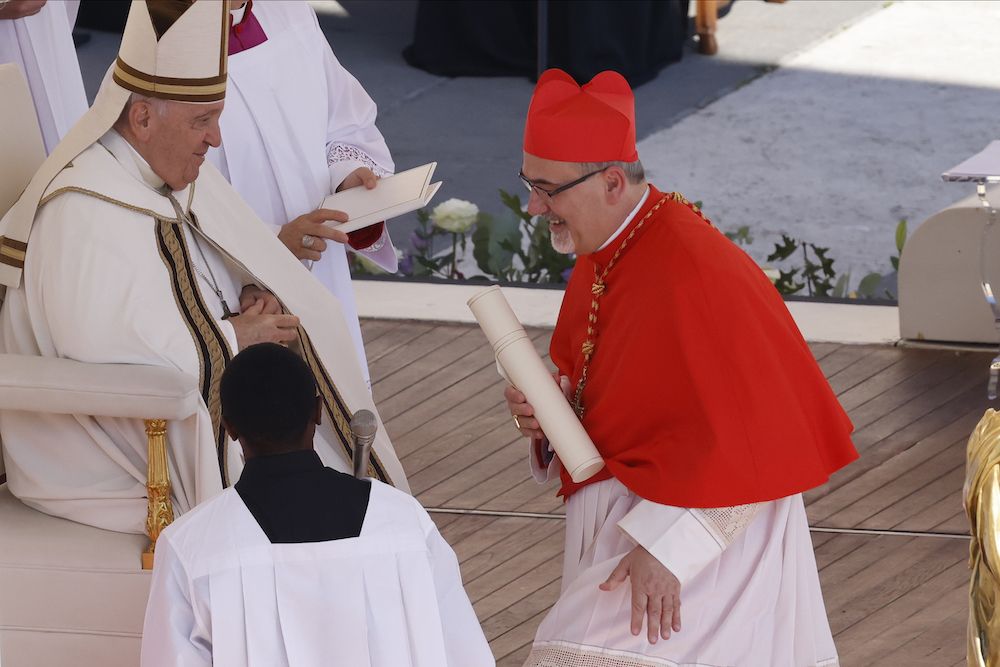 How far would you go to save an innocent life?
This morning, Cardinal Pierbattista Pizzaballa, who serves as the Vatican's representative in Jerusalem, offered that he was willing to allow himself to be delivered as a hostage to Hamas in exchange for the release of the children currently being held captive by that group. 
"I am ready for an exchange, anything, if this can lead to freedom, to bring the children home. No problem. There is total willingness on my part," he said during a press conference.
Nearly 200 Hostages Remain in Gaza
Israel this morning updated its count to indicate that it believes that Hamas is holding 199 people hostage in Gaza, including children and elderly civilians. It is also believed that some Americans may be among the group. The Cardinal continued his conference by explaining that his office has not been in contact with Hamas regarding his offer, stating that Hamas is "difficult" to communicate with.
Hamas, according to Iranian government officials who have communicated with them, have expressed that they are willing to release the hostages when Israeli missile attacks cease.
"The first thing to do is to try to win the release of the hostages, otherwise there will be no way of stopping (an escalation). We are willing to help, even me personally," Pizzaballa continued.
Pope Francis Weighs In
The cardinal's comments this morning come in the wake of controversial comments made by Pope Francis yesterday lamenting the violence in the region and pleading for de-escalation and the opening of humanitarian corridors.
The Israeli government was purportedly infuriated by the Pope's statements, apparently going so far as to phone an Archbishop to protest the comments and demand that the Pope issue a new statement including a "clear and unequivocal" condemnation of Hamas and its initial attack, which killed 1,300 in Israel. Palestinian sources indicate that 2,600 individuals have been killed as the result of Israeli counter-attacks. 
More Bloodshed to Come?
It is difficult to keep track of the daily developments in the region, but as of the time of this writing, there were reports that Israel was preparing to launch a ground assault into Gaza.
Cardinal Pizzaballa in his role acts as the leader of the approximately 300,000 Roman Catholics who live in Israel, Palestine, Jordan, and Cyprus. Christians, along with Jews and Muslims, have called this area home for centuries. 
In recent days, tensions between the Jewish and Islamic neighbors have escalated to levels not seen in decades in the wake of an attack carried out by Hamas within Israel. Hamas, which dozens of countries have declared to be a terrorist organization, is a militant Islamist group which spun off from the Muslim Brotherhood more than thirty years ago. 
The internationally recognized representative of the Palestinian people is the Palestinian Liberation Organization, led by the Fatah political party, which has long been at odds with Hamas and has rejected its call for violence against Israel. Hamas, for its part, still does assert de facto control over some regions, most notably the Gaza Strip. 
As he continues to call for de-escalation, the Pope has also declared that tomorrow, the 17th of October, should be a day of prayer and fasting to "to oppose the diabolical force of hatred, terrorism and war."
In Cardinal Pizzaballa's mind, however, it appears thoughts and prayers may not be enough.
What is your reaction?