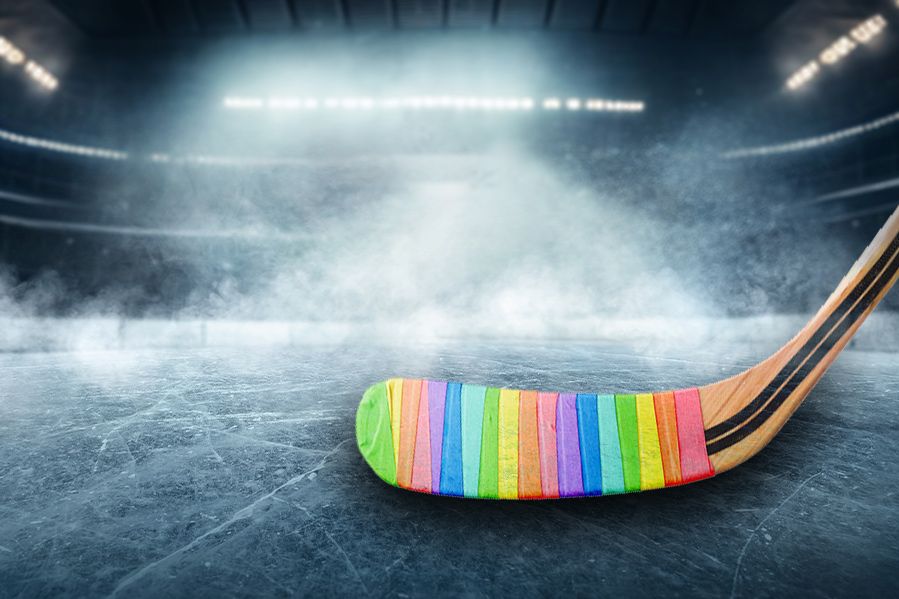 Hockey is back! Minus the rainbow tape, that is.
With the start of a new hockey season, the NHL is reportedly clamping down on LGBTQ+ representation on the ice.
Over the summer, the league banned players from wearing rainbow jerseys during practice, arguing that it had become a "distraction" after players who opted not to wear rainbow jerseys were hounded by the press over a perceived lack of support for the LGBTQ+ community. 
Perhaps for similar reasons, NHL players will no longer be able to put rainbow Pride tape on their hockey sticks, either. The league announced that rainbow tape will be banned beginning this year.
The move came as a surprise for many fans, who say the policy flies in the face of the league's stated goal of creating a welcoming environment for everyone.
NHL Gets Cold Feet
Buried in a memo sent to all 32 teams in the league, the new policy carefully bans all specialty jerseys and tape during games, warmups, or even practice – without calling out Pride gear specifically. 
However, critics argue the new rules are clearly pointed squarely at some players' use of Pride tape on their hockey sticks.
After all, very few players are kicking up a ruckus about wearing materials supporting finding a cure for breast cancer, for example.
One of the sport's biggest stars, Edmonton Oilers center Connor McDavid, said he's upset by the decision. "I can't speak for everybody else or the league or anything like that, but it's something that I've always enjoyed," he said about the specialty nights, including Pride night. "Is it something that I'd like to see put back into place one day? Certainly."
And former league executive Brian Burke sharply criticized the move in a social media post, calling it a "serious setback" that "closes a door" to the LGBTQ+ community.
Thawing Out the Controversy
Some have speculated that the decision stems from the NHL's desire to protect certain players who refused to wear Pride jerseys or put Pride tape on their sticks.
Among them is Boston Bruins captain Brad Marchand. "I think where a lot of it comes from is the backlash that the players got in the previous years," he explained. "It's just unfortunate. You try to stand up for what's right, and you get a lot of backlash, one way or another. Right now it just seems like you can't win."
Back in January, Philadelphia Flyers player and devout Russian Orthodox Christian Ivan Provorov was lambasted online for refusing to wear Pride-themed gear during games, citing his religious beliefs.
"I respect everyone. I respect everybody's choices," Provorov said at the time. "My choice is to stay true to myself and my religion." 
And the reaction wasn't all backlash; many Christians cheered Provorov and his decision to stand by his faith in foregoing Pride-themed jerseys and tape.
Where to Draw a Line
Themed nights are common in the world of sports: on certain game days, players and fans are invited to wear apparel supporting a particular cause. A night celebrating military veterans, for example, or a night where everyone wears pink for breast cancer awareness.
Advocates of LGBTQ+ representation say that "Pride night," is no different, and that players should be allowed to display their beliefs and show their support during the game. 
Critics say such policies only distract from the action and put any players who disagree – such as those with strong faith convictions – in an uncomfortable spotlight if they choose not to participate. 
What do you make of the NHL's decision? Should rainbow flags be allowed on the ice?