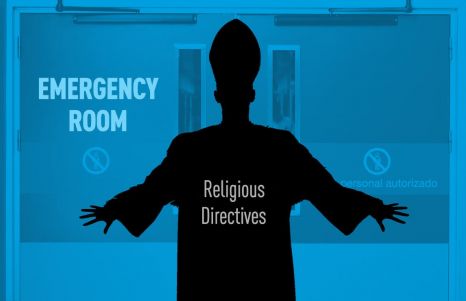 Catholic Hospitals can deny patients medically recommended or even necessary treatment on the grounds that offering the care would conflict with their freedom of conscience. In another instance where the expression of one person's belief directly impacts the rights of another, we consider where to draw the line with religious liberty.
There are many different beliefs on medical care when it comes to religion. Some religions believe you should not transfer blood from one person to another, and others believe you should not do anything to prevent the conception of a child (including all types of birth control). There are even some that don't believe in medical treatment at all. So what happens when a person's right to medical care is denied due to a provider's religious beliefs?
Jessica Mann
Mann was only a few weeks pregnant when she found out about her brain tumor. The mother of two was devastated when she was told how high risk her pregnancy would be. Her doctors recommended that after the birth of her third child, she have her tubes tied so she would not get pregnant again. Wanting to be there for her three children as they grew up, she agreed. Her doctor submitted the request to the hospital, and after several weeks, they denied the request.
The request was not denied because of medical risk or because it was not deemed necessary. It was denied because the Catholic hospital felt the procedure interfered with their religious beliefs.
While there are times when the hospital will perform this procedure, it's only in imminent cases of life and death. Mann was understandably confused since a fourth pregnancy could kill her. However, the hospital argues that they are not concerned with preventing a likely death, only one that is already in progress such as if a patient were bleeding to death. This is all done in the name of being pro-life. They were so pro-life, that they didn't care if she died due to their neglect of her reasonable medical concerns.
Mann's tumor is benign, but that doesn't mean it doesn't carry serious health risks. If the tumor grows, she could start suffering from seizures and even wind up blind. She must deliver her baby while completely under anesthesia via cesarean section. It has risks, but she and doctors are hopeful and optimistic she and baby will be safe.
While her doctor thinks the procedure is necessary and willing to perform it, he only has admitting privileges at the Catholic hospital. Because of this, Mann cannot deliver anywhere else unless she wants to find a new doctor. Because she is so late in her pregnancy, this is not ideal. Another option for her is to have her scheduled cesarean section and then come back for a second surgery at a different hospital after she has healed. However, this is inconvenient for several reasons.
It would require a second surgery with a different doctor.

The more surgeries, the more risks.

She would need recovery time, which is not ideal for a mother of three children.
Lori Boyer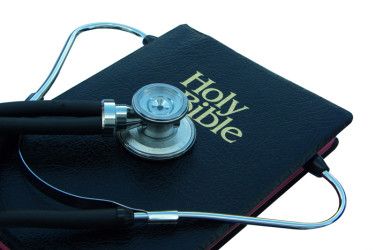 Lori Boyer had just been raped. A man she knew asked her to come hang out and chat at his place, but instead he threw her on his bed and assaulted her. After he had finished, Boyer ran out the door and drove to the nearest emergency room at Good Samaritan Hospital in Lebanon, PA. She was bruised and in pain as the doctor examined her.
She asked for the morning-after pill and her male, Catholic doctor looked up from his exam sheet and calmly told her "no, I can't do that," before coldly returning to his notes. Boyer explained that she was in the middle of her cycle and feared getting pregnant by her rapist. The doctor explained that giving Boyer the pill was against his religion.
Boyer was of course terrified; the morning after pill becomes less effective the longer you wait to take it from the time of insemination. Here she was, supposedly in a haven of protection from the man that stole control over her body, only to be powerless yet again. Boyer left empty-handed. She had to drive around in a panic until a rape counselor put her in contact with someone committed to his profession.
Disturbing Trend
The fact that these stories are even happening is the beginning of what could become a disturbing trend. Just like same-sex couples have had to deal with interference from people who felt same-sex marriage went against their religion, these families who have decided they are done having children are dealing with the same type of discrimination. What's worse is these families have few options when it comes to having the procedure done elsewhere. Many doctors won't accept pregnant patients once they get to a certain point in pregnancy, so they are often stuck with the first provider they choose.
When women are having scheduled cesareans anyway, there is no extra risk to having a tubal ligation. They shouldn't have to come in for a second procedure and deal with the risks of another surgery and extra recovery time. While there are other options for birth control, this is an option that is permanent. It is the most ideal option for many women, so they should not be stopped simply because a hospital decides it's not something they want to do due to religious beliefs.
To argue that these hospitals and doctors have a right to neglect patients when many do not have an alternative is to give all religions a free pass. How would you feel if you went to the hospital in an emergency only to have your Christian Scientist doctor tell you that you cannot receive medicine or surgery because your pain and suffering has no objective reality and is the result of your "error" in thinking? It may seem silly to you that a Christian Scientist would even bother going through all the difficult and expensive work involved in becoming a doctor in the first place if he would refuse to actually do the job. We wonder if it is any less silly to train to take a job with the premise that you would heal others and turn a blind eye to their medical suffering because you are Catholic.