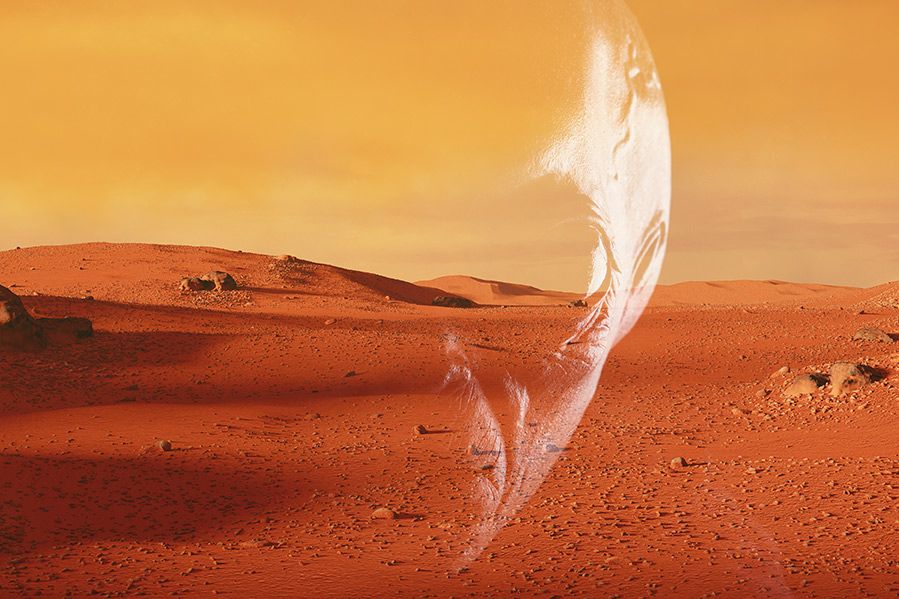 On February 18th, NASA's Perseverance Rover officially set down on Mars, the conclusion of an eight month, $2.7 billion dollar journey. Perseverance's primary mission? To find signs of ancient life on Mars.
NASA selected an ideal location to hunt for ancient life, landing in the Jezero Crater, a location strongly suspected to have once been home to a lake the size of Lake Tahoe.
Perseverance will hunt for sediment samples, but the rover lacks the capabilities to confirm signs of life remotely. A future voyage will have to collect the samples and return back to Earth, where they can be tested for signs of life.
Scientists say it's our best shot at finding signs of life on the red planet ever. And should life actually be confirmed on our nearest neighbor, there would have major philosophical and theological implications.
Life on Mars
Should we discover that we're not the sole inhabitants of the universe, many scientists agree that the discovery of Martian life would come to be known as a scientific turning point in human history - a genuine "before" and "after", similar to how the paradigm shift of the Copernican Revolution is viewed now.
There's also the question of how billions of religious people on Earth might take the news that our place in the cosmos isn't quite so privileged. Would they embrace it? Would they even believe the news?
How would institutional religion handle such a discovery?
The BBC laid out the case that the world's major faiths would actually respond positively to the news that we're not alone.
"The Psalms, sacred to both Jews and Christians, claim that God has given names to all the stars," the report argues. "According to the Talmud, God spends his night flying throughout 18,000 worlds. And Islam insists that "all things in the heavens and on the Earth" are Allah's, as the Koran says, implying that his rule extends well beyond one tiny planet."
After all, scientific discoveries like heliocentrism and the theory of evolution are, on their face, incompatible with certain theological doctrines, and that certainly didn't eradicate religious belief.
In fact, many of the world's faiths are ready to embrace extraterrestrials – and perhaps even convert them. In 2014, Pope Francis said he'd be happy to baptize aliens and would welcome them into the Catholic faith, acknowledging that they are "part of creation".
Well, that certainly is an image.
What Happens Next?
Should Perseverance find life on Mars, it would likely blow the door wide open on our own perspective of our place in the universe. After all, if there once was life on our nearest neighbor, even if it's miscrospic and long dead, then surely there must be life, potentially far more advanced, on the potentially billions of planets out there?
Many scientists believe that the news that we aren't alone is inevitable, not a question of if, but when.
And while news of little green men from beyond the moon might be a long time away, confirmation of microscopic life once existing on Mars might just be imminent.
Should we get that confirmation, what do you think would happen? How would you react to the news of life on Mars?