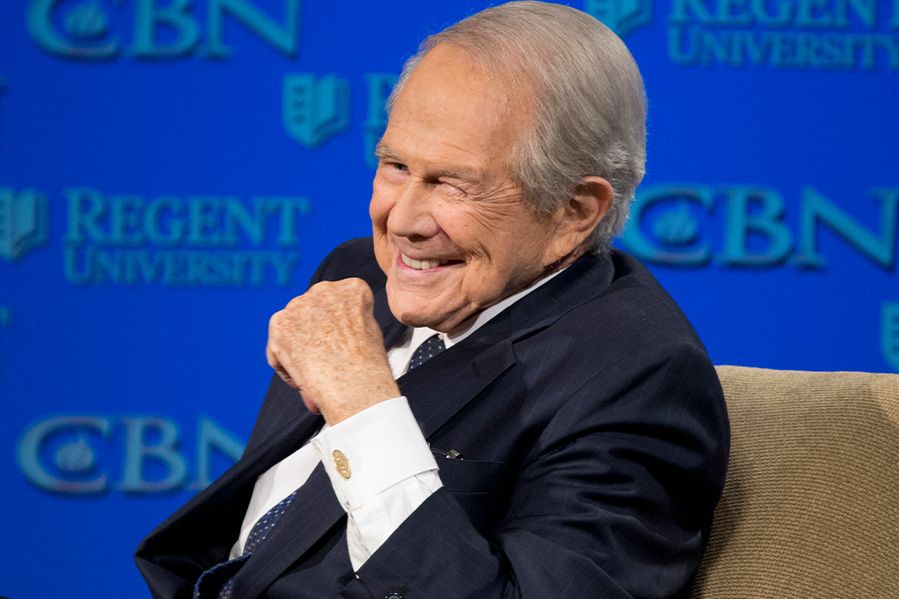 After 50 years as the host of 'The 700 Club,' Pat Robertson signed off of the daily Christian talk show for the last time on Friday. Full-time hosting duties will be taken over by his son, Gordon Robertson. 
Throughout his half-decade tenure as host of the CBN's flagship program, Robertson became an incredibly influential figure in evangelical circles. 
He is widely credited with helping to revolutionize religious television programming, which prior to "The 700 Club" mainly consisted of televised services and revivals. Robertson adopted the popular talk show format and put a religious spin on it, creating a new way to reach people. He hosted big-name guests, including several U.S. presidents, on the show. 
Robertson also made some very controversial statements over the years, some of which landed him in hot water.
We're taking a look back on the storied career of one of the most famous Christians in America – including some of his most famous (for better or worse) proclamations. 
A 50 Year Legacy
The 700 Club began in 1966, six years after Robertson founded the Christian Broadcast Network (CBN). During the early years of the Christian Broadcast Network, Pat Robertson seemed unstoppable. 
Along with other influential evangelicals like Jerry Falwell, Robertson helped shape American politics and culture, uniting conservative evangelicals into one of the most powerful political and social groups in the country.
It culminated in a run for president in 1988. Despite winning primaries in several states, Robertson ultimately lost the Republican nomination to George H.W. Bush.
But no one spends 50 years in the public eye without saying something at least mildly controversial, and Pat Robertson's certainly made more than his fair share of controversial statements, particularly about homosexuality.
Floods of Controversy
Perhaps his most famous statement was his response to Disney World's privately sponsored "Gay Days" weekend in 1998. Robertson issued a foreboding warning to the city of Orlando, stating that "you're right in the way of some serious hurricanes, and I don't think I'd be waving those flags in God's face if I were you … It'll bring about terrorist bombs; it'll bring earthquakes, tornadoes, and possibly a meteor."
In an ironic twist, the first hurricane of the 1998 hurricane season, Hurricane Bonnie, changed course from Florida and instead devastated the Virginia Beach, Virginia, area – where CBN is headquartered.
In 2013, Robertson argued that the push to legalize same-sex marriage nationwide was an attempt to destroy the idea of family. "Is it really just about marriage?" he pondered. "Or does it go far beyond that, to destroying the traditional family and building a country without God?"
But perhaps his most infamous controversy came shortly after 9/11. During a televised segment, Robertson eagerly agreed with Jerry Falwell when Falwell blamed the terrorist attacks on pagans, abortionists, feminists, the ACLU, and – you guessed it – gays and lesbians. Comments start at the 1:00 mark in the video below:
After pubic outcry, both men were forced to apologize. 
Keeping Current
Although Robertson seems to be in a forever war with the acceptance of homosexuality, he's made statements on dozens if not hundreds of other issues in his day.
In fact, the key to Robertson's continued cultural relevance may be his ability to stay current and comment on the latest and greatest controversies. Earlier in the summer, the teaching of critical race theory in schools was a huge debate nationwide. Should we be teaching children a complicated academic theory that examines how our institutions perpetuate systemic racism?
Robertson jumped on the bandwagon and said no, arguing that it's a "monstrous evil," and that teaching it in classrooms will give third-graders white guilt and teach people of color to grab "the whip handle" and "instruct their white neighbors how to behave."
Interestingly, Robertson's views seem to have evolved over time in certain areas. When Alabama lawmakers passed the most sweeping abortion ban in the country in 2019, Robertson actually voiced his opposition to such a restrictive abortion ban, saying that the state has simply "gone too far."
And following the 2020 election, Robertson shocked many loyal viewers when he urged President Trump to concede, arguing that the election was fair and that Trump is living in an "alternate reality."
A large part of Robertson's legacy will be his always-controversial statements on whatever's going on in culture and politics.
For over 50 years, viewers could always count on him to tell them exactly what was on his mind. It's what has made him both beloved and reviled.